Tax Tips and Alerts
---
Hire your children this summer: Everyone wins
If you're a business owner and you hire your children (or grandchildren) this summer, you can obtain tax breaks and other nontax benefits. The kids can gain on-the-job experience, save for college and learn how to manage money. And you may be able to:
Shift your high-taxed income into tax-free or low-taxed income,
Realize payroll tax savings (depending on the child's age and how your business is organized), and
Enable retirement plan contributions for the children.
It must be a real job
When you hire your child, you get a business tax deduction for employee wage expenses. In turn, the deduction reduces your federal income tax bill, your self-employment tax bill (if applicable), and your state income tax bill (if applicable). However, in order for your business to deduct the wages as a business expense, the work performed by the child must be legitimate and the child's salary must be reasonable.
For example, let's say a business owner operates as a sole proprietor and is in the 37% tax bracket. He hires his 16-year-old son to help with office work on a full-time basis during the summer and part-time into the fall. The son earns $10,000 during 2019 and doesn't have any other earnings.
The business owner saves $3,700 (37% of $10,000) in income taxes at no tax cost to his son, who can use his 2019 $12,200 standard deduction to completely shelter his earnings.
The family's taxes are cut even if the son's earnings exceed his or her standard deduction. The reason is that the unsheltered earnings will be taxed to the son beginning at a rate of 10%, instead of being taxed at his father's higher rate.
How payroll taxes might be saved
If your business isn't incorporated, your child's wages are exempt from Social Security, Medicare and FUTA taxes if certain conditions are met. Your child must be under age 18 for this to apply (or under age 21 in the case of the FUTA tax exemption). Contact us for how this works.
Be aware that there's no FICA or FUTA exemption for employing a child if your business is incorporated or a partnership that includes nonparent partners.
Start saving for retirement early
Your business also may be able to provide your child with retirement benefits, depending on the type of plan you have and how it defines qualifying employees. And because your child has earnings from his or her job, he can contribute to a traditional IRA or Roth IRA. For the 2018 tax year, a working child can contribute the lesser of his or her earned income, or $6,000 to an IRA or a Roth.
Raising tax-smart children
As you can see, hiring your child can be a tax-smart idea. Be sure to keep the same records as you would for other employees to substantiate the hours worked and duties performed (such as timesheets and job descriptions). Issue your child a Form W-2. If you have any questions about how these rules apply to your situation, don't hesitate to contact us.
© 2019
It's a good time to check your withholding and make changes, if necessary
Due to the massive changes in the Tax Cuts and Jobs Act (TCJA), the 2019 filing season resulted in surprises. Some filers who have gotten a refund in past years wound up owing money. The IRS reports that the number of refunds paid this year is down from last year — and the average refund is lower. As of May 10, 2019, the IRS paid out 101,590,000 refunds averaging $2,868. This compares with 102,582,000 refunds paid out in 2018 with an average amount of $2,940.
Of course, receiving a tax refund shouldn't necessarily be your goal. It essentially means you're giving the government an interest-free loan.
Law changes and withholding

Last year, the IRS updated the withholding tables that indicate how much employers should hold back from their employees' paychecks. In general, the amount withheld was reduced. This was done to reflect changes under the TCJA — including the increase in the standard deduction, suspension of personal exemptions and changes in tax rates.
The new tables may have provided the correct amount of tax withholding for some individuals, but they might have caused other taxpayers to not have enough money withheld to pay their ultimate tax liabilities.
Conduct a "paycheck checkup"

The IRS is cautioning taxpayers to review their tax situations for this year and adjust withholding, if appropriate.
The tax agency has a withholding calculator to assist you in conducting a paycheck checkup. The calculator reflects tax law changes in areas such as available itemized deductions, the increased child credit, the new dependent credit and the repeal of dependent exemptions. You can access the IRS calculator at https://bit.ly/2aLxK0A. 

Situations where changes are needed

There are a number of situations when you should check your withholding. In addition to tax law changes, the IRS recommends that you perform a checkup if you:
Adjusted your withholding in 2018, especially in the middle or later part of the year,
Owed additional tax when you filed your 2018 return,
Received a refund that was smaller or larger than expected,
Got married or divorced, had a child or adopted one,
Purchased a home, or
Had changes in income.
You can modify your withholding at any time during the year, or even multiple times within a year. To do so, you simply submit a new Form W-4 to your employer. Changes typically go into effect several weeks after a new Form W-4 is submitted. (For estimated tax payments, you can make adjustments each time quarterly estimated payments are due. The next payment is due on Monday, June 17.)
We can help

Contact us to discuss your specific situation and what you can do to remedy any shortfalls to minimize taxes due, as well as any penalties and interest. We can help you sort through whether or not you need to adjust your withholding.
© 2019
5498 Phishing Scam
Taxpayers Beware – we have received reports of clients receiving emails about Form 5498 rollover contributions. If you receive one, ignore it. You should hear directly from your broker or the IRS via US mail. As always, if you receive correspondence from any tax agency, provide a copy to our office to confirm it is correct.
When Loans Become Taxable
Photo by rawpixel.com on Pexels.com
Many people don't realize that forgiveness of a loan triggers a taxable event. One of the more common examples is forgiveness of credit card debt but it is certainly not the only example. This is something to pay attention to if you are considering settling a loan for less than you owe, this includes all debt. One of the more common is forgiveness of credit card debt but it is certainly not the only example. A terrific article by Robert Wood goes a bit deeper and is well worth the read.
https://www.forbes.com/sites/robertwood/2019/02/05/irs-says-loans-arent-taxed-but-audits-when-loans-are-income/amp/
Higher mileage rate may mean larger tax deductions for business miles in 2019
This year, the optional standard mileage rate used to calculate the deductible costs of operating an automobile for business increased by 3.5 cents, to the highest level since 2008. As a result, you might be able to claim a larger deduction for vehicle-related expense for 2019 than you can for 2018.
Actual costs vs. mileage rate
Businesses can generally deduct the actual expenses attributable to business use of vehicles. This includes gas, oil, tires, insurance, repairs, licenses and vehicle registration fees. In addition, you can claim a depreciation allowance for the vehicle. However, in many cases depreciation write-offs on vehicles are subject to certain limits that don't apply to other types of business assets.
The mileage rate comes into play when taxpayers don't want to keep track of actual vehicle-related expenses. With this approach, you don't have to account for all your actual expenses, although you still must record certain information, such as the mileage for each business trip, the date and the destination.
The mileage rate approach also is popular with businesses that reimburse employees for business use of their personal automobiles. Such reimbursements can help attract and retain employees who're expected to drive their personal vehicle extensively for business purposes. Why? Under the Tax Cuts and Jobs Act, employees can no longer deduct unreimbursed employee business expenses, such as business mileage, on their individual income tax returns.
But be aware that you must comply with various rules. If you don't, you risk having the reimbursements considered taxable wages to the employees.
The 2019 rate
Beginning on January 1, 2019, the standard mileage rate for the business use of a car (van, pickup or panel truck) is 58 cents per mile. For 2018, the rate was 54.5 cents per mile.
The business cents-per-mile rate is adjusted annually. It is based on an annual study commissioned by the IRS about the fixed and variable costs of operating a vehicle, such as gas, maintenance, repair and depreciation. Occasionally, if there is a substantial change in average gas prices, the IRS will change the mileage rate midyear.
More considerations
There are certain situations where you can't use the cents-per-mile rate. It depends in part on how you've claimed deductions for the same vehicle in the past or, if the vehicle is new to your business this year, whether you want to take advantage of certain first-year depreciation breaks on it.
As you can see, there are many variables to consider in determining whether to use the mileage rate to deduct vehicle expenses. Contact us if you have questions about tracking and claiming such expenses in 2019 — or claiming them on your 2018 income tax return.
© 2019
What will your marginal income tax rate be?
While the Tax Cuts and Jobs Act (TCJA) generally reduced individual tax rates for 2018 through 2025, some taxpayers could see their taxes go up due to reductions or eliminations of certain tax breaks — and, in some cases, due to their filing status. But some may see additional tax savings due to their filing status.
Unmarried vs. married taxpayers

In an effort to further eliminate the marriage "penalty," the TCJA made changes to some of the middle tax brackets. As a result, some single and head of household filers could be pushed into higher tax brackets more quickly than pre-TCJA. For example, the beginning of the 32% bracket for singles for 2018 is $157,501, whereas it was $191,651 for 2017 (though the rate was 33%). For heads of households, the beginning of this bracket has decreased even more significantly, to $157, 501 for 2018 from $212,501 for 2017.
Married taxpayers, on the other hand, won't be pushed into some middle brackets until much higher income levels for 2018 through 2025. For example, the beginning of the 32% bracket for joint filers for 2018 is $315,001, whereas it was $233,351 for 2017 (again, the rate was 33% then).     
2018 filing and 2019 brackets

Because there are so many variables, it will be hard to tell exactly how specific taxpayers will be affected by TCJA changes, including changes to the brackets, until they file their 2018 tax returns. In the meantime, it's a good idea to begin to look at 2019. As before the TCJA, the tax brackets are adjusted annually for inflation.
Below is a look at the 2019 brackets under the TCJA. Contact us for help assessing what your tax rate likely will be for 2019 — and for help filing your 2018 tax return.
Single individuals
10%: $0 – $9,700
12%: $9,701 – $39,475
22%: $39,476 – $84,200
24%: $84,201 – $160,725
32%: $160,726 – $204,100
35%: $204,101 – $510,300
37%: Over $510,300
Heads of households
10%: $0 – $13,850
12%: $13,851 – $52,850
22%: $52,851 – $84,200
24%: $84,201 – $160,700
32%: $160,701 – $204,100
35%: $204,101 – $510,300
37%: Over $510,300
Married individuals filing joint returns and surviving spouses
10%: $0 – $19,400
12%: $19,401 – $78,950
22%: $78,951 – $168,400
24%: $168,401 – $321,450
32%: $321,451 – $408,200
35%: $408,201 – $612,350
37%: Over $612,350
Married individuals filing separate returns
10%: $0 – $9,700
12%: $9,701 – $39,475
22%: $39,476 – $84,200
24%: $84,201 – $160,725
32%: $160,726 – $204,100
35%: $204,101 – $306,175
37%: Over $306,175
© 2019
2 major tax law changes for individuals in 2019
While most provisions of the Tax Cuts and Jobs Act (TCJA) went into effect in 2018 and either apply through 2025 or are permanent, there are two major changes under the act for 2019. Here's a closer look.
1. Medical expense deduction threshold
With rising health care costs, claiming whatever tax breaks related to health care that you can is more important than ever. But there's a threshold for deducting medical expenses that was already difficult for many taxpayers to meet, and it may be even harder to meet this year.
The TCJA temporarily reduced the threshold from 10% of adjusted gross income (AGI) to 7.5% of AGI. Unfortunately, the reduction applies only to 2017 and 2018. So for 2019, the threshold returns to 10% — unless legislation is signed into law extending the 7.5% threshold. Only qualified, unreimbursed expenses exceeding the threshold can be deducted.
Also, keep in mind that you have to itemize deductions to deduct medical expenses. Itemizing saves tax only if your total itemized deductions exceed your standard deduction. And with the TCJA's near doubling of the standard deduction for 2018 through 2025, many taxpayers who've typically itemized may no longer benefit from itemizing.
2. Tax treatment of alimony
Alimony has generally been deductible by the ex-spouse paying it and included in the taxable income of the ex-spouse receiving it. Child support, on the other hand, hasn't been deductible by the payer or taxable income to the recipient.
Under the TCJA, for divorce agreements executed (or, in some cases, modified) after December 31, 2018, alimony payments won't be deductible — and will be excluded from the recipient's taxable income. So, essentially, alimony will be treated the same way as child support.
Because the recipient ex-spouse would typically pay income taxes at a rate lower than that of the paying ex-spouse, the overall tax bite will likely be larger under this new tax treatment. This change is permanent.
TCJA impact on 2018 and 2019
Most TCJA changes went into effect in 2018, but not all. Contact us if you have questions about the medical expense deduction or the tax treatment of alimony — or any other changes that might affect you in 2019. We can also help you assess the impact of the TCJA when you file your 2018 tax return.
© 2019
Stop receivables fraud before it starts
From invoices and payments to discounts and write-offs, many business transactions are recorded to accounts receivable. This makes receivables a popular fraud target. But your business doesn't have to become a victim.
Common schemes
Receivables fraud occurs when dishonest employees divert customer payments for their personal use. They use various methods, including:
Lapping. This is the most common type of receivables fraud. It involves the application of receipts from one account to cover misappropriations from another. For example, rather than credit Customer A's account for its payment, a dishonest employee pockets the funds and later posts a payment from Customer B to A's account, Customer C's payment to B's account and so on.
Write-offs and discounts. Instead of crediting a payment to the customer's account, fraudsters might pocket the funds and then record a bad debt write-off or discount to the customer's account. Despite the diversion of incoming payments, the customer's account will reflect the expected current balance.
Prevention tips
Segregation of duties is critical to preventing receivables fraud. This means that the employee who handles incoming payments from customers should be different from the person who handles invoicing. Also consider assigning a different employee to manage customer complaints. Such complaints often increase when receivables fraud is occurring.
In addition, require mandatory vacation time for all employees. Receivables schemes typically require their perpetrators to remain vigilant — and in the office — to avoid detection. For this reason, it's also advisable to rotate job duties among accounting staffers.
Tracking thieves
When receivables fraud is suspected, a forensic expert will use several methods to uncover illicit activities. For example, the expert might trace a sample of cash receipts to the sales ledger and deposit slips to find discrepancies in dates, payee names and amounts. The expert also may compare deposit slips against the books and send requests for confirmations to a sample of customers to verify current balances and payment histories. Other items that deserve scrutiny are:
Bad debt write-offs,
Accounts with unexplained credits,
Increased customer credit limits, and
Random adjustments to the accounts receivable ledger.
To identify perpetrators and find internal control weaknesses, experts often interview employees.
Take control
Even though fraud experts have methods of finding receivables fraud, it's better for companies to stop these schemes before they start. Contact us for help strengthening your business's internal controls.
© 2019
Business owners: An exit strategy should be part of your tax planning
Tax planning is a juggling act for business owners. You have to keep your eye on your company's income and expenses and applicable tax breaks (especially if you own a pass-through entity). But you also must look out for your own financial future.
For example, you need to develop an exit strategy so that taxes don't trip you up when you retire or leave the business for some other reason. An exit strategy is a plan for passing on responsibility for running the company, transferring ownership and extracting your money from the business.
Buy-sell agreement
When a business has more than one owner, a buy-sell agreement can be a powerful tool. The agreement controls what happens to the business when a specified event occurs, such as an owner's retirement, disability or death. Among other benefits, a well-drafted agreement:
Provides a ready market for the departing owner's shares,
Prescribes a method for setting a price for the shares, and
Allows business continuity by preventing disagreements caused by new owners.
A key issue with any buy-sell agreement is providing the buyer(s) with a means of funding the purchase. Life or disability insurance often helps fulfill this need and can give rise to several tax issues and opportunities. One of the biggest advantages of life insurance as a funding method is that proceeds generally are excluded from the beneficiary's taxable income.
Succession within the family
You can pass your business on to family members by giving them interests, selling them interests or doing some of each. Be sure to consider your income needs, the tax consequences, and how family members will feel about your choice.
Under the annual gift tax exclusion, you can gift up to $15,000 of ownership interests without using up any of your lifetime gift and estate tax exemption. Valuation discounts may further reduce the taxable value of the gift.
With the gift and estate tax exemption approximately doubled through 2025 ($11.4 million for 2019), gift and estate taxes may be less of a concern for some business owners. But others may want to make substantial transfers now to take maximum advantage of the high exemption. What's right for you will depend on the value of your business and your timeline for transferring ownership.
Plan ahead
If you don't have co-owners or want to pass the business to family members, other options include a management buyout, an employee stock ownership plan (ESOP) or a sale to an outsider. Each involves a variety of tax and nontax considerations.
Please contact us to discuss your exit strategy. To be successful, your strategy will require planning well in advance of the transition.
© 2018
Bogus vendors may be costing your company a bundle
Are you harboring fictitious vendors in your accounting system? These are vendors invented by an employee — usually someone with the authority to approve invoices — to embezzle from the company. Thieves fabricate invoices and deposit payments to the fictitious vendor in their own bank accounts.
This scam is easier to perpetrate in companies with a large number of vendors because fictitious accounts simply get lost in the sheer volume of paperwork. However, small companies are also vulnerable to the scheme because they often lack internal controls, such as segregation of duties.
Spotting the fake
Regardless of the size of your company, there are likely to be tracks for you to follow:
Missing information. You expect to find phone numbers, taxpayer identification numbers, contact names and specific street addresses (not P.O. box numbers) in your vendors' files. When such routine data is missing, investigate.
Vendor names. Embezzlers may create a company name that is similar to that of a legitimate vendor, or may use their own initials. But a fraudulent vendor won't be called Microsoft, Wal-Mart or any other widely known corporate name.
Account activity. A fictitious vendor will probably be active. Because the payoffs are proportional to the effort, fictitious vendors usually don't send invoices for small amounts. The risk of discovery increases with every transaction, so fake accounts are more likely to involve fewer invoices for larger amounts.
Services vs. goods. Most often, fictitious vendors will supply services rather than goods, simply because it's easier. But occasionally someone — most often a purchasing agent — establishes a fake company from which to order products. This scam usually requires an accomplice on the receiving dock to record receipt of the goods and simultaneously alter inventory records.
More red flags
Also look for:
The absence of credit memos, because there won't be any billing errors,
Prompt payments, because the perpetrator wants each transaction completed as quickly as possible,
Similar invoice amounts, which will probably be just below the fraudster's authorization limit, and
One invoice listing per check, rather than the more customary bundling of invoices for payment.
Finally, if only one employee is requesting the company's services, that's a sign the vendor may not be legitimate.
They can't hide
If you sense something isn't right in your vendor records, don't let it slide. Although the perpetrator may be devious and the scheme may be elaborate, good internal controls can help prevent and detect fraud.
© 2018
View our Full blog.
About Yuma, AZ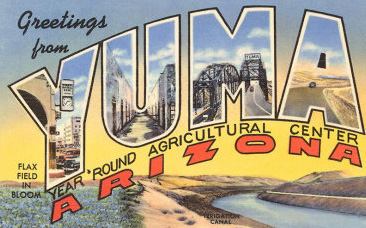 First incorporated as Arizona City in 1871, Yuma was renamed in 1873 and is now the largest city in Arizona outside the metro areas of Phoenix and Tucson.
Visit Our Friends in Yuma