Tax Tips and Alerts
---
Business owners: An exit strategy should be part of your tax planning
Tax planning is a juggling act for business owners. You have to keep your eye on your company's income and expenses and applicable tax breaks (especially if you own a pass-through entity). But you also must look out for your own financial future.
For example, you need to develop an exit strategy so that taxes don't trip you up when you retire or leave the business for some other reason. An exit strategy is a plan for passing on responsibility for running the company, transferring ownership and extracting your money from the business.
Buy-sell agreement
When a business has more than one owner, a buy-sell agreement can be a powerful tool. The agreement controls what happens to the business when a specified event occurs, such as an owner's retirement, disability or death. Among other benefits, a well-drafted agreement:
Provides a ready market for the departing owner's shares,
Prescribes a method for setting a price for the shares, and
Allows business continuity by preventing disagreements caused by new owners.
A key issue with any buy-sell agreement is providing the buyer(s) with a means of funding the purchase. Life or disability insurance often helps fulfill this need and can give rise to several tax issues and opportunities. One of the biggest advantages of life insurance as a funding method is that proceeds generally are excluded from the beneficiary's taxable income.
Succession within the family
You can pass your business on to family members by giving them interests, selling them interests or doing some of each. Be sure to consider your income needs, the tax consequences, and how family members will feel about your choice.
Under the annual gift tax exclusion, you can gift up to $15,000 of ownership interests without using up any of your lifetime gift and estate tax exemption. Valuation discounts may further reduce the taxable value of the gift.
With the gift and estate tax exemption approximately doubled through 2025 ($11.4 million for 2019), gift and estate taxes may be less of a concern for some business owners. But others may want to make substantial transfers now to take maximum advantage of the high exemption. What's right for you will depend on the value of your business and your timeline for transferring ownership.
Plan ahead
If you don't have co-owners or want to pass the business to family members, other options include a management buyout, an employee stock ownership plan (ESOP) or a sale to an outsider. Each involves a variety of tax and nontax considerations.
Please contact us to discuss your exit strategy. To be successful, your strategy will require planning well in advance of the transition.
© 2018
Bogus vendors may be costing your company a bundle
Are you harboring fictitious vendors in your accounting system? These are vendors invented by an employee — usually someone with the authority to approve invoices — to embezzle from the company. Thieves fabricate invoices and deposit payments to the fictitious vendor in their own bank accounts.
This scam is easier to perpetrate in companies with a large number of vendors because fictitious accounts simply get lost in the sheer volume of paperwork. However, small companies are also vulnerable to the scheme because they often lack internal controls, such as segregation of duties.
Spotting the fake
Regardless of the size of your company, there are likely to be tracks for you to follow:
Missing information. You expect to find phone numbers, taxpayer identification numbers, contact names and specific street addresses (not P.O. box numbers) in your vendors' files. When such routine data is missing, investigate.
Vendor names. Embezzlers may create a company name that is similar to that of a legitimate vendor, or may use their own initials. But a fraudulent vendor won't be called Microsoft, Wal-Mart or any other widely known corporate name.
Account activity. A fictitious vendor will probably be active. Because the payoffs are proportional to the effort, fictitious vendors usually don't send invoices for small amounts. The risk of discovery increases with every transaction, so fake accounts are more likely to involve fewer invoices for larger amounts.
Services vs. goods. Most often, fictitious vendors will supply services rather than goods, simply because it's easier. But occasionally someone — most often a purchasing agent — establishes a fake company from which to order products. This scam usually requires an accomplice on the receiving dock to record receipt of the goods and simultaneously alter inventory records.
More red flags
Also look for:
The absence of credit memos, because there won't be any billing errors,
Prompt payments, because the perpetrator wants each transaction completed as quickly as possible,
Similar invoice amounts, which will probably be just below the fraudster's authorization limit, and
One invoice listing per check, rather than the more customary bundling of invoices for payment.
Finally, if only one employee is requesting the company's services, that's a sign the vendor may not be legitimate.
They can't hide
If you sense something isn't right in your vendor records, don't let it slide. Although the perpetrator may be devious and the scheme may be elaborate, good internal controls can help prevent and detect fraud.
© 2018
You may be able to save more for retirement in 2019
Retirement plan contribution limits are indexed for inflation, and many have gone up for 2019, giving you opportunities to increase your retirement savings:
Elective deferrals to 401(k), 403(b), 457(b)(2) and 457(c)(1) plans: $19,000 (up from $18,500)
Contributions to defined contribution plans: $56,000 (up from $55,000)
Contributions to SIMPLEs: $13,000 (up from $12,500)
Contributions to IRAs: $6,000 (up from $5,500)
One exception is catch-up contributions for taxpayers age 50 or older, which remain at the same levels as for 2018:
Catch-up contributions to 401(k), 403(b), 457(b)(2) and 457(c)(1) plans: $6,000
Catch-up contributions to SIMPLEs: $3,000
Catch-up contributions to IRAs: $1,000
Keep in mind that additional factors may affect how much you're allowed to contribute (or how much your employer can contribute on your behalf). For example, income-based limits may reduce or eliminate your ability to make Roth IRA contributions or to make deductible traditional IRA contributions.
For more on how to make the most of your tax-advantaged retirement-saving opportunities in 2019, please contact us.
© 2018
A refresher on major tax law changes for small-business owners
The dawning of 2019 means the 2018 income tax filing season will soon be upon us. After year end, it's generally too late to take action to reduce 2018 taxes. Business owners may, therefore, want to shift their focus to assessing whether they'll likely owe taxes or get a refund when they file their returns this spring, so they can plan accordingly.
With the biggest tax law changes in decades — under the Tax Cuts and Jobs Act (TCJA) — generally going into effect beginning in 2018, most businesses and their owners will be significantly impacted. So, refreshing yourself on the major changes is a good idea.
Taxation of pass-through entities
These changes generally affect owners of S corporations, partnerships and limited liability companies (LLCs) treated as partnerships, as well as sole proprietors:
Drops of individual income tax rates ranging from 0 to 4 percentage points (depending on the bracket) to 10%, 12%, 22%, 24%, 32%, 35% and 37%
A new 20% qualified business income deduction for eligible owners (the Section 199A deduction)
Changes to many other tax breaks for individuals that will impact owners' overall tax liability
Taxation of corporations
These changes generally affect C corporations, personal service corporations (PSCs) and LLCs treated as C corporations:
Replacement of graduated corporate rates ranging from 15% to 35% with a flat corporate rate of 21%
Replacement of the flat PSC rate of 35% with a flat rate of 21%
Repeal of the 20% corporate alternative minimum tax (AMT)
Tax break positives
These changes generally apply to both pass-through entities and corporations:
Doubling of bonus depreciation to 100% and expansion of qualified assets to include used assets
Doubling of the Section 179 expensing limit to $1 million and an increase of the expensing phaseout threshold to $2.5 million
A new tax credit for employer-paid family and medical leave
Tax break negatives
These changes generally also apply to both pass-through entities and corporations:
A new disallowance of deductions for net interest expense in excess of 30% of the business's adjusted taxable income (exceptions apply)
New limits on net operating loss (NOL) deductions
Elimination of the Section 199 deduction (not to be confused with the new Sec.199A deduction), which was for qualified domestic production activities and commonly referred to as the "manufacturers' deduction"
A new rule limiting like-kind exchanges to real property that is not held primarily for sale (generally no more like-kind exchanges for personal property)
New limitations on deductions for certain employee fringe benefits, such as entertainment and, in certain circumstances, meals and transportation
Preparing for 2018 filing
Keep in mind that additional rules and limits apply to the rates and breaks covered here. Also, these are only some of the most significant and widely applicable TCJA changes; you and your business could be affected by other changes as well. Contact us to learn precisely how you might be affected and for help preparing for your 2018 tax return filing — and beginning to plan for 2019, too.
© 2018
A review of significant TCJA provisions impacting individual taxpayers
Now that 2019 has begun, there isn't too much you can do to reduce your 2018 income tax liability. But it's smart to begin preparing for filing your 2018 return. Because the Tax Cuts and Jobs Act (TCJA), which was signed into law at the end of 2017, likely will have a major impact on your 2018 taxes, it's a good time to review the most significant provisions impacting individual taxpayers.
Rates and exemptions
Generally, taxpayers will be subject to lower tax rates for 2018. But a couple of rates stay the same, and changes to some of the brackets for certain types of filers (individuals and heads of households) could cause them to be subject to higher rates. Some exemptions are eliminated, while others increase. Here are some of the specific changes:
Drops of individual income tax rates ranging from 0 to 4 percentage points (depending on the bracket) to 10%, 12%, 22%, 24%, 32%, 35% and 37%
Elimination of personal and dependent exemptions
AMT exemption increase, to $109,400 for joint filers, $70,300 for singles and heads of households, and $54,700 for separate filers for 2018
Approximate doubling of the gift and estate tax exemption, to $11.18 million for 2018
Credits and deductions
Generally, tax breaks are reduced for 2018. However, a few are enhanced. Here's a closer look:
Doubling of the child tax credit to $2,000 and other modifications intended to help more taxpayers benefit from the credit
Near doubling of the standard deduction, to $24,000 (married couples filing jointly), $18,000 (heads of households) and $12,000 (singles and married couples filing separately) for 2018
Reduction of the adjusted gross income (AGI) threshold for the medical expense deduction to 7.5% for regular and AMT purposes
New $10,000 limit on the deduction for state and local taxes (on a combined basis for property and income or sales taxes; $5,000 for separate filers)
Reduction of the mortgage debt limit for the home mortgage interest deduction to $750,000 ($375,000 for separate filers), with certain exceptions
Elimination of the deduction for interest on home equity debt
Elimination of the personal casualty and theft loss deduction (with an exception for federally declared disasters)
Elimination of miscellaneous itemized deductions subject to the 2% floor (such as certain investment expenses, professional fees and unreimbursed employee business expenses)
Elimination of the AGI-based reduction of certain itemized deductions
Elimination of the moving expense deduction (with an exception for members of the military in certain circumstances)
Expansion of tax-free Section 529 plan distributions to include those used to pay qualifying elementary and secondary school expenses, up to $10,000 per student per tax year
How are you affected?
As you can see, the TCJA changes for individuals are dramatic. Many rules and limits apply, so contact us to find out exactly how you're affected. We can also tell you if any other provisions affect you, and help you begin preparing for your 2018 tax return filing and 2019 tax planning.
© 2019
How gift card scammers target companies — and what you can do
Gift cards offer businesses a convenient way to reward employees and thank customers. However, as the FBI recently warned, gift card scams specifically targeting companies are on the rise. Since January 2017, losses from such fraud schemes have surpassed $1 million. Here's what you need to know to avoid being cheated.
Anatomy of a scam
Fraudsters use classic "spoofing" strategies to execute what law enforcement terms Business Internet Compromise (BIC) scams. They email or text an employee, claiming to be someone who can authorize gift card expenditures, such as the company's CEO or HR director.
Messages typically instruct the employee to purchase gift cards for the executive to give as gifts or to use for office expenses, such as holiday party supplies. The employee is told to send the gift card information, including card numbers and PINs, back to the "executive" (in reality, the scammer) who then cashes out the cards' value. By the time the business catches on, it's already too late to recover the stolen funds.
All companies are vulnerable to this type of fraud. But certain sectors seem to be at increased risk, including real estate, legal, medical, and distribution and supply businesses, as well as nonprofit organizations.
Simple steps
Prevention starts with education. Inform employees about the scam and ask them to be on the lookout for emails or texts that ask them to buy multiple gift cards on someone else's behalf. They should be particularly suspicious if the email urges them to act quickly or to reply with the gift card numbers and PINs.
To be on the safe side, require employees to follow up on any electronically delivered purchasing request with a phone call to the requesting party. And to reduce the chance that employees will receive spoofed emails, ensure that your network security is robust and up to date.
Report and control
The FBI asks businesses to report BIC gift card incidents to its Internet Crime Complaint Center at http://www.ic3.gov.
© 2018
2019 Q1 tax calendar: Key deadlines for businesses and other employers
Here are some of the key tax-related deadlines affecting businesses and other employers during the first quarter of 2019. Keep in mind that this list isn't all-inclusive, so there may be additional deadlines that apply to you. Contact us to ensure you're meeting all applicable deadlines and to learn more about the filing requirements.
January 31
File 2018 Forms W-2, "Wage and Tax Statement," with the Social Security Administration and provide copies to your employees.
Provide copies of 2018 Forms 1099-MISC, "Miscellaneous Income," to recipients of income from your business where required.
File 2018 Forms 1099-MISC reporting nonemployee compensation payments in Box 7 with the IRS.
File Form 940, "Employer's Annual Federal Unemployment (FUTA) Tax Return," for 2018. If your undeposited tax is $500 or less, you can either pay it with your return or deposit it. If it's more than $500, you must deposit it. However, if you deposited the tax for the year in full and on time, you have until February 11 to file the return.
File Form 941, "Employer's Quarterly Federal Tax Return," to report Medicare, Social Security and income taxes withheld in the fourth quarter of 2018. If your tax liability is less than $2,500, you can pay it in full with a timely filed return. If you deposited the tax for the quarter in full and on time, you have until February 11 to file the return. (Employers that have an estimated annual employment tax liability of $1,000 or less may be eligible to file Form 944,"Employer's Annual Federal Tax Return.")
File Form 945, "Annual Return of Withheld Federal Income Tax," for 2018 to report income tax withheld on all nonpayroll items, including backup withholding and withholding on accounts such as pensions, annuities and IRAs. If your tax liability is less than $2,500, you can pay it in full with a timely filed return. If you deposited the tax for the year in full and on time, you have until February 11 to file the return.
February 28
File 2018 Forms 1099-MISC with the IRS if 1) they're not required to be filed earlier and 2) you're filing paper copies. (Otherwise, the filing deadline is April 1.)
March 15
If a calendar-year partnership or S corporation, file or extend your 2018 tax return and pay any tax due. If the return isn't extended, this is also the last day to make 2018 contributions to pension and profit-sharing plans.
© 2018
Check deductibility before making year-end charitable gifts
As the holidays approach and the year draws to a close, many taxpayers make charitable gifts — both in the spirit of the season and as a year-end tax planning strategy. But with the tax law changes that go into effect in 2018 and the many rules that apply to the charitable deduction, it's a good idea to check deductibility before making any year-end donations.
Confirm you can still benefit from itemizing
Last year's Tax Cuts and Jobs Act (TCJA) didn't put new limits on or suspend the charitable deduction, like it did to many other itemized deductions. Nevertheless, it will reduce or eliminate the tax benefits of charitable giving for many taxpayers this year.
Itemizing saves tax only if itemized deductions exceed the standard deduction. For 2018 through 2025, the TCJA significantly increases the standard deduction, to $24,000 for married couples filing jointly, $18,000 for heads of households, and $12,000 for singles and married couples filing separately.
The nearly doubled standard deduction combined with the new limits or suspensions of some common itemized deductions means you may no longer have enough itemized deductions to exceed the standard deduction. And if that's the case, your donations won't save you tax.
So before you make any year-end charitable gifts, total up your potential itemized deductions for the year, including the donations you're considering. If the total is less than your standard deduction, your year-end donations won't provide a tax benefit.
You might, however, be able to preserve your charitable deduction by "bunching" donations into alternating years. This can allow you to exceed the standard deduction and claim a charitable deduction (and other itemized deductions) every other year.
Meet the delivery deadline
To be deductible on your 2018 return, a charitable gift must be made by Dec. 31, 2018. According to the IRS, a donation generally is "made" at the time of its "unconditional delivery." The delivery date depends in part on what you donate and how you donate it. Here are a few examples for common donations:
Check. The date you mail it.
Credit card. The date you make the charge.
Stock certificate. The date you mail the properly endorsed stock certificate to the charity.
Make sure the organization is "qualified"
To be deductible, a donation also must be made to a "qualified charity" — one that's eligible to receive tax-deductible contributions.
The IRS's online search tool, Tax Exempt Organization Search, can help you easily find out whether an organization is eligible to receive tax-deductible charitable contributions. You can access this tool at http://bit.ly/2gFacut  Information about organizations eligible to receive deductible contributions is updated monthly. Remember that political donations aren't deductible.
Consider other rules
We've discussed only some of the rules for the charitable deduction; many others apply. We can answer any questions you have about the deductibility of donations or changes to the standard deduction and itemized deductions.
© 2018
Does prepaying property taxes make sense anymore?
Prepaying property taxes related to the current year but due the following year has long been one of the most popular and effective year-end tax-planning strategies. But does it still make sense in 2018?
The answer, for some people, is yes — accelerating this expense will increase their itemized deductions, reducing their tax bills. But for many, particularly those in high-tax states, changes made by the Tax Cuts and Jobs Act (TCJA) eliminate the benefits.
What's changed?
The TCJA made two changes that affect the viability of this strategy. First, it nearly doubled the standard deduction to $24,000 for married couples filing jointly, $18,000 for heads of household, and $12,000 for singles and married couples filing separately, so fewer taxpayers will itemize. Second, it placed a $10,000 cap on state and local tax (SALT) deductions, including property taxes plus income or sales taxes.
For property tax prepayment to make sense, two things must happen:
1. You must itemize (that is, your itemized deductions must exceed the standard deduction), and
2. Your other SALT expenses for the year must be less than $10,000.
If you don't itemize, or you've already used up your $10,000 limit (on income or sales taxes or on previous property tax installments), accelerating your next property tax installment will provide no benefit.
Example
Joe and Mary, a married couple filing jointly, have incurred $5,000 in state income taxes, $5,000 in property taxes, $18,000 in qualified mortgage interest, and $4,000 in charitable donations, for itemized deductions totaling $32,000. Their next installment of 2018 property taxes, $5,000, is due in the spring of 2019. They've already reached the $10,000 SALT limit, so prepaying property taxes won't reduce their tax bill.
Now suppose they live in a state with no income tax. In that case, prepayment would potentially make sense because it would be within the SALT limit and would increase their 2018 itemized deductions.
Look before you leap
Before you prepay property taxes, review your situation carefully to be sure it will provide a tax benefit. And keep in mind that, just because prepayment will increase your 2018 itemized deductions, it doesn't necessarily mean that's the best strategy. For example, if you expect to be in a higher tax bracket in 2019, paying property taxes when due will likely produce a greater benefit over the two-year period.
For help determining whether prepaying property taxes makes sense for you this year, contact us. We can also suggest other year-end tips for reducing your taxes.
© 2018
Catch-up retirement plan contributions can be particularly advantageous post-TCJA
Will you be age 50 or older on December 31? Are you still working? Are you already contributing to your 401(k) plan or Savings Incentive Match Plan for Employees (SIMPLE) up to the regular annual limit? Then you may want to make "catch-up" contributions by the end of the year. Increasing your retirement plan contributions can be particularly advantageous if your itemized deductions for 2018 will be smaller than in the past because of changes under the Tax Cuts and Jobs Act (TCJA).
Catching up
Catch-up contributions are additional contributions beyond the regular annual limits that can be made to certain retirement accounts. They were designed to help taxpayers who didn't save much for retirement earlier in their careers to "catch up." But there's no rule that limits catch-up contributions to such taxpayers.
So catch-up contributions can be a great option for anyone who is old enough to be eligible, has been maxing out their regular contribution limit and has sufficient earned income to contribute more. The contributions are generally pretax (except in the case of Roth accounts), so they can reduce your taxable income for the year.
More benefits now?
This additional reduction to taxable income might be especially beneficial in 2018 if in the past you had significant itemized deductions that now will be reduced or eliminated by the TCJA. For example, the TCJA eliminates miscellaneous itemized deductions subject to the 2% of adjusted gross income floor — such as unreimbursed employee expenses (including home-off expenses) and certain professional and investment fees.
If, say, in 2018 you have $5,000 of expenses that in the past would have qualified as miscellaneous itemized deductions, an additional $5,000 catch-up contribution can make up for the loss of those deductions. Plus, you benefit from adding to your retirement nest egg and potential tax-deferred growth.
Other deductions that are reduced or eliminated include state and local taxes, mortgage and home equity interest expenses, casualty and theft losses, and moving expenses. If these changes affect you, catch-up contributions can help make up for your reduced deductions.
2018 contribution limits
Under 2018 401(k) limits, if you're age 50 or older and you have reached the $18,500 maximum limit for all employees, you can contribute an extra $6,000, for a total of $24,500. If your employer offers a SIMPLE instead, your regular contribution maxes out at $12,500 in 2018. If you're 50 or older, you're allowed to contribute an additional $3,000 — or $15,500 in total for the year.
But, check with your employer because, while most 401(k) plans and SIMPLEs offer catch-up contributions, not all do. Also keep in mind that additional rules and limits apply.
Additional options
Catch-up contributions are also available for IRAs, but the deadline for 2018 contributions is later: April 15, 2019. And whether your traditional IRA contributions will be deductible depends on your income and whether you or your spouse participates in an employer-sponsored retirement plan. Please contact us for more information about catch-up contributions and other year-end tax planning strategies.
© 2018
View our Full blog.
About Yuma, AZ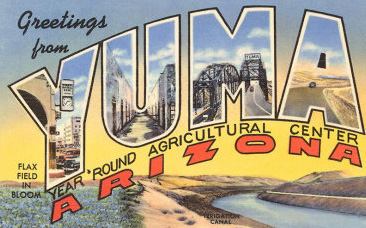 First incorporated as Arizona City in 1871, Yuma was renamed in 1873 and is now the largest city in Arizona outside the metro areas of Phoenix and Tucson.
Visit Our Friends in Yuma