Tax Tips and Alerts
---
Which entity is most suitable for your new or existing business?
The Tax Cuts and Jobs Act (TCJA) has changed the landscape for business taxpayers. That's because the law introduced a flat 21% federal income tax rate for C corporations. Under prior law, profitable C corporations paid up to 35%.
The TCJA also cut individual income tax rates, which apply to sole proprietorships and pass-through entities, including partnerships, S corporations, and LLCs (treated as partnerships for tax purposes). However, the top rate dropped from 39.6% to only 37%.
These changes have caused many business owners to ask: What's the optimal entity choice for me?
Entity tax basics
Before the TCJA, conventional wisdom was that most small businesses should be set up as sole proprietorships or pass-through entities to avoid the double taxation of C corporations. A C corporation pays entity-level income tax and then shareholders pay tax on dividends — and on capital gains when they sell the stock. For pass-through entities, there's no federal income tax at the entity level.
Although C corporations are still potentially subject to double taxation, their current 21% tax rate helps make up for it. This issue is further complicated, however, by another tax provision that allows noncorporate owners of pass-through entities to take a deduction equal to as much as 20% of qualified business income (QBI), subject to various limits. But, unless Congress extends it, that deduction is available only through 2025.
Many factors to consider
The best entity choice for your business depends on many factors. Keep in mind that one form of doing business might be more appropriate at one time (say, when you're launching), while another form might be better after you've been operating for a few years. Here are a few examples:
Suppose a business consistently generates losses. There's no tax advantage to operating as a C corporation. C corporation losses can't be deducted by their owners. A pass-through entity would generally make more sense in this scenario because losses would pass through to the owners' personal tax returns.
What about a profitable business that pays out all income to the owners? In this case, operating as a pass-through entity would generally be better if significant QBI deductions are available. If not, there's probably not a clear entity-choice answer in terms of tax liability.
Finally, what about a business that's profitable but holds on to its profits to fund future projects? In this case, operating as a C corporation generally would be beneficial if the corporation is a qualified small business (QSB). Reason: A 100% gain exclusion may be available for QSB stock sale gains. Even if QSB status isn't available, C corporation status is still probably preferred — unless significant QBI deductions would be available at the owner level.
As you can see, there are many issues involved and taxes are only one factor.
For example, one often-cited advantage of certain entities is that they allow a business to be treated as an entity separate from the owner. A properly structured corporation can protect you from business debts. But to ensure that the corporation is treated as a separate entity, it's important to observe various formalities required by the state. These include filing articles of incorporation, adopting by-laws, electing a board of directors, holding organizational meetings and keeping minutes.
The best long-term choice
The TCJA has far-reaching effects on businesses. Contact us to discuss how your business should be set up to lower its tax bill over the long run. But remember that entity choice is easier when starting up a business. Converting from one type of entity to another adds complexity. We can help you examine the ins and outs of making a change.
© 2019
Volunteering for charity: Do you get a tax break?
If you're a volunteer who works for charity, you may be entitled to some tax breaks if you itemize deductions on your tax return. Unfortunately, they may not amount to as much as you think your generosity is worth.
Because donations to charity of cash or property generally are tax deductible for itemizers, it may seem like donations of something more valuable for many people — their time — would also be deductible. However, no tax deduction is allowed for the value of time you spend volunteering or the services you perform for a charitable organization.
It doesn't matter if the services you provide require significant skills and experience, such as construction, which a charity would have to pay dearly for if it went out and obtained itself. You still don't get to deduct the value of your time.
However, you potentially can deduct out-of-pocket costs associated with your volunteer work.
The basic rules
As with any charitable donation, to be able to deduct your volunteer expenses, the first requirement is that the organization be a qualified charity. You can check by using the IRS's "Tax Exempt Organization Search" tool at <a href=""undefined  target="_blank">http://bit.ly/2KXWl5b.
If the charity is qualified, you may be able to deduct out-of-pocket costs that are unreimbursed; directly connected with the services you're providing; incurred only because of your charitable work; and not "personal, living or family" expenses.
Expenses that may qualify
A wide variety of expenses can qualify for the deduction. For example, supplies you use in the activity may be deductible. And the cost of a uniform you must wear during the activity may also be deductible (if it's required and not something you'd wear when not volunteering).
Transportation costs to and from the volunteer activity generally are deductible — either the actual expenses (such as gas costs) or 14 cents per charitable mile driven. The cost of entertaining others (such as potential contributors) on behalf of a charity may also be deductible. However, the cost of your own entertainment or meal isn't deductible.
Deductions are permitted for away-from-home travel expenses while performing services for a charity. This includes out-of-pocket round-trip travel expenses, taxi fares and other costs of transportation between the airport or station and hotel, plus lodging and meals. However, these expenses aren't deductible if there's a significant element of personal pleasure associated with the travel, or if your services for a charity involve lobbying activities.
Recordkeeping is important
The IRS may challenge charitable deductions for out-of-pocket costs, so it's important to keep careful records and receipts. You must meet the other requirements for charitable donations. For example, no charitable deduction is allowed for a contribution of $250 or more unless you substantiate the contribution with a written acknowledgment from the organization. The acknowledgment generally must include the amount of cash, a description of any property contributed, and whether you got anything in return for your contribution.
And, in order to get a charitable deduction, you must itemize. Under the Tax Cuts and Jobs Act, fewer people are itemizing because the law significantly increased the standard deduction amounts. So even if you have expenses from volunteering that qualify for a deduction, you may not get any tax benefit if you don't have enough itemized deductions.
If you have questions about charitable deductions and volunteer expenses, please contact us.
© 2019
You may have to pay tax on Social Security benefits
During your working days, you pay Social Security tax in the form of withholding from your salary or self-employment tax. And when you start receiving Social Security benefits, you may be surprised to learn that some of the payments may be taxed.
If you're getting close to retirement age, you may be wondering if your benefits are going to be taxed. And if so, how much will you have to pay? The answer depends on your other income. If you are taxed, between 50% and 85% of your payments will be hit with federal income tax. (There could also be state tax.)
Important: This doesn't mean you pay 50% to 85% of your benefits back to the government in taxes. It means that you have to include 50% to 85% of them in your income subject to your regular tax rates.
Calculate provisional income
To determine how much of your benefits are taxed, you must calculate your provisional income. It starts with your adjusted gross income on your tax return. Then, you add certain amounts (for example, tax-exempt interest from municipal bonds). Add to that the income of your spouse, if you file jointly. To this, add half of the Social Security benefits you and your spouse received during the year. The figure you come up with is your provisional income. Now apply the following rules:
If you file a joint tax return and your provisional income, plus half your benefits, isn't above $32,000 ($25,000 for single taxpayers), none of your Social Security benefits are taxed.
If your provisional income is between $32,001 and $44,000, and you file jointly with your spouse, you must report up to 50% of your Social Security benefits as income. For single taxpayers, if your provisional income is between $25,001 and $34,000, you must report up to 50% of your Social Security benefits as income.
If your provisional income is more than $44,000, and you file jointly, you must report up to 85% of your Social Security benefits as income on Form 1040. For single taxpayers, if your provisional income is more than $34,000, the general rule is that you must report up to 85% of your Social Security benefits as income.
Caution: If you aren't paying tax on your Social Security benefits now because your income is below the floor, or you're paying tax on only 50% of those benefits, an unplanned increase in your income can have a significant tax cost. You'll have to pay tax on the additional income, you'll also have to pay tax on (or on more of) your Social Security benefits, and you may get pushed into a higher tax bracket.
For example, this might happen if you receive a large retirement plan distribution during the year or you receive large capital gains. With careful planning, you might be able to avoid this tax result.
Avoid a large tax bill
If you know your Social Security benefits will be taxed, you may want to voluntarily arrange to have tax withheld from the payments by filing a Form W-4V with the IRS. Otherwise, you may have to make estimated tax payments.
Contact us to help you with the exact calculations on whether your Social Security will be taxed. We can also help you with tax planning to keep your taxes as low as possible during retirement.
© 2019
Is an HSA right for you?
To help defray health care costs, many people now contribute to, or are thinking about setting up, Health Savings Accounts (HSAs). With these accounts, individuals can pay for certain medical expenses on a tax advantaged basis.
The basics
With HSAs, you take more responsibility for your health care costs. If you're covered by a qualified high-deductible health plan, you can contribute pretax income to an employer-sponsored HSA — or make deductible contributions to an HSA you set up yourself.
You own the account, which can bear interest or be invested. It can grow tax-deferred, similar to an IRA. Withdrawals for qualified medical expenses are tax-free, and you can carry over a balance from year to year. So, unlike Flexible Spending Accounts (FSAs), undistributed balances in HSAs aren't forfeited at year end.
For the 2019 tax year, you can make a tax-deductible HSA contribution of up to $3,500 if you have qualifying self-only coverage or up to $7,000 if you have qualifying family coverage (anything other than self-only coverage). If you're age 55 or older as of December 31, the maximum contribution increases by $1,000.
To be eligible to contribute to an HSA, you must have a qualifying high deductible health insurance policy and no other general health coverage. For 2019, a high deductible health plan is defined as one with a deductible of at least $1,350 for self-only coverage or $2,700 for family coverage.
For 2019, qualifying policies must have had out-of-pocket maximums of no more than $6,750 for self-only coverage or $13,500 for family coverage.
Account balances
If you still have an HSA balance after reaching Medicare eligibility age (generally age 65), you can empty the account for any reason without a tax penalty. If you don't use the withdrawal to cover qualified medical expenses, you'll owe federal income tax and possibly state income tax. But the 20% tax penalty that generally applies to withdrawals not used for medical expenses won't apply. There's no tax penalty on withdrawals made after disability or death.
Alternatively, you can use your HSA balance to pay uninsured medical expenses incurred after reaching Medicare eligibility age. If your HSA still has a balance when you die, your surviving spouse can take over the account tax-free and treat it as his or her own HSA, if he or she is named as the beneficiary. In other cases, the date-of-death HSA balance must generally be included in taxable income on that date by the person who inherits the account.
Deadlines and deductions
If you're eligible to make an HSA contribution, the deadline is April 15 of the following year (adjusted for weekends and holidays) to open an account and make a tax-deductible contribution for the previous year.
So, if you're eligible, there's plenty of time to make a deductible contribution for 2019. The deadline for making 2019 contributions is April 15, 2020.
The write-off for HSA contributions is an "above-the-line" deduction. That means you can claim it even if you don't itemize.
In addition, an HSA contribution isn't tied to income. Even wealthy people can make deductible HSA contributions if they have qualifying high deductible health insurance coverage and meet the other requirements.
Tax-smart opportunity
HSAs can provide a smart tax-saving opportunity for individuals with qualifying high deductible health plans. Contact us to help you set up an HSA or decide how much to contribute for 2019.
© 2019
Employers: Be aware (or beware) of a harsh payroll tax penalty
If federal income tax and employment taxes (including Social Security) are withheld from employees' paychecks and not handed over to the IRS, a harsh penalty can be imposed. To make matters worse, the penalty can be assessed personally against a "responsible individual."
If a business makes payroll tax payments late, there are escalating penalties. And if an employer fails to make them, the IRS will crack down hard. With the "Trust Fund Recovery Penalty," also known as the "100% Penalty," the IRS can assess the entire unpaid amount against a responsible person who willfully fails to comply with the law.
Some business owners and executives facing a cash flow crunch may be tempted to dip into the payroll taxes withheld from employees. They may think, "I'll send the money in later when it comes in from another source." Bad idea!
No corporate protection
The corporate veil won't shield corporate officers in these cases. Unlike some other liability protections that a corporation or limited liability company may have, business owners and executives can't escape personal liability for payroll tax debts.
Once the IRS asserts the penalty, it can file a lien or take levy or seizure action against a responsible individual's personal assets.
Who's responsible?
The penalty can be assessed against a shareholder, owner, director, officer, or employee. In some cases, it can be assessed against a third party. The IRS can also go after more than one person. To be liable, an individual or party must:
Be responsible for collecting, accounting for, and paying over withheld federal taxes, and
Willfully fail to pay over those taxes. That means intentionally, deliberately, voluntarily and knowingly disregarding the requirements of the law.
The easiest way out of a delinquent payroll tax mess is to avoid getting into one in the first place. If you're involved in a small or medium-size business, make sure the federal taxes that have been withheld from employees' paychecks are paid over to the government on time. Don't ever allow "borrowing" from withheld amounts.
Consider hiring an outside service to handle payroll duties. A good payroll service provider relieves you of the burden of paying employees, making the deductions, taking care of the tax payments and handling recordkeeping. Contact us for more information.
© 2019
Thinking about moving to another state in retirement? Don't forget about taxes
When you retire, you may consider moving to another state — say, for the weather or to be closer to your loved ones. Don't forget to factor state and local taxes into the equation. Establishing residency for state tax purposes may be more complicated than it initially appears to be.
Identify all applicable taxes
It may seem like a no-brainer to simply move to a state with no personal income tax. But, to make a good decision, you must consider all taxes that can potentially apply to a state resident. In addition to income taxes, these may include property taxes, sales taxes and estate taxes.
If the states you're considering have an income tax, look at what types of income they tax. Some states, for example, don't tax wages but do tax interest and dividends. And some states offer tax breaks for pension payments, retirement plan distributions and Social Security payments.
Watch out for state estate tax
The federal estate tax currently doesn't apply to many people. For 2019, the federal estate tax exemption is $11.4 million ($22.8 million for a married couple). But some states levy estate tax with a much lower exemption and some states may also have an inheritance tax in addition to (or in lieu of) an estate tax.
Establish domicile
If you make a permanent move to a new state and want to escape taxes in the state you came from, it's important to establish legal domicile in the new location. The definition of legal domicile varies from state to state. In general, your domicile is your fixed and permanent home location and the place where you plan to return, even after periods of residing elsewhere.
Each state has its own rules regarding domicile. You don't want to wind up in a worst-case scenario: Two states could claim you owe state income taxes if you established domicile in the new state but didn't successfully terminate domicile in the old one. Additionally, if you die without clearly establishing domicile in just one state, both the old and new states may claim that your estate owes income taxes and any state estate tax.
How do you establish domicile in a new state? The more time that elapses after you change states and the more steps you take to establish domicile in the new state, the harder it will be for your old state to claim that you're still domiciled there for tax purposes. Some ways to help lock in domicile in a new state are to:
Buy or lease a home in the new state and sell your home in the old state (or rent it out at market rates to an unrelated party),
Change your mailing address at the post office,
Change your address on passports, insurance policies, will or living trust documents, and other important documents,
Register to vote, get a driver's license and register your vehicle in the new state, and
Open and use bank accounts in the new state and close accounts in the old one.
If an income tax return is required in the new state, file a resident return. File a nonresident return or no return (whichever is appropriate) in the old state. We can help with these returns.
Make an informed choice
Before deciding where you want to live in retirement, do some research and contact us. We can help you avoid unpleasant tax surprises.
© 2019
2019 – 06/10 – Don't mistake kickbacks for gifts
Kickbacks return a portion of the money exchanged in a business transaction as compensation for favorable treatment. They're illegal, but you may have trouble identifying kickbacks because they're often disguised as gifts, travel or entertainment. The main difference is the gift-giver's intent. Your employees shouldn't accept gifts offered to improperly influence business decisions or that give the impression they do. Tips from workers and vendors often reveal kickback schemes. Also watch out for lavish business entertainment, irregular purchasing behavior and unusual bid solicitation and submission processes.
Conflicts of interest: When employees aren't on your side
One of the governing principles of the employee/employer relationship is that employees have a fiduciary duty to act in their employer's interests. An employee's undisclosed conflict of interest can be a serious breach of this duty. In fact, when conflicts of interest exist, companies often suffer financial consequences.
Ignorance isn't bliss
Here's a fictional example of a common conflict of interest: Matt is the manager of a manufacturing company's purchasing department. He's also part owner of a business that sells supplies to the manufacturer — a fact Matt hasn't disclosed to his employer. And, in fact, Matt has personally profited from the business's lucrative long-term contract with his employer.
What makes this scenario a conflict of interest isn't so much that Matt has profited from his position, but that his employer is ignorant of the relationship. When employers are informed about their workers' outside business interests, they can act to exclude employees, vendors and customers from participation in certain transactions. Or they can allow parties to continue participating in a transaction — even if it runs contrary to ethical best practices. But it's the employer's, not the employee's, decision to make.
Cut off at the pass
Sometimes employees simply neglect to inform their employers about possible conflicts of interest. In other cases, they go to great lengths to hide conflicts — usually because they're afraid it will jeopardize their jobs or they're financially benefiting from them. These latter cases can be difficult to detect, which is why your company might fare better by playing offense.
For example, develop conflict of interest policies and communicate them to all employees. Provide specific examples of conflicts and spell out exactly why you consider the activities depicted to be deceptive, unethical and possibly illegal. Don't forget to state the consequences of nondisclosure of conflicts, such as immediate termination.
Disclosing all
To help ensure accurate statements, provide employees with a hotline to call if they:
Have general questions or concerns about the policy,
Don't understand how the policy relates to their unique circumstances, or
Want to report someone who appears to have a conflict of interest.
Also protect your business from conflicted vendors and customers. Before entering into a new agreement, compare the names and addresses on your employee disclosure statements with ownership information provided by prospective business partners.
Maintain standards
Conflicts of interest aren't always clear cut because what one employer considers a serious conflict might seem negligible to another. But in general, the best way to promote your business's success is by holding all stakeholders to the highest ethical standards.
© 2019
Fraud du jour: Social Security phone scams

Despite the National Do Not Call registry and features such as caller ID, phone fraud is thriving in the mobile phone era. Using spoofed numbers — which appear to be connected to legitimate government offices and businesses or that resemble your own number — fraud perpetrators say anything and everything to try to steal your money.
Recently, scammers have posed as Social Security officials to steal from unsuspecting consumers. Since January 2018, the Federal Trade Commission has received more than 63,000 reports about this scam. Only 3% of reporting call recipients lost money, but the losses total $16.6 million.
Anatomy of a crime
Here's how the Social Security scheme works: Criminals call from spoofed phone numbers and tell consumers that their Social Security number has been linked to a crime and has been "suspended." The callers claim that the consumer's bank accounts will be seized by the government unless they withdraw money and transfer the amount to gift cards. While the thief remains on the line, the consumer purchases the gift cards. Then the caller asks for the gift card numbers and PINs, supposedly for "safekeeping." With that information, the fraudster uses the cards or sells them on the black market.
The same callers also usually ask consumers for their Social Security number for confirmation purposes. With this critical piece of personal information, crooks can steal someone's identity.
Truth of the matter
The truth is that the Social Security Administration doesn't suspend Social Security numbers, nor does it ask people for their numbers over the phone. And no government entity would ask for payment in gift cards. Criminals hope that you aren't aware of these facts. They also use fear — of arrest, loss of savings and, in some cases, deportation — and a sense of urgency to get what they want.
Fortunately, you can avoid becoming snared in a Social Security phone scam by following some simple guidelines:
If you don't recognize the number appearing on your caller ID, don't answer the phone.
Install a spam call blocker (available in mobile app stores) and use it for any calls that seem suspicious.
If you inadvertently answer a spam call, hang up immediately.
Never provide personal information, including bank account or Social Security numbers, to anyone over the phone.
Report suspicious calls to ftccomplaintassistant.gov.
Businesses beware, too
Note that it's not just consumers who might fall victim to phone fraud schemes. Fraudsters also target businesses to secure sensitive information such as bank account numbers, routing numbers and passwords. If you're a business owner, educate employees about phone scams and implement fraud controls. Contact us for more information.
© 2019
Don't mistake kickbacks for gifts
Kickbacks return a portion of the money exchanged in a business transaction as compensation for favorable treatment. They're illegal in the United States and many other countries. But because kickbacks are often disguised as gifts, travel and entertainment, they can be hard to identify.
Intention of the gift-giver
Gifts, gratuities or courtesies of modest value associated with ordinary business practices are usually acceptable. The key consideration is the intention of the giver. Your employees shouldn't accept any gift offered with the intent to improperly influence business decisions — or that would give the impression of compromising the employee's ability to act in the best interests of the company.
The same integrity test should be applied in deciding whether to offer a gift to a customer or any other third party. You must take care to avoid not only an actual impropriety, but also the appearance of impropriety.
But defining what is proper or improper with a specific dollar amount can be difficult. Common sense often determines when a gift becomes extravagant or excessive. Professional organizations may provide their members with gift standards, and your employee handbook should set guidelines and spell out your policy.
Detection methods
Kickback schemes in progress often are uncovered when an employee or vendor reports it. So make sure your company operates a confidential fraud hotline. Without an eyewitness, you might look for a pattern of lavish business entertainment or irregular purchasing behavior. Watch for repeated instances of ordering materials at a time other than the optimal reorder point and consistently placing orders with the same vendor.
Failure to follow general bidding policies also signals the need for a closer look. And if costs of materials seem out of line, the cause may be kickbacks in general purchasing.
Bidding irregularities
Kickbacks sometimes sneak into the bidding process when employees accept money in return for advance information about bids. Irregularities in the bid solicitation and submission process — for example, tailoring requirements in solicitation documents to fit the products or capabilities of a single contractor — may be signs of a kickback scheme.
Other signals of possible trouble include prequalification procedures restricting competition and bypassing necessary review procedures. A foreshortened bid submission schedule might allow only those with advance information time to prepare proposals.
Spell out your policy
The line between an acceptable gift offered with integrity and a kickback given as an illegal inducement for favorable treatment can be thin. Contact us for assistance in detecting and preventing kickbacks.
© 2019
View our Full blog.
About Yuma, AZ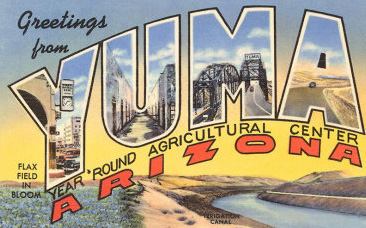 First incorporated as Arizona City in 1871, Yuma was renamed in 1873 and is now the largest city in Arizona outside the metro areas of Phoenix and Tucson.
Visit Our Friends in Yuma