Tax Tips and Alerts
---
Important tax aspects of operating your business as a sole proprietor
If you're in business for yourself as a sole proprietor, or you're planning to start a business, you need to know about the tax aspects of your venture. Here are eight important issues to consider:
1. You report income and expenses on Schedule C of Form 1040. The net income is taxable to you regardless of whether you withdraw cash from the business. Your business expenses are deductible against gross income and not as itemized deductions. If you have any losses, they're generally deductible against your other income, subject to special rules relating to hobby losses, passive activity losses and losses in activities in which you weren't "at risk."
2. You may be eligible for the pass-through deduction. To the extent your business generates qualified business income, you're eligible to take the 20% pass-through deduction, subject to various limitations. The deduction is taken "below the line," so it reduces taxable income, rather than being taken "above the line" against gross income. You can take the deduction even if you don't itemize and instead take the standard deduction.
3. You might be able to deduct home office expenses. If you work from home, perform management or administrative tasks from a home office or store product samples or inventory at home, you may be entitled to deduct an allocable portion of certain costs. And if you have a home office, you may be able to deduct expenses of traveling from there to another work location.
4. You must pay self-employment taxes. For 2022, you pay self-employment tax (Social Security and Medicare) at a 15.3% rate on your self-employment net earnings of up to $147,000 and Medicare tax only at a 2.9% rate on the excess. An additional 0.9% Medicare tax is imposed on self-employment income in excess of $250,000 for joint returns, $125,000 for married taxpayers filing separately, and $200,000 in all other cases. Self-employment tax is imposed in addition to income tax, but you can deduct half of your self-employment tax as an adjustment to income.
5. You can deduct 100% of your health insurance costs as a business expense. This means your deduction for medical care insurance won't be subject to the rule that limits your medical expense deduction to amounts in excess of 7.5% of your adjusted gross income.
6. You must make quarterly estimated tax payments. For 2022, these are due April 18, June 15, September 15 and January 17, 2023.
7. You should keep complete records of your income and expenses. Carefully record expenses in order to claim all of the deductions to which you are entitled. Certain expenses, such as automobile, travel, meals and home office expenses, require special attention because they're subject to special recordkeeping requirements or limits on deductibility.
8. If you hire employees, you need a taxpayer identification number and you must withhold and pay over employment taxes.
We can help
Contact us if you'd like more information or assistance with the tax or recordkeeping aspects of your business.
© 2022
Keeping meticulous records is the key to tax deductions and painless IRS audits
If you operate a business, or you're starting a new one, you know you need to keep records of your income and expenses. Specifically, you should carefully record your expenses in order to claim all of the tax deductions to which you're entitled. And you want to make sure you can defend the amounts reported on your tax returns in case you're ever audited by the IRS.
Be aware that there's no one way to keep business records. But there are strict rules when it comes to keeping records and proving expenses are legitimate for tax purposes. Certain types of expenses, such as automobile, travel, meals and home office costs, require special attention because they're subject to special recordkeeping requirements or limitations.
Here are two recent court cases to illustrate some of the issues.
Case 1: To claim deductions, an activity must be engaged in for profit
A business expense can be deducted if a taxpayer can establish that the primary objective of the activity is making a profit. The expense must also be substantiated and be an ordinary and necessary business expense. In one case, a taxpayer claimed deductions that created a loss, which she used to shelter other income from tax.
She engaged in various activities including acting in the entertainment industry and selling jewelry. The IRS found her activities weren't engaged in for profit and it disallowed her deductions.
The taxpayer took her case to the U.S. Tax Court, where she found some success. The court found that she was engaged in the business of acting during the years in issue. However, she didn't prove that all claimed expenses were ordinary and necessary business expenses. The court did allow deductions for expenses including headshots, casting agency fees, lessons to enhance the taxpayer's acting skills and part of the compensation for a personal assistant. But the court disallowed other deductions because it found insufficient evidence "to firmly establish a connection" between the expenses and the business.
In addition, the court found that the taxpayer didn't prove that she engaged in her jewelry sales activity for profit. She didn't operate it in a businesslike manner, spend sufficient time on it or seek out expertise in the jewelry industry. Therefore, all deductions related to that activity were disallowed. (TC Memo 2021-107)
Case 2: A business must substantiate claimed deductions with records
A taxpayer worked as a contract emergency room doctor at a medical center. He also started a business to provide emergency room physicians overseas. On Schedule C of his tax return, he deducted expenses related to his home office, travel, driving, continuing education, cost of goods sold and interest. The IRS disallowed most of the deductions.
As evidence in Tax Court, the doctor showed charts listing his expenses but didn't provide receipts or other substantiation showing the expenses were actually paid. He also failed to account for the portion of expenses attributable to personal activity.
The court disallowed the deductions stating that his charts weren't enough and didn't substantiate that the expenses were ordinary and necessary in his business. It noted that "even an otherwise deductible expense may be denied without sufficient substantiation." The doctor also didn't qualify to take home office deductions because he didn't prove it was his principal place of business. (TC Memo 2022-1)
We can help
Contact us if you need assistance retaining adequate business records. Taking a meticulous, proactive approach can protect your deductions and help make an audit much less difficult.
© 2022
The Ins and Outs of IRAs
Traditional IRAs and Roth IRAs have been around for decades and the rules surrounding them have changed many times. What hasn't changed is that they can help you save for retirement on a tax-favored basis. Here's an overview.
Traditional IRAs
You can make an annual deductible contribution to a traditional IRA if:
You (and your spouse) aren't active participants in employer-sponsored retirement plans, or
You (or your spouse) are active participants in an employer plan, and your modified adjusted gross income (MAGI) doesn't exceed certain levels that vary annually by filing status.
For example, in 2022, if you're a joint return filer covered by an employer plan, your deductible IRA contribution phases out over $109,000 to $129,000 of MAGI ($68,000 to $78,000 for singles).
Deductible IRA contributions reduce your current tax bill, and earnings are tax-deferred. However, withdrawals are taxed in full (and subject to a 10% penalty if taken before age 59½, unless one of several exceptions apply). You must begin making minimum withdrawals by April 1 of the year following the year you turn age 72.
You can make an annual nondeductible IRA contribution without regard to employer plan coverage and your MAGI. The earnings in a nondeductible IRA are tax-deferred but taxed when distributed (and subject to a 10% penalty if taken early, unless an exception applies).
You must begin making minimum withdrawals by April 1 of the year after the year you reach age 72. Nondeductible contributions aren't taxed when withdrawn. If you've made deductible and nondeductible IRA contributions, a portion of each distribution is treated as coming from nontaxable IRA contributions (and the rest is taxed).
Contribution amounts
The maximum annual IRA contribution (deductible or nondeductible, or a combination) is $6,000 for 2022 and 2021 ($7,000 if age 50 or over). Additionally, your contribution can't exceed the amount of your compensation includible in income for that year. There's no age limit for making contributions, as long as you have compensation income (before 2021, traditional IRA contributions weren't allowed after age 70½).
Roth IRAs
You can make an annual contribution to a Roth IRA if your income doesn't exceed certain levels based on filing status. For example, in 2022, if you're a joint return filer, the maximum annual Roth IRA contribution phases out between $204,000 and $214,000 of MAGI ($129,000 to $144,000 for singles). Annual Roth contributions can be made up to the amount allowed as a contribution to a traditional IRA, reduced by the amount you contribute for the year to non-Roth IRAs, but not reduced by contributions to a SEP or SIMPLE plan.
Roth IRA contributions aren't deductible. However, earnings are tax-deferred and (unlike a traditional IRA) withdrawals are tax-free if paid out:
After a five-year period that begins with the first year for which you made a contribution to a Roth, and
Once you reach age 59½, or upon death or disability, or for first-time home-buyer expenses of you, your spouse, child, grandchild, or ancestor (up to $10,000 lifetime).
You can make Roth IRA contributions even after reaching age 72 (if you have compensation income), and you don't have to take required minimum distributions from a Roth. You can "roll over" (or convert) a traditional IRA to a Roth regardless of your income. The amount taken out of the traditional IRA and rolled into the Roth is treated for tax purposes as a regular withdrawal (but not subject to the 10% early withdrawal penalty).
Contact us for more information about how you may be able to benefit from IRAs.
© 2022
Did you give to charity in 2021? Make sure you have substantiation
If you donated to charity last year, letters from the charities may have appeared in your mailbox recently acknowledging the donations. But what happens if you haven't received such a letter — can you still claim a deduction for the gift on your 2021 income tax return? It depends.
The requirements
To prove a charitable donation for which you claim a tax deduction, you need to comply with IRS substantiation requirements. For a donation of $250 or more, this includes obtaining a contemporaneous written acknowledgment from the charity stating the amount of the donation, whether you received any goods or services in consideration for the donation and the value of any such goods or services.
"Contemporaneous" means the earlier of:
The date you file your tax return, or
The extended due date of your return.
Therefore, if you made a donation in 2021 but haven't yet received substantiation from the charity, it's not too late — as long as you haven't filed your 2021 return. Contact the charity now and request a written acknowledgment.
Keep in mind that, if you made a cash gift of under $250 with a check or credit card, generally a canceled check, bank statement or credit card statement is sufficient. However, if you received something in return for the donation, you generally must reduce your deduction by its value — and the charity is required to provide you a written acknowledgment as described earlier.
Temporary deduction for nonitemizers is gone
In general, taxpayers who don't itemize their deductions (and instead claim the standard deduction) can't claim a charitable deduction. Under the COVID-19 relief laws, individuals who don't itemize deductions can claim a federal income tax write-off for up to $300 of cash contributions to IRS-approved charities for the 2021 tax year. This deduction is $600 for married joint filers for cash contributions made in 2021. Unfortunately, the deduction for nonitemizers isn't available for 2022 unless Congress acts to extend it.
Additional requirements
Additional substantiation requirements apply to some types of donations. For example, if you donate property valued at more than $500, a completed Form 8283 (Noncash Charitable Contributions) must be attached to your return or the deduction isn't allowed.
And for donated property with a value of more than $5,000, you're generally required to obtain a qualified appraisal and to attach an appraisal summary to your tax return.
We can help you determine whether you have sufficient substantiation for the donations you hope to deduct on your 2021 income tax return — and guide you on the substantiation you'll need for gifts you're planning this year to ensure you can enjoy the desired deductions on your 2022 return.
© 2022
Smooth sailing: Tips to speed processing and avoid hassles this tax season
The IRS began accepting 2021 individual tax returns on January 24. If you haven't prepared yet for tax season, here are three quick tips to help speed processing and avoid hassles.
Tip 1. Contact us soon for an appointment to prepare your tax return.
Tip 2. Gather all documents needed to prepare an accurate return. This includes W-2 and 1099 forms. In addition, you may have received statements or letters in connection with Economic Impact Payments (EIPs) or advance Child Tax Credit (CTC) payments.
Letter 6419, 2021 Total Advance Child Tax Credit Payments, tells taxpayers who received CTC payments how much they received. Since the advance payments represented about one-half of the total credit, taxpayers who received CTC payments need to file a return to collect the rest of the credit. Letter 6475, Your Third Economic Impact Payment, tells taxpayers who received an EIP in 2021 the amount of that payment. Taxpayers need to know the amount to determine if they can claim an additional amount on their tax returns.
Taxpayers who received an EIP or CTC payments must include that information on their returns. Failure to include this information, according to the IRS, means a return is incomplete and will require additional processing, which may delay any refund owed to the taxpayer.
Tip 3. Check certain information on your prepared return. Each Social Security number on your tax return should appear exactly as printed on the Social Security card(s). Likewise, make sure that names aren't misspelled. If you're receiving your refund by direct deposit, check the bank account number.
Failure to file or pay on time
What if you don't file on time or can't pay your tax bill? Separate penalties apply for failing to pay and failing to file. The penalties imposed are a percentage of the taxes you didn't pay or didn't pay on time. If you obtain an extension for the filing due date (until October 17), you aren't filing late unless you miss the extended due date. However, a filing extension doesn't apply to your responsibility for payment. If you obtain an extension, you're required to pay an estimate of any owed taxes by the regular deadline to avoid possible penalties.
The penalties for failing to file and failing to pay can be quite severe. (They may be excused by the IRS if your lateness is due to "reasonable cause," such as illness or a death in the family.) Contact us for questions or concerns about how to proceed in your situation.
© 2022
Providing a company car? Here's how taxes are handled
The use of a company vehicle is a valuable fringe benefit for owners and employees of small businesses. This perk results in tax deductions for the employer as well as tax breaks for the owners and employees using the cars. (And of course, they get the nontax benefit of getting a company car.) Plus, current tax law and IRS rules make the benefit even better than it was in the past.
The rules in action
Let's say you're the owner-employee of a corporation that's going to provide you with a company car. You need the car to visit customers, meet with vendors and check on suppliers. You expect to drive the car 8,500 miles a year for business. You also expect to use the car for about 7,000 miles of personal driving, including commuting, running errands and weekend trips. Therefore, your usage of the vehicle will be approximately 55% for business and 45% for personal purposes. You want a nice car to reflect positively on your business, so the corporation buys a new $55,000 luxury sedan.
Your cost for personal use of the vehicle is equal to the tax you pay on the fringe benefit value of your 45% personal mileage. By contrast, if you bought the car yourself to be able to drive the personal miles, you'd be out-of-pocket for the entire purchase cost of the car.
Your personal use will be treated as fringe benefit income. For tax purposes, your corporation will treat the car much the same way it would any other business asset, subject to depreciation deduction restrictions if the auto is purchased. Out-of-pocket expenses related to the car (including insurance, gas, oil and maintenance) are deductible, including the portion that relates to your personal use. If the corporation finances the car, the interest it pays on the loan would be deductible as a business expense (unless the business is subject to the business interest expense deduction limitation under the tax code).
In contrast, if you bought the auto yourself, you wouldn't be entitled to any deductions. Your outlays for the business-related portion of your driving would be unreimbursed employee business expenses that are nondeductible from 2018 to 2025 due to the suspension of miscellaneous itemized deductions under the Tax Cuts and Jobs Act. And if you financed the car yourself, the interest payments would be nondeductible.
And finally, the purchase of the car by your corporation will have no effect on your credit rating.
Necessary paperwork
Providing an auto for an owner's or key employee's business and personal use comes with complications and paperwork. Personal use will have to be tracked and valued under the fringe benefit tax rules and treated as income. This article only explains the basics.
Despite the necessary valuation and paperwork, a company-provided car is still a valuable fringe benefit for business owners and key employees. It can provide them with the use of a vehicle at a low tax cost while generating tax deductions for their businesses. We can help you stay in compliance with the rules and explain more about this prized perk.
© 2022
Will the standard business mileage rate go up in 2022? Yes!
After two years of no increases, the optional standard mileage rate used to calculate the deductible cost of operating an automobile for business will be going up in 2022 by 2.5 cents per mile. The IRS recently announced that the cents-per-mile rate for the business use of a car, van, pickup or panel truck will be 58.5 cents (up from 56 cents for 2021).
The increased tax deduction partly reflects the price of gasoline. On December 21, 2021, the national average price of a gallon of regular gas was $3.29, compared with $2.22 a year earlier, according to AAA Gas Prices.
Don't want to keep track of actual expenses?
Businesses can generally deduct the actual expenses attributable to business use of vehicles. This includes gas, oil, tires, insurance, repairs, licenses and vehicle registration fees. In addition, you can claim a depreciation allowance for the vehicle. However, in many cases, certain limits apply to depreciation write-offs on vehicles that don't apply to other types of business assets.
The cents-per-mile rate is beneficial if you don't want to keep track of actual vehicle-related expenses. With this method, you don't have to account for all your actual expenses. However, you still must record certain information, such as the mileage for each business trip, the date and the destination.
Using the cents-per-mile rate is also popular with businesses that reimburse employees for business use of their personal vehicles. These reimbursements can help attract and retain employees who drive their personal vehicles a great deal for business purposes. Why? Under current law, employees can't deduct unreimbursed employee business expenses, such as business mileage, on their own income tax returns.
If you do use the cents-per-mile rate, keep in mind that you must comply with various rules. If you don't comply, the reimbursements could be considered taxable wages to the employees.
How is the rate calculated?
The business cents-per-mile rate is adjusted annually. It's based on an annual study commissioned by the IRS about the fixed and variable costs of operating a vehicle, such as gas, maintenance, repair and depreciation. Occasionally, if there's a substantial change in average gas prices, the IRS will change the cents-per-mile rate midyear.
When can the cents-per-mile method not be used?
There are some cases when you can't use the cents-per-mile rate. It partly depends on how you've claimed deductions for the same vehicle in the past. In other situations, it depends on if the vehicle is new to your business this year or whether you want to take advantage of certain first-year depreciation tax breaks on it.
As you can see, there are many factors to consider in deciding whether to use the standard mileage rate to deduct vehicle expenses. We can help if you have questions about tracking and claiming such expenses in 2022 — or claiming 2021 expenses on your 2021 income tax return. 
© 2021
Numerous tax limits affecting businesses have increased for 2022
Many tax limits that affect businesses are annually indexed for inflation, and a number of them have increased for 2022. Here's a rundown of those that may be important to you and your business.
Social Security tax
The amount of an employee's earnings that is subject to Social Security tax is capped for 2022 at $147,000 (up from $142,800 in 2021).
Deductions
Standard business mileage rate, per mile: 58.5 cents (up from 56 cents in 2021)
Section 179 expensing:

Limit: $1.08 million (up from $1.05 million in 2021)
Phaseout: $2.7 million (up from $2.62 million)

Income-based phase-out for certain limits on the Sec. 199A qualified business income deduction begins at:

Married filing jointly: $340,100 (up from $329,800 in 2021)
Single filers: $170,050 (up from $164,900)
Business meals
In 2022 and 2021, the deduction for eligible business-related food and beverage expenses provided by a restaurant is 100% (up from 50% in 2020).
Retirement plans
Employee contributions to 401(k) plans: $20,500 (up from $19,500 in 2021)
Catch-up contributions to 401(k) plans: $6,500 (unchanged)
Employee contributions to SIMPLEs: $14,000 (up from $13,500)
Catch-up contributions to SIMPLEs: $3,000 (unchanged)
Combined employer/employee contributions to defined contribution plans: $61,000 (up from $58,000)
Maximum compensation used to determine contributions: $305,000 (up from $290,000)
Annual limit for defined benefit plans: $245,000 (up from $230,000)
Compensation defining a highly compensated employee: $135,000 (up from $130,000)
Compensation defining a "key" employee: $200,000 (up from $185,000) 
Other employee benefits
Qualified transportation fringe-benefits employee income exclusion: $280 per month (up from $270 per month)
Health Savings Account contributions:

Individual coverage: $3,650 (up from $3,600)
Family coverage: $7,300 (up from $7,200)
Catch-up contribution: $1,000 (unchanged)

Health care Flexible Spending Account contributions: $2,850 (up from $2,750)
These are only some of the tax limits that may affect your business and additional rules may apply. Contact us if you have questions.
© 2022
2022 Q1 tax calendar: Key deadlines for businesses and other employers
Here are some of the key tax-related deadlines affecting businesses and other employers during the first quarter of 2022. Keep in mind that this list isn't all-inclusive, so there may be additional deadlines that apply to you. Contact us to ensure you're meeting all applicable deadlines and to learn more about the filing requirements.
January 17 (The usual deadline of January 15 is a Saturday)
Pay the final installment of 2021 estimated tax.
Farmers and fishermen: Pay estimated tax for 2021.
January 31
File 2021 Forms W-2, "Wage and Tax Statement," with the Social Security Administration and provide copies to your employees.
Provide copies of 2021 Forms 1099-MISC, "Miscellaneous Income," to recipients of income from your business where required.
File 2021 Forms 1099-MISC, reporting nonemployee compensation payments in Box 7, with the IRS.
File Form 940, "Employer's Annual Federal Unemployment (FUTA) Tax Return," for 2021. If your undeposited tax is $500 or less, you can either pay it with your return or deposit it. If it's more than $500, you must deposit it. However, if you deposited the tax for the year in full and on time, you have until February 10 to file the return.
File Form 941, "Employer's Quarterly Federal Tax Return," to report Medicare, Social Security and income taxes withheld in the fourth quarter of 2021. If your tax liability is less than $2,500, you can pay it in full with a timely filed return. If you deposited the tax for the quarter in full and on time, you have until February 10 to file the return. (Employers that have an estimated annual employment tax liability of $1,000 or less may be eligible to file Form 944, "Employer's Annual Federal Tax Return.")
File Form 945, "Annual Return of Withheld Federal Income Tax," for 2021 to report income tax withheld on all nonpayroll items, including backup withholding and withholding on accounts such as pensions, annuities and IRAs. If your tax liability is less than $2,500, you can pay it in full with a timely filed return. If you deposited the tax for the year in full and on time, you have until February 10 to file the return.
February 28
File 2021 Forms 1099-MISC with the IRS if: 1) they're not required to be filed earlier and 2) you're filing paper copies. (Otherwise, the filing deadline is March 31.)
March 15
If a calendar-year partnership or S corporation, file or extend your 2021 tax return and pay any tax due. If the return isn't extended, this is also the last day to make 2021 contributions to pension and profit-sharing plans.
© 2021
Help safeguard your personal information by filing your 2021 tax return early

The IRS announced it is opening the 2021 individual income tax return filing season on January 24. (Business returns are already being accepted.) Even if you typically don't file until much closer to the April deadline (or you file for an extension until October), consider filing earlier this year. Why? You can potentially protect yourself from tax identity theft — and there may be other benefits, too.
How tax identity theft occurs
In a tax identity theft scheme, a thief uses another individual's personal information to file a bogus tax return early in the filing season and claim a fraudulent refund.
The actual taxpayer discovers the fraud when he or she files a return and is told by the IRS that it is being rejected because one with the same Social Security number has already been filed for the tax year. While the taxpayer should ultimately be able to prove that his or her return is the legitimate one, tax identity theft can be a hassle to straighten out and significantly delay a refund.
Filing early may be your best defense: If you file first, it will be the tax return filed by a potential thief that will be rejected — not yours.
Note: You can still get your individual tax return prepared by us before January 24 if you have all the required documents. But processing of the return will begin after IRS systems open on that date.
Your W-2s and 1099s
To file your tax return, you need all of your W-2s and 1099s. January 31 is the deadline for employers to issue 2021 W-2 forms to employees and, generally, for businesses to issue Form 1099s to recipients for any 2021 interest, dividend or reportable miscellaneous income payments (including those made to independent contractors).
If you haven't received a W-2 or 1099 by February 1, first contact the entity that should have issued it. If that doesn't work, you can contact the IRS for help.
Other benefits of filing early
In addition to protecting yourself from tax identity theft, another advantage of early filing is that, if you're getting a refund, you'll get it sooner. The IRS expects most refunds to be issued within 21 days. However, the IRS has been experiencing delays during the pandemic in processing some returns. Keep in mind that the time to receive a refund is typically shorter if you file electronically and receive a refund by direct deposit into a bank account.
Direct deposit also avoids the possibility that a refund check could be lost, stolen, returned to the IRS as undeliverable or caught in mail delays.
If you were eligible for an Economic Impact Payment (EIP) or advance Child Tax Credit (CTC) payments, and you didn't receive them or you didn't receive the full amount due, filing early will help you to receive the money sooner. In 2021, the third round of EIPs were paid by the federal government to eligible individuals to help mitigate the financial effects of COVID-19. Advance CTC payments were made monthly in 2021 to eligible families from July through December. EIP and CTC payments due that weren't made to eligible taxpayers can be claimed on your 2021 return.
We can help
Contact us If you have questions or would like an appointment to prepare your tax return. We can help you ensure you file an accurate return that takes advantage of all of the breaks available to you.
© 2022
View our Full blog.
About Yuma, AZ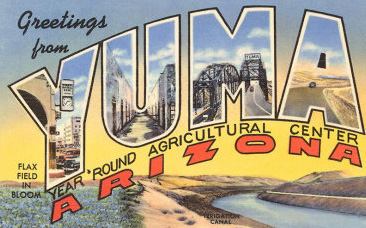 First incorporated as Arizona City in 1871, Yuma was renamed in 1873 and is now the largest city in Arizona outside the metro areas of Phoenix and Tucson.
Visit Our Friends in Yuma