Tax Tips and Alerts
---
Steer clear of the wash sale rule if you're selling stock by year end
Are you thinking about selling stock shares at a loss to offset gains that you've realized during 2020? If so, it's important not to run afoul of the "wash sale" rule.
IRS may disallow the loss
Under this rule, if you sell stock or securities for a loss and buy substantially identical stock or securities back within the 30-day period before or after the sale date, the loss can't be claimed for tax purposes. The rule is designed to prevent taxpayers from using the tax benefit of a loss without parting with ownership in any significant way. Note that the rule applies to a 30-day period before or after the sale date to prevent "buying the stock back" before it's even sold. (If you participate in any dividend reinvestment plans, it's possible the wash sale rule may be inadvertently triggered when dividends are reinvested under the plan, if you've separately sold some of the same stock at a loss within the 30-day period.)
The rule even applies if you repurchase the security in a tax-advantaged retirement account, such as a traditional or Roth IRA.
Although the loss can't be claimed on a wash sale, the disallowed amount is added to the cost of the new stock. So, the disallowed amount can be claimed when the new stock is finally disposed of in the future (other than in a wash sale).
An example to illustrate
Let's say you bought 500 shares of ABC Inc. for $10,000 and sold them on November 5 for $3,000. On November 30, you buy 500 shares of ABC again for $3,200. Since the shares were "bought back" within 30 days of the sale, the wash sale rule applies. Therefore, you can't claim a $7,000 loss. Your basis in the new 500 shares is $10,200: the actual cost plus the $7,000 disallowed loss.
If only a portion of the stock sold is bought back, only that portion of the loss is disallowed. So, in the above example, if you'd only bought back 300 of the 500 shares (60%), you'd be able to claim 40% of the loss on the sale ($2,800). The remaining $4,200 loss that's disallowed under the wash sale rule would be added to your cost of the 300 shares.
If you've cashed in some big gains in 2020, you may be looking for unrealized losses in your portfolio so you can sell those investments before year end. By doing so, you can offset your gains with your losses and reduce your 2020 tax liability. But be careful of the wash sale rule. 
© 2020
How Series EE savings bonds are taxed
Many people have Series EE savings bonds that were purchased many years ago. Perhaps they were given to your children as gifts or maybe you bought them yourself and put them away in a file cabinet or safe deposit box. You may wonder: How is the interest you earn on EE bonds taxed? And if they reach final maturity, what action do you need to take to ensure there's no loss of interest or unanticipated tax consequences?
Fixed or variable interest
Series EE Bonds dated May 2005, and after, earn a fixed rate of interest. Bonds purchased between May 1997 and April 30, 2005, earn a variable market-based rate of return.
Paper Series EE bonds were sold at half their face value. For example, if you own a $50 bond, you paid $25 for it. The bond isn't worth its face value until it matures. (The U.S. Treasury Department no longer issues EE bonds in paper form.) Electronic Series EE Bonds are sold at face value and are worth their full value when available for redemption.
The minimum term of ownership is one year, but a penalty is imposed if the bond is redeemed in the first five years. The bonds earn interest for 30 years.
Interest generally accrues until redemption
Series EE bonds don't pay interest currently. Instead, the accrued interest is reflected in the redemption value of the bond. The U.S. Treasury issues tables showing the redemption values.
The interest on EE bonds isn't taxed as it accrues unless the owner elects to have it taxed annually. If an election is made, all previously accrued but untaxed interest is also reported in the election year. In most cases, this election isn't made so bond holders receive the benefits of tax deferral.
If the election to report the interest annually is made, it will apply to all bonds and for all future years. That is, the election cannot be made on a bond-by-bond or year-by-year basis. However, there's a procedure under which the election can be canceled.
If the election isn't made, all of the accrued interest is finally taxed when the bond is redeemed or otherwise disposed of (unless it was exchanged for a Series HH bond). The bond continues to accrue interest even after reaching its face value, but at "final maturity" (after 30 years) interest stops accruing and must be reported.
Note: Interest on EE bonds isn't subject to state income tax. And using the money for higher education may keep you from paying federal income tax on your interest.
Reaching final maturity
One of the main reasons for buying EE bonds is the fact that interest can build up without having to currently report or pay tax on it. Unfortunately, the law doesn't allow for this tax-free buildup to continue indefinitely. When the bonds reach final maturity, they stop earning interest.
Series EE bonds issued in January 1990 reached final maturity after 30 years, in January 2020. That means that not only have they stopped earning interest, but all of the accrued and as yet untaxed interest is taxable in 2020.
If you own EE bonds (paper or electronic), check the issue dates on your bonds. If they're no longer earning interest, you probably want to redeem them and put the money into something more profitable. Contact us if you have any questions about savings bond taxation, including Series HH and Series I bonds.
© 2020
Disability income: How is it taxed?
Many Americans receive disability income. You may wonder if — and how — it's taxed. As is often the case with tax questions, the answer is … it depends.
The key factor is who paid for the benefit. If the income is paid directly to you by your employer, it's taxable to you as ordinary salary would be. (Taxable benefits are also subject to federal income tax withholding, although depending on the employer's disability plan, in some cases aren't subject to the Social Security tax.)
Frequently, the payments aren't made by the employer but by an insurance company under a policy providing disability coverage or, under an arrangement having the effect of accident or health insurance. If this is the case, the tax treatment depends on who paid for the coverage. If your employer paid for it, then the income is taxed to you just as if paid directly to you by the employer. On the other hand, if it's a policy you paid for, the payments you receive under it aren't taxable.
Even if your employer arranges for the coverage, (in other words, it's a policy made available to you at work), the benefits aren't taxed to you if you pay the premiums. For these purposes, if the premiums are paid by the employer but the amount paid is included as part of your taxable income from work, the premiums are treated as paid by you.
A couple of examples
Let's say your salary is $1,000 a week ($52,000 a year). Additionally, under a disability insurance arrangement made available to you by your employer, $10 a week ($520 for the year) is paid on your behalf by your employer to an insurance company. You include $52,520 in income as your wages for the year: the $52,000 paid to you plus the $520 in disability insurance premiums. In this case, the insurance is treated as paid for by you. If you become disabled and receive benefits, they aren't taxable income to you.
Now, let's look at an example with the same facts as above. Except in this case, you include only $52,000 in income as your wages for the year because the amount paid for the insurance coverage qualifies as excludable under the rules for employer-provided health and accident plans. In this case, the insurance is treated as paid for by your employer. If you become disabled and receive benefits, they are taxable income to you.
Note: There are special rules in the case of a permanent loss (or loss of the use) of a part or function of the body, or a permanent disfigurement.
Social Security benefits
This discussion doesn't cover the tax treatment of Social Security disability benefits. These benefits may be taxed to you under different rules.
How much coverage is needed?
In deciding how much disability coverage you need to protect yourself and your family, take the tax treatment into consideration. If you're buying the policy yourself, you only have to replace your after tax, "take-home" income because your benefits won't be taxed. On the other hand, if your employer pays for the benefit, you'll lose a percentage to taxes. If your current coverage is insufficient, you may wish to supplement an employer benefit with a policy you take out.
Contact us if you'd like to discuss this in more detail.
© 2020
2021 dollar limits and thresholds for 401(k)s and similar plans
The IRS recently announced the 2021 dollar limits and thresholds for retirement plans, reflecting the latest cost-of-living adjustments. Here are some relevant amounts for 401(k)s and similar plans:
Annual contributions. The limit on annual contributions to 401(k) and other defined contribution plans will increase to $58,000 (up from $57,000 for 2020).
Compensation. The annual limit on compensation that can be taken into account for contributions and deductions will increase to $290,000 (up from $285,000).
Elective deferrals. The annual limit on elective deferrals will remain at $19,500 for 401(k), 403(b) and 457 plans, as well as for Salary Reduction Simplified Employee Pension plans (SARSEPs). The annual limits will remain the same at $13,500 for Savings Incentive Match Plans for Employees (SIMPLEs) and SIMPLE IRAs.
Catch-up contributions. The annual limit on catch-up contributions for individuals age 50 and over will remain at $6,500 for 401(k) plans, 403(b) contracts, 457 plans and SARSEPs. The annual limit for SIMPLEs and SIMPLE IRAs stays the same at $3,000.
Highly compensated employees. The threshold for determining who's a highly compensated employee will remain at $130,000.
Key employees. The threshold for determining whether an officer is a "key employee" under the top-heavy rules (as well as the cafeteria plan nondiscrimination rules) will remain at $185,000.
SEP participation. The threshold for determining participation in a SEP or SARSEP will increase to $650 from $600.
Saver's tax credit. The upper income limit for determining whether certain individuals are eligible for the saver's tax credit (also known as the retirement savings contributions credit) will increase to:
$66,000 (up from $65,000) for married filing jointly,
$49,500 (up from $48,750) for head of household, and
$33,000 (up from $32,500) for all other taxpayers.
For individuals whose adjusted gross income is below those thresholds, there are also some adjustments to the income levels that trigger a change in the percentage used to calculate the credit.
Employers that sponsor 401(k)s and other defined contribution plans should carefully note when the new limits and thresholds apply. Review and revise employee communications, plan procedures and administrative forms to reflect these changes. 
© 2020
Divorcing couples should understand these 4 tax issues
When a couple is going through a divorce, taxes are probably not foremost in their minds. But without proper planning and advice, some people find divorce to be an even more taxing experience. Several tax concerns need to be addressed to ensure that taxes are kept to a minimum and that important tax-related decisions are properly made. Here are four issues to understand if you're in the midst of a divorce.
Issue 1: Alimony or support payments. For alimony under divorce or separation agreements that are executed after 2018, there's no deduction for alimony and separation support payments for the spouse making them. And the alimony payments aren't included in the gross income of the spouse receiving them. (The rules are different for divorce or separation agreements executed before 2019.)
Issue 2: Child support. No matter when a divorce or separation instrument is executed, child support payments aren't deductible by the paying spouse (or taxable to the recipient).
Issue 3: Your residence. Generally, if a married couple sells their home in connection with a divorce or legal separation, they should be able to avoid tax on up to $500,000 of gain (as long as they've owned and used the residence as their principal residence for two of the previous five years). If one spouse continues to live in the home and the other moves out (but they both remain owners of the home), they may still be able to avoid gain on the future sale of the home (up to $250,000 each), but special language may have to be included in the divorce decree or separation agreement to protect the exclusion for the spouse who moves out.
If the couple doesn't meet the two-year ownership and use tests, any gain from the sale may qualify for a reduced exclusion due to unforeseen circumstances.
Issue 4: Pension benefits. A spouse's pension benefits are often part of a divorce property settlement. In these cases, the commonly preferred method to handle the benefits is to get a "qualified domestic relations order" (QDRO). This gives one spouse the right to share in the pension benefits of the other and taxes the spouse who receives the benefits. Without a QDRO the spouse who earned the benefits will still be taxed on them even though they're paid out to the other spouse.
More to consider
These are just some of the issues you may have to deal with if you're getting a divorce. In addition, you must decide how to file your tax return (single, married filing jointly, married filing separately or head of household). You may need to adjust your income tax withholding and you should notify the IRS of any new address or name change. If you own a business, you may have to pay your spouse a share. There are also estate planning considerations. Contact us to help you work through the financial issues involved in divorce.
© 2020
The 2021 "Social Security wage base" is increasing
If your small business is planning for payroll next year, be aware that the "Social Security wage base" is increasing.
The Social Security Administration recently announced that the maximum earnings subject to Social Security tax will increase from $137,700 in 2020 to $142,800 in 2021.
For 2021, the FICA tax rate for both employers and employees is 7.65% (6.2% for Social Security and 1.45% for Medicare).  
For 2021, the Social Security tax rate is 6.2% each for the employer and employee (12.4% total) on the first $142,800 of employee wages. The tax rate for Medicare is 1.45% each for the employee and employer (2.9% total). There's no wage base limit for Medicare tax so all covered wages are subject to Medicare tax.
In addition to withholding Medicare tax at 1.45%, an employer must withhold a 0.9% additional Medicare tax from wages paid to an employee in excess of $200,000 in a calendar year.
Employees working more than one job
You may have employees who work for your business and who also have a second job. They may ask if you can stop withholding Social Security taxes at a certain point in the year because they've already reached the Social Security wage base amount. Unfortunately, you generally can't stop the withholding, but the employees will get a credit on their tax returns for any excess withheld.
Older employees 
If your business has older employees, they may have to deal with the "retirement earnings test." It remains in effect for individuals below normal retirement age (age 65 to 67 depending on the year of birth) who continue to work while collecting Social Security benefits. For affected individuals, $1 in benefits will be withheld for every $2 in earnings above $18,960 in 2021 (up from $18,240 in 2020).
For working individuals collecting benefits who reach normal retirement age in 2021, $1 in benefits will be withheld for every $3 in earnings above $46,920 (up from $48,600 in 2020), until the month that the individual reaches normal retirement age. After that month, there's no limit on earnings.
Contact us if you have questions. We can assist you with the details of payroll taxes and keep you in compliance with payroll laws and regulations.
© 2020
Understanding the passive activity loss rules
Are you wondering if the passive activity loss rules affect business ventures you're engaged in — or might engage in?
If the ventures are passive activities, the passive activity loss rules prevent you from deducting expenses that are generated by them in excess of their income. You can't deduct the excess expenses (losses) against earned income or against other nonpassive income. Nonpassive income for this purpose includes interest, dividends, annuities, royalties, gains and losses from most property dispositions, and income from certain oil and gas property interests. So you can't deduct passive losses against those income items either.
Any losses that you can't use aren't lost. Instead, they're carried forward, indefinitely, to tax years in which your passive activities generate enough income to absorb the losses. To the extent your passive losses from an activity aren't used up in this way, you'll be allowed to use them in the tax year in which you dispose of your interest in the activity in a fully taxable transaction, or in the tax year you die.
Passive vs. material
Passive activities are trades, businesses or income-producing activities in which you don't "materially participate." The passive activity loss rules also apply to any items passed through to you by partnerships in which you're a partner, or by S corporations in which you're a shareholder. This means that any losses passed through to you by partnerships or S corporations will be treated as passive, unless the activities aren't passive for you.
For example, let's say that in addition to your regular professional job, you're a limited partner in a partnership that cleans offices. Or perhaps you're a shareholder in an S corp that operates a manufacturing business (but you don't participate in the operations).
If you don't materially participate in the partnership or S corporation, those activities are passive. On the other hand, if you "materially participate," the activities aren't passive (except for rental activities, discussed below), and the passive activity rules won't apply to the losses. To materially participate, you must be involved in the operations on a regular, continuous and substantial basis.
The IRS uses several tests to establish material participation. Under the most frequently used test, you're treated as materially participating in an activity if you participate in it for more than 500 hours in the tax year. While other tests require fewer hours, all the tests require you to establish how you participated and the amount of time spent. You can establish this by any reasonable means such as contemporaneous appointment books, calendars, time reports or logs.
Rental activities
Rental activities are automatically treated as passive, regardless of your participation. This means that, even if you materially participate in them, you can't deduct the losses against your earned income, interest, dividends, etc. There are two important exceptions:
You can deduct up to $25,000 of losses from rental real estate activities (even though they're passive) against earned income, interest, dividends, etc., if you "actively participate" in the activities (requiring less participation than "material participation") and if your adjusted gross income doesn't exceed specified levels.
If you qualify as a "real estate professional" (which requires performing substantial services in real property trades or businesses), your rental real estate activities aren't automatically treated as passive. So losses from those activities can be deducted against earned income, interest, dividends, etc., if you materially participate.
Contact us if you'd like to discuss how these rules apply to your business.
© 2020
What tax records can you throw away?
October 15 is the deadline for individual taxpayers who extended their 2019 tax returns. (The original April 15 filing deadline was extended this year to July 15 due to the COVID-19 pandemic.) If you're finally done filing last year's return, you might wonder: Which tax records can you toss once you're done? Now is a good time to go through old tax records and see what you can discard.
The general rules
At minimum, you should keep tax records for as long as the IRS has the ability to audit your tax return or assess additional taxes, which generally is three years after you file your return. This means you potentially can get rid of most records related to tax returns for 2016 and earlier years.
However, the statute of limitations extends to six years for taxpayers who understate their adjusted gross income (AGI) by more than 25%. What constitutes an understatement may go beyond simply not reporting items of income. So a general rule of thumb is to save tax records for six years from filing, just to be safe.
Keep some records longer
You need to hang on to some tax-related records beyond the statute of limitations. For example:
Keep the tax returns themselves indefinitely, so you can prove to the IRS that you actually filed a legitimate return. (There's no statute of limitations for an audit if you didn't file a return or if you filed a fraudulent one.)
Retain W-2 forms until you begin receiving Social Security benefits. Questions might arise regarding your work record or earnings for a particular year, and your W-2 helps provide the documentation needed.
Keep records related to real estate or investments for as long as you own the assets, plus at least three years after you sell them and report the sales on your tax return (or six years if you want extra protection).
Keep records associated with retirement accounts until you've depleted the accounts and reported the last withdrawal on your tax return, plus three (or six) years.
Other reasons to retain records
Keep in mind that these are the federal tax record retention guidelines. Your state and local tax record requirements may differ. In addition, lenders, co-op boards and other private parties may require you to produce copies of your tax returns as a condition to lending money, approving a purchase or otherwise doing business with you.
Contact us if you have questions or concerns about recordkeeping.
© 2020
Tax implications of working from home and collecting unemployment
COVID-19 has changed our lives in many ways, and some of the changes have tax implications. Here is basic information about two common situations.
1. Working from home.
Many employees have been told not to come into their workplaces due to the pandemic. If you're an employee who "telecommutes" — that is, you work at home, and communicate with your employer mainly by telephone, videoconferencing, email, etc. — you should know about the strict rules that govern whether you can deduct your home office expenses.
Unfortunately, employee home office expenses aren't currently deductible, even if your employer requires you to work from home. Employee business expense deductions (including the expenses an employee incurs to maintain a home office) are miscellaneous itemized deductions and are disallowed from 2018 through 2025 under the Tax Cuts and Jobs Act.
However, if you're self-employed and work out of an office in your home, you can be eligible to claim home office deductions for your related expenses if you satisfy the strict rules.
2. Collecting unemployment
Millions of Americans have lost their jobs due to COVID-19 and are collecting unemployment benefits. Some of these people don't know that these benefits are taxable and must be reported on their federal income tax returns for the tax year they were received. Taxable benefits include the special unemployment compensation authorized under the Coronavirus Aid, Relief and Economic Security (CARES) Act.
In order to avoid a surprise tax bill when filing a 2020 income tax return next year, unemployment recipients can have taxes withheld from their benefits now. Under federal law, recipients can opt to have 10% withheld from their benefits to cover part or all their tax liability. To do this, complete Form W4-V, Voluntary Withholding Request, and give it to the agency paying benefits. (Don't send it to the IRS.)
We can help
We can assist you with advice about whether you qualify for home office deductions, and how much of these expenses you can deduct. We can also answer any questions you have about the taxation of unemployment benefits as well as any other tax issues that you encounter as a result of COVID-19.
© 2020
Employers should approach payroll tax deferral cautiously
As you're probably aware, President Trump signed an executive memorandum on August 8 creating a payroll tax deferral. The development has brought with it much uncertainty regarding administrative compliance and the long-term impact of this pandemic-related relief.
Deferral details
Under the memorandum, an employer may choose to postpone withholding, deposit and payment of the employee's share of Social Security tax (6.2%) on wages paid from September 1, 2020, through December 31, 2020. The wages in question must be less than $4,000 on a biweekly pay period basis or an equivalent amount in other pay periods. The threshold is determined on a pay-period-by-pay-period basis.
The IRS recently released Notice 2020-65, which postpones the withholding and remittance of the employee's share of Social Security tax ratably between January 1, 2021, and April 30, 2021. Penalties, interest and additions to tax will begin to accrue on May 1, 2021, for any unpaid taxes. The Notice states that, if necessary, an employer may arrange to collect the total applicable taxes from the employee.
Your decision
The postponement of the withholding and remittance of the employee's share of Social Security tax is optional. You may seek input from employees about their desire to participate but doing so isn't required. Whether to permit employees to opt in or opt out of the postponement is also at your discretion and not addressed in recent guidance.
An IRS spokesperson has explained that Form 941 is being revised for the third quarter of 2020 to report postponed taxes for employers who elect to participate in the deferral. The final Form 941 will be released in late September for filing in October.
The Notice permits employers who have elected the postponement to begin withholding the employee's share on January 1, 2021, but such withholding may have unforeseen and detrimental consequences. Specifically, unless Congress passes a law to forgive the deferred taxes, employees will end up receiving less in take-home pay in the first four months of 2021.
Further developments
With so many questions remaining, employers should proceed carefully when deciding whether to opt for the postponement. The IRS has stated that, regardless of whether the amounts are recovered from an employee, the employer will remain liable for the employee's share and must remit the postponed withholding of the employee's share of Social Security tax by April 30, 2021.
However, if you choose to elect the postponement, it's a good idea to provide a notice to employees that clearly states that the employee's share of Social Security is postponed until December 31, 2020, and withholding for these amounts will occur ratably between Jan. 1, 2021, and April 30, 2021. That extra withholding will be in addition to employment tax withholding otherwise required on wages for January through April 2021. 
© 2020
View our Full blog.
About Yuma, AZ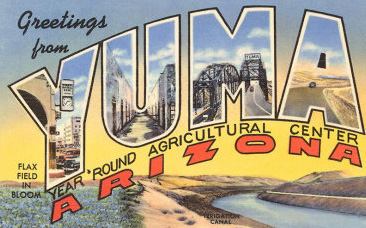 First incorporated as Arizona City in 1871, Yuma was renamed in 1873 and is now the largest city in Arizona outside the metro areas of Phoenix and Tucson.
Visit Our Friends in Yuma