Tax Tips and Alerts
---
The key to retirement security is picking the right plan for your business
If you're a small business owner or you're involved in a start-up, you may want to set up a tax-favored retirement plan for yourself and any employees. Several types of plans are eligible for tax advantages.
401(k) plan
One of the best-known retirement plan options is the 401(k) plan. It provides for employer contributions made at the direction of employees. Specifically, the employee elects to have a certain amount of pay deferred and contributed by the employer on his or her behalf to an individual account. Employee contributions can be made on a pretax basis, saving employees current income tax on the amount contributed.
Employers may, or may not, provide matching contributions on behalf of employees who make elective deferrals to 401(k) plans. Establishing and operating a 401(k) plan means some up-front paperwork and ongoing administrative effort. Matching contributions may be subject to a vesting schedule. 401(k) plans are subject to testing requirements, so that highly compensated employees don't contribute too much more than non-highly compensated employees. However, these tests can be avoided if you adopt a "safe harbor" 401(k) plan.
Within limits, participants can borrow from a 401(k) account (assuming the plan document permits it).
For 2019, the maximum amount you can contribute to a 401(k) is $19,000, plus a $6,000 "catch-up" amount for those age 50 or older as of December 31, 2019.
Other tax-favored plans
Of course, a 401(k) isn't your only option. Here's a quick rundown of two other alternatives that are simpler to set up and administer:
1. A Simplified Employee Pension (SEP) IRA. For 2019, the maximum amount of deductible contributions that you can make to an employee's SEP plan, and that he or she can exclude from income, is the lesser of 25% of compensation or $56,000. Your employees control their individual IRAs and IRA investments.
2. A SIMPLE IRA. SIMPLE stands for "savings incentive match plan for employees." A business with 100 or fewer employees can establish a SIMPLE. Under one, an IRA is established for each employee, and the employer makes matching contributions based on contributions elected by participating employees under a qualified salary reduction arrangement. The maximum amount you can contribute to a SIMPLE in 2019 is $13,000, plus a $3,000 "catch-up" amount if you're age 50 or older as of December 31, 2019.
Annual contributions to a SEP plan and a SIMPLE are controlled by special rules and aren't tied to the normal IRA contribution limits. Neither type of plan requires annual filings or discrimination testing. You can't borrow from a SEP plan or a SIMPLE.
Many choices
These are only some of the retirement savings options that may be available to your business. We can discuss the alternatives and help find the best option for your situation.
© 2019
Take advantage of the gift tax exclusion rules
As we head toward the gift-giving season, you may be considering giving gifts of cash or securities to your loved ones. Taxpayers can transfer substantial amounts free of gift taxes to their children and others each year through the use of the annual federal gift tax exclusion. The amount is adjusted for inflation annually. For 2019, the exclusion is $15,000.
The exclusion covers gifts that you make to each person each year. Therefore, if you have three children, you can transfer a total of $45,000 to them this year (and next year) free of federal gift taxes. If the only gifts made during the year are excluded in this way, there's no need to file a federal gift tax return. If annual gifts exceed $15,000, the exclusion covers the first $15,000 and only the excess is taxable. Further, even taxable gifts may result in no gift tax liability thanks to the unified credit (discussed below).
Note: this discussion isn't relevant to gifts made from one spouse to the other spouse, because these gifts are gift tax-free under separate marital deduction rules.
Gifts by married taxpayers
If you're married, gifts to individuals made during a year can be treated as split between you and your spouse, even if the cash or gift property is actually given to an individual by only one of you. By "gift-splitting," up to $30,000 a year can be transferred to each person by a married couple, because two annual exclusions are available. For example, if you're married with three children, you and your spouse can transfer a total of $90,000 each year to your children ($30,000 × 3). If your children are married, you can transfer $180,000 to your children and their spouses ($30,000 × 6).
If gift-splitting is involved, both spouses must consent to it. We can assist you with preparing a gift tax return (or returns) to indicate consent.
"Unified" credit for taxable gifts
Even gifts that aren't covered by the exclusion, and that are therefore taxable, may not result in a tax liability. This is because a tax credit wipes out the federal gift tax liability on the first taxable gifts that you make in your lifetime, up to $11,400,000 (for 2019). However, to the extent you use this credit against a gift tax liability, it reduces (or eliminates) the credit available for use against the federal estate tax at your death.
Giving gifts of appreciated assets
Let's say you own stocks and other marketable securities (outside of your retirement accounts) that have skyrocketed in value since they were acquired. A 15% or 20% tax rate generally applies to long-term capital gains. But there's a 0% long-term capital gains rate for those in lower tax brackets. Even if your income is high, your family members in lower tax brackets may be able to benefit from the 0% long-term capital gains rate. Giving them appreciated stock instead of cash might allow you to eliminate federal tax liability on the appreciation, or at least significantly reduce it. The recipients can sell the assets at no or a low federal tax cost. Before acting, make sure the recipients won't be subject to the "kiddie tax," and consider any gift and generation-skipping transfer (GST) tax consequences.
Plan ahead
Annual gifts are only one way to transfer wealth to your loved ones. There may be other effective tax and estate planning tools. Contact us before year end to discuss your options.
© 2019
Getting a divorce? There are tax issues you need to understand

In addition to the difficult personal issues that divorce entails, several tax concerns need to be addressed to ensure that taxes are kept to a minimum and that important tax-related decisions are properly made. Here are four issues to understand if you are in the process of getting a divorce.
Alimony or support payments. For alimony under divorce or separation agreements that are executed after 2018, there's no deduction for alimony and separation support payments for the spouse making them. And the alimony payments aren't included in the gross income of the spouse receiving them. (The rules are different for divorce or separation agreements executed before 2019.)
Child support. No matter when the divorce or separation instrument is executed, child support payments aren't deductible by the paying spouse (or taxable to the recipient).
Personal residence. In general, if a married couple sells their home in connection with a divorce or legal separation, they should be able to avoid tax on up to $500,000 of gain (as long as they've owned and used the residence as their principal residence for two of the previous five years). If one spouse continues to live in the home and the other moves out (but they both remain owners of the home), they may still be able to avoid gain on the future sale of the home (up to $250,000 each), but special language may have to be included in the divorce decree or separation agreement to protect the exclusion for the spouse who moves out.

If the couple doesn't meet the two-year ownership and use tests, any gain from the sale may qualify for a reduced exclusion due to unforeseen circumstances.

Pension benefits. A spouse's pension benefits are often part of a divorce property settlement. In these cases, the commonly preferred method to handle the benefits is to get a "qualified domestic relations order" (QDRO). This gives one spouse the right to share in the pension benefits of the other and taxes the spouse who receives the benefits. Without a QDRO the spouse who earned the benefits will still be taxed on them even though they're paid out to the other spouse.
A range of other issues
These are just some of the issues you may have to deal with if you're getting a divorce. In addition, you must decide how to file your tax return (single, married filing jointly, married filing separately or head of household). You may need to adjust your income tax withholding and you should notify the IRS of any new address or name change. There are also estate planning considerations. We can help you work through all of the financial issues involved in divorce.
© 2019  
Typosquatters profit from common user errors
The Web has opened plenty of new avenues for criminal behavior. For example, you may have heard of cybersquatting. Someone registers a site's domain name that includes a trademark and then tries to profit by selling that name to the trademark owner.
But are you familiar with typosquatting? You should be — because these schemes can make just about any organization, along with visitors to its website, the victims of fraud.
Fat fingers
Like cybersquatting, typosquatting (also known as URL hijacking) involves the purchase of domain names in bad faith. It takes advantage of an inclination among users known as "fat fingers" — basically, our tendency to hit the wrong keys and enter misspelled trademarks or brands. For example, in a case involving the retailer Lands' End, a typosquatter registered domains such as landswnd.com and lnadsend.com. Other human errors — for example, typing the wrong URL extension (.com instead of .org) or omitting punctuation marks such as hyphens — can also work to typosquatters' advantage.
Some fraudsters seek to divert consumers away from competitors or just draw traffic to their own sites (often pornography or dating sites). A recent report from security firm DomainTools LLC says that major media outlets, including USA Today, the New York Times and the Washington Post, are frequently targeted. DomainTools found hundreds of fraudulent domain names related to these publications.
Big money
Other typosquatters go further. For example, the websites they divert to might feature a phishing scheme, whereby a visitor is induced to enter login information or download malware. Such tactics can make big money for fraud perpetrators — particularly if they target the right sites. Earlier this year, an anonymous typosquatter announced that he had stolen 200 bitcoins (then worth an estimated $760,000) from Dark Web sites over the previous four years.
Typosquatting can also be used for corporate espionage. In one case, a law firm sued a programmer who had obtained a domain name similar to its own, except for a minor typo. The law firm alleged that the defendant had used his doppelgänger domain name to create fake email accounts and intercept email sent to the firm.
Best defenses
When it comes to avoiding typosquatting, awareness is probably the best defense. Your company should regularly check various mistyped versions of its URLs and consider purchasing as many similar domain names as possible. Contact us if you're worried about fraud — both on- and off-line.
© 2019
The connection between fraud and geometry
Fraud experts have long suggested that the presence of three conditions, known as the "fraud triangle," greatly increases the likelihood that an employee will commit fraud. Over the years, this conceptual framework has been expanded to become a "fraud diamond." Understanding these models can help you protect your business.
Classic shape
The classic fraud triangle consists of:
1. Pressure. An individual experiences some type of pressure that motivates the fraud. Pressure can come from within the organization — for example, pressure to meet aggressive earnings or revenue growth targets. Or, the pressure could be personal, such as the need to maintain a high standard of living or pay off debt from credit cards, medical bills or gambling.
2. Rationalization. Perpetrators must be able to mentally justify their fraudulent conduct. They might tell themselves that they'll pay back the money before anyone misses it, or reason that:
They're underpaid and deserve the stolen funds,
Their employers can afford the financial loss,
"Everybody" does it, or
No other solution or help is available for their problems.
Under the fraud triangle theory, most employees who commit fraud are first-time offenders who don't view themselves as criminals but as honest people caught up by circumstances.
3. Opportunity. Occupational thieves exploit perceived opportunities that they believe will allow them to go undetected. Poor internal controls, weak management oversight and ineffective or nonexistent audits all create opportunities for fraud. The opportunity leg represents the best avenue for preventing fraud because it's within your organization's control.
New dimensions
More recently, experts have proposed a conceptual framework that includes a fourth leg, "capability." A capable individual is someone who may have the job position, intellectual capacity, confidence, resilience to stress and guilt, and ability to coerce and cajole others that make committing fraud easier.
A similar model to this diamond shape is MICE (Money, Ideology, Coercion and Ego). MICE retains the original three sides of the fraud triangle but shares the opportunity leg with a second triangle that also has sides for criminal mindset and arrogance.
Proponents of this model argue that perpetrators with characteristics matching the original fraud triangle are "accidental fraudsters." This means that they wouldn't commit fraud in the absence of motivation. Those on the side of the additional criminal mindset/arrogance/opportunity triangle are predators, or pathological fraud perpetrators. These individuals require only opportunity. This is another reason why focusing on the opportunity side is the best way to prevent fraud in your organization.
Designed to help
It's important to remember that employees who seem to display fraud triangle or diamond characteristics won't necessarily commit a crime. The models are designed to identify risk and eliminate fraud opportunities. Contact us for more information about protecting your organization from fraud.
The chances of an IRS audit are low, but business owners should be prepared
Many business owners ask: How can I avoid an IRS audit? The good news is that the odds against being audited are in your favor. In fiscal year 2018, the IRS audited approximately 0.6% of individuals. Businesses, large corporations and high-income individuals are more likely to be audited but, overall, audit rates are historically low.
There's no 100% guarantee that you won't be picked for an audit, because some tax returns are chosen randomly. However, completing your returns in a timely and accurate fashion with our firm certainly works in your favor. And it helps to know what might catch the attention of the IRS.
Audit red flags
A variety of tax-return entries may raise red flags with the IRS and may lead to an audit. Here are a few examples:
Significant inconsistencies between previous years' filings and your most current filing,
Gross profit margin or expenses markedly different from those of other businesses in your industry, and
Miscalculated or unusually high deductions.
Certain types of deductions may be questioned by the IRS because there are strict recordkeeping requirements for them ― for example, auto and travel expense deductions. In addition, an owner-employee salary that's inordinately higher or lower than those in similar companies in his or her location can catch the IRS's eye, especially if the business is structured as a corporation.
How to respond
If you're selected for an audit, you'll be notified by letter. Generally, the IRS won't make initial contact by phone. But if there's no response to the letter, the agency may follow up with a call.
Many audits simply request that you mail in documentation to support certain deductions you've taken. Others may ask you to take receipts and other documents to a local IRS office. Only the harshest version, the field audit, requires meeting with one or more IRS auditors. (Note: Ignore unsolicited email messages about an audit. The IRS doesn't contact people in this manner. These are scams.)
Keep in mind that the tax agency won't demand an immediate response to a mailed notice. You'll be informed of the discrepancies in question and given time to prepare. You'll need to collect and organize all relevant income and expense records. If any records are missing, you'll have to reconstruct the information as accurately as possible based on other documentation.
If the IRS chooses you for an audit, our firm can help you:
Understand what the IRS is disputing (it's not always crystal clear),
Gather the specific documents and information needed, and
•Respond to the auditor's inquiries in the most expedient and effective manner.
Don't panic if you're contacted by the IRS. Many audits are routine. By taking a meticulous, proactive approach to how you track, document and file your company's tax-related information, you'll make an audit much less painful and even decrease the chances that one will happen in the first place.
© 2019
Watch out for tax-related scams
"Thousands of people have lost millions of dollars and their personal information to tax scams," according to the IRS. Criminals can contact victims through regular mail, telephone calls and email messages. Here are just two of the scams the tax agency has seen in recent months.
Fake property liens. A tax bill is sent from a fictional government agency in the mail. The fake agency may have a legitimate sounding name such as the Bureau of Tax Enforcement. The bill is accompanied by a letter threatening an IRS lien or levy based on bogus overdue taxes. (A levy is a legal seizure of property to satisfy a tax debt. A lien is a legal claim against your property to secure payment of your tax debt.)
Phony calls from the IRS. In this scam, criminals impersonating IRS employees call people and tell them that, if they don't pay back taxes they owe, they will face arrest. The thieves then demand that the taxpayers pay their tax debts with a gift card, other prepaid cards or a wire transfer.
Important reminders
If you receive a text, letter, email or phone call purporting to be from the IRS, keep in mind that the IRS never calls taxpayers demanding immediate payment using a specific method of payment (such as a wire transfer or prepaid debit card). In general, the IRS sends bills or notices to taxpayers and gives them time to respond with questions or appeals. The tax agency also doesn't threaten taxpayers with arrest.
In addition, the IRS doesn't initiate contact by email, text message or social media channels to request information. Most contacts are initiated though regular mail delivered by the U.S. Postal Service. The IRS does use authorized private collection agencies to collect some overdue tax bills but these agencies also follow the same rules.
In some special circumstances, the IRS does call taxpayers or come to their homes or businesses. For example, the IRS may tour a business as part of an audit or during a criminal investigation. But even in those cases, taxpayers will generally receive several mailed IRS notices before the visit. And the IRS never demands that payment be made to any source other than the "United States Treasury."
What to do if you're contacted
You can contact us if the IRS gets in touch with you. If the contact involves a phone call, hang up immediately. You can forward an email or other tax-related scam to the IRS at phishing@irs.gov. To report an IRS impersonation scam, visit the Treasury Inspector General for Tax Administration at   target="_blank">https://bit.ly/1ClYZbP. Be aware that criminals keep evolving their scams in an effort to steal people's money and personal information. Remain on alert.
© 2019
Uncle Sam may provide relief from college costs on your tax return
We all know the cost of college is expensive. The latest figures from the College Board show that the average annual cost of tuition and fees was $10,230 for in-state students at public four-year universities — and $35,830 for students at private not-for-profit four-year institutions. These amounts don't include room and board, books, supplies, transportation and other expenses that a student may incur.
Two tax credits
Fortunately, the federal government offers two sizable tax credits for higher education costs that you may be able to claim:
1. The American Opportunity credit. This tax break generally provides the biggest benefit to most taxpayers. The American Opportunity credit provides a maximum benefit of $2,500. That is, you may qualify for a credit equal to 100% of the first $2,000 of expenses for the year and 25% of the next $2,000 of expenses. It applies only to the first four years of postsecondary education and is available only to students who attend at least half time.
Basically, tuition, course materials and fees qualify for this credit. The credit is per eligible student and is subject to phaseouts based on modified adjusted gross income (MAGI). For 2019, the MAGI phaseout ranges are:
Between $80,000 and $90,000 for unmarried individuals, and
Between $160,000 and $180,000 for married joint filers.
2. The Lifetime Learning credit. This credit equals 20% of qualified education expenses for up to $2,000 per tax return. There are fewer restrictions to qualify for this credit than for the American Opportunity credit.
The Lifetime Learning credit can be applied to education beyond the first four years, and qualifying students may attend school less than half time. The student doesn't even need to be part of a degree program. So, the credit works well for graduate studies and part-time students who take a qualifying course at a local college to improve job skills. It applies to tuition, fees and materials.
It's also subject to phaseouts based on MAGI, however. For 2019, the MAGI phaseout ranges are:
Between $58,000 and $68,000 for unmarried individuals, and
Between $116,000 and $136,000 for married joint filers.
Note: You can't claim either the American Opportunity Credit or the Lifetime Learning Credit for the same student or for the same expense in the same year.
Credit for what you've paid
So which higher education tax credit is right for you? A number of factors need to be reviewed before determining the answer to that question. Contact us for more information about how to take advantage of tax-favored ways to save or pay for college.
© 2019
Encourage sales staff to walk an ethical line
When market competition heats up, you might provide extra incentives for your sales staff to perform. But be careful: Some employees may step over the line — to earn bigger bonuses or out of enthusiasm for the challenge — and use unethical sales tactics. Take steps to ensure your salespeople always operate with integrity.
Make a commitment to honesty
Culture starts at the top. If you clearly demonstrate, through both words and behavior, your commitment to honesty, your sales team will get the message. Your customers will too.
Try to anticipate the challenges your sales force may face as they attempt to meet sales goals. The temptation to sell more than your company can deliver, for example — or to recommend a product they know isn't the best solution for a customer's problem — may be strong. Those and similar sales strategies may land the account, but they do nothing to build the trust and credibility your business needs to keep that account over the long haul.
It's also important that your company and salespeople don't try to slip through loopholes when a situation requires taking responsibility. For example, some insurance companies that wrote coverage on homes and businesses damaged during Hurricane Katrina, Superstorm Sandy, and Hurricane Harvey lost goodwill by quibbling over what damage was covered. Ensuing legal battles and negative publicity have done nothing to raise consumer confidence in the insurance industry.
Promote lasting relationships
When your salespeople make a sale, require them to be clear about what the sale includes and what it doesn't. Reiterate that their job isn't simply to make sales, but to build lasting customer relationships. To do that, they must always keep the customers' best interests in mind. To make sure the message gets heard, consider tying compensation to customer satisfaction and repeat business, in addition to sales revenue quotas.
That may mean acknowledging, for example, that one of your products won't do everything the customer needs it to do. If a customer asks about a feature your product doesn't have, your sales reps shouldn't imply that it does. Instead, they should work with the customer to determine whether the desired feature is necessary and emphasize your product's other features and benefits. Ultimately, however, they must be honest about any limitations.
Your sales force doesn't need to steer customers to competitors, but they shouldn't disparage the competition, either. And incentivizing customers to load up on unneeded products during promotions may boost the bottom line, but it won't do much to build trust.
Shift priorities
Too often sales staffs are encouraged to focus on short-term goals, which makes them more likely to do "whatever it takes" to get a sale. It's up to you and your managers to prioritize the kind of ethical behavior that's crucial to your company's long-term success.
© 2019
The tax implications of a company car
The use of a company vehicle is a valuable fringe benefit for owners and employees of small businesses. This benefit results in tax deductions for the employer as well as tax breaks for the owners and employees using the cars. (And of course, they get the nontax benefits of driving the cars!) Even better, recent tax law changes and IRS rules make the perk more valuable than before.
Here's an example
Let's say you're the owner-employee of a corporation that's going to provide you with a company car. You need the car to visit customers, meet with vendors and check on suppliers. You expect to drive the car 8,500 miles a year for business. You also expect to use the car for about 7,000 miles of personal driving, including commuting, running errands and weekend trips with your family. Therefore, your usage of the vehicle will be approximately 55% for business and 45% for personal purposes. You want a nice car to reflect positively on your business, so the corporation buys a new luxury $50,000 sedan.
Your cost for personal use of the vehicle will be equal to the tax you pay on the fringe benefit value of your 45% personal mileage. By contrast, if you bought the car yourself to be able to drive the personal miles, you'd be out-of-pocket for the entire purchase cost of the car.
Your personal use will be treated as fringe benefit income. For tax purposes, your corporation will treat the car much the same way it would any other business asset, subject to depreciation deduction restrictions if the auto is purchased. Out-of-pocket expenses related to the car (including insurance, gas, oil and maintenance) are deductible, including the portion that relates to your personal use. If the corporation finances the car, the interest it pays on the loan would be deductible as a business expense (unless the business is subject to business-interest limitation under the tax code).
In contrast, if you bought the auto yourself, you wouldn't be entitled to any deductions. Your outlays for the business-related portion of your driving would be unreimbursed employee business expenses that are nondeductible from 2018 to 2025 due to the suspension of miscellaneous itemized deductions under the Tax Cuts and Jobs Act. And if you financed the car yourself, the interest payments would be nondeductible.
And finally, the purchase of the car by your corporation will have no effect on your credit rating.
Administrative tasks
Providing an auto for an owner's or key employee's business and personal use comes with complications and paperwork. Personal use will have to be tracked and valued under the fringe benefit tax rules and treated as income. This article only explains the basics.
Despite the necessary valuation and paperwork, a company-provided car is still a valuable fringe benefit for business owners and key employees. It can provide them with the use of a vehicle at a low tax cost while generating tax deductions for their businesses. We can help you stay in compliance with the rules and explain more about this prized perk.
© 2019
View our Full blog.
About Yuma, AZ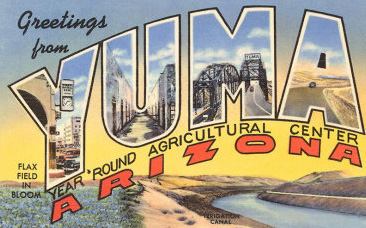 First incorporated as Arizona City in 1871, Yuma was renamed in 1873 and is now the largest city in Arizona outside the metro areas of Phoenix and Tucson.
Visit Our Friends in Yuma