Tax Tips and Alerts
---
10 facts about the pass-through deduction for qualified business income
Are you eligible to take the deduction for qualified business income (QBI)? Here are 10 facts about this valuable tax break, referred to as the pass-through deduction, QBI deduction or Section 199A deduction. 
It's available to owners of sole proprietorships, single member limited liability companies (LLCs), partnerships and S corporations. It may also be claimed by trusts and estates.
The deduction is intended to reduce the tax rate on QBI to a rate that's closer to the corporate tax rate.
It's taken "below the line." That means it reduces your taxable income but not your adjusted gross income. But it's available regardless of whether you itemize deductions or take the standard deduction.
The deduction has two components: 20% of QBI from a domestic business operated as a sole proprietorship or through a partnership, S corporation, trust or estate; and 20% of the taxpayer's combined qualified real estate investment trust (REIT) dividends and qualified publicly traded partnership income.
QBI is the net amount of a taxpayer's qualified items of income, gain, deduction and loss relating to any qualified trade or business. Items of income, gain, deduction and loss are qualified to the extent they're effectively connected with the conduct of a trade or business in the U.S. and included in computing taxable income.
QBI doesn't necessarily equal the net profit or loss from a business, even if it's a qualified trade or business. In addition to the profit or loss from Schedule C, QBI must be adjusted by certain other gain or deduction items related to the business.
A qualified trade or business is any trade or business other than a specified service trade or business (SSTB). But an SSTB is treated as a qualified trade or business for taxpayers whose taxable income is under a threshold amount.
SSTBs include health, law, accounting, actuarial science, certain performing arts, consulting, athletics, financial services, brokerage services, investment, trading, dealing securities and any trade or business where the principal asset is the reputation or skill of its employees or owners.
There are limits based on W-2 wages. Inflation-adjusted threshold amounts also apply for purposes of applying the SSTB rules. For tax years beginning in 2021, the threshold amounts are $164,900 for singles and heads of household; $164,925 for married filing separately; and $329,800 for married filing jointly. The limits phase in over a $50,000 range ($100,000 for a joint return). This means that the deduction reduces ratably, so that by the time you reach the top of the range ($214,900 for singles and heads of household; $214,925 for married filing separately; and $429,800 for married filing jointly) the deduction is zero for income from an SSTB.
For businesses conducted as a partnership or S corporation, the pass-through deduction is calculated at the partner or shareholder level.
As you can see, this substantial deduction is complex, especially if your taxable income exceeds the thresholds discussed above. Other rules apply. Contact us if you have questions about your situation.
© 2021
IRS audits may be increasing, so be prepared
The IRS just released its audit statistics for the 2020 fiscal year and fewer taxpayers had their returns examined as compared with prior years. But even though a small percentage of returns are being chosen for audit these days, that will be little consolation if yours is one of them.
Latest statistics
Overall, just 0.5% of individual tax returns were audited in 2020. However, as in the past, those with higher incomes were audited at higher rates. For example, in 2020, 2.2% of taxpayers with adjusted gross incomes (AGIs) of between $1 million and $5 million were audited. Among the richest taxpayers, those with AGIs of $10 million and more, 7% of returns were audited in 2020.
These are among the lowest percentages of audits conducted in recent years. However, the Biden administration has announced it would like to raise revenue by increasing tax compliance and enforcement. In other words, audits may be on the rise in coming years.
Prepare in advance
Even though fewer audits were performed in 2020, the IRS will still examine thousands of returns this year. With proper planning, you may fare well even if you're one of the unlucky ones.
The easiest way to survive an IRS examination is to prepare in advance. On a regular basis, you should systematically maintain documentation — invoices, bills, canceled checks, receipts, or other proof — for all items reported on your tax returns.
It's possible you didn't do anything wrong. Just because a return is selected for audit doesn't mean that an error was made. Some returns are randomly selected based on statistical formulas. For example, IRS computers compare income and deductions on returns with what other taxpayers report. If an individual deducts a charitable contribution that's significantly higher than what others with similar incomes report, the IRS may want to know why.
Returns can also be selected if they involve issues or transactions with other taxpayers who were previously selected for audit, such as business partners or investors.
The government generally has three years within which to conduct an audit, and often the exam won't begin until a year or more after you file your return.
Complex vs. simple returns
The scope of an audit depends on the tax return's complexity. A return reflecting business or real estate income and expenses will obviously take longer to examine than a return with only salary income.
An audit may be conducted by mail or through an in-person interview and review of records. The interview may be conducted at an IRS office or may be a "field audit" at the taxpayer's home, business, or accountant's office.
Important: Even if your chosen for audit, an IRS examination may be nothing to lose sleep over. In many cases, the IRS asks for proof of certain items and routinely "closes" the audit after the documentation is presented.
Don't go it alone
It's advisable to have a tax professional represent you at an audit. A tax pro knows the issues that the IRS is likely to scrutinize and can prepare accordingly. In addition, a professional knows that in many instances IRS auditors will take a position (for example, to disallow certain deductions) even though courts and other guidance have expressed contrary opinions on the issues. Because pros can point to the proper authority, the IRS may be forced to concede on certain issues.
If you receive an IRS audit letter or simply want to improve your recordkeeping, we're here to help. Contact us to discuss this or any other aspect of your taxes.
© 2021
Are you a nonworking spouse? You may still be able to contribute to an IRA
Married couples may not be able to save as much as they need for retirement when one spouse doesn't work outside the home — perhaps so that spouse can take care of children or elderly parents. In general, an IRA contribution is allowed only if a taxpayer earns compensation. However, there's an exception involving a "spousal" IRA. It allows contributions to be made for nonworking spouses.
For 2021, the amount that an eligible married couple can contribute to an IRA for a nonworking spouse is $6,000, which is the same limit that applies for the working spouse.
IRA advantages
As you may know, IRAs offer two types of advantages for taxpayers who make contributions to them.
Contributions of up to $6,000 a year to an IRA may be tax deductible.
The earnings on funds within the IRA are not taxed until withdrawn. (Alternatively, you may make contributions to a Roth IRA. There's no deduction for Roth IRA contributions, but, if certain requirements are met, distributions are tax-free.)
As long as the couple together has at least $12,000 of earned income, $6,000 can be contributed to an IRA for each, for a total of $12,000. (The contributions for both spouses can be made to either a regular IRA or a Roth IRA, or split between them, as long as the combined contributions don't exceed the $12,000 limit.)
Boost contributions if 50 or older
In addition, individuals who are age 50 or older can make "catch-up" contributions to an IRA or Roth IRA in the amount of $1,000. Therefore, for 2021, for a taxpayer and his or her spouse, both of whom will have reached age 50 by the end of the year, the combined limit of the deductible contributions to an IRA for each spouse is $7,000, for a combined deductible limit of $14,000.
There's one catch, however. If, in 2021, the working spouse is an active participant in either of several types of retirement plans, a deductible contribution of up to $6,000 (or $7,000 for a spouse who will be 50 by the end of the year) can be made to the IRA of the nonparticipant spouse only if the couple's AGI doesn't exceed $125,000. This limit is phased out for AGI between $198,000 and $208,000.
Contact us if you'd like more information about IRAs or you'd like to discuss retirement planning.
© 2021
An S corporation could cut your self-employment tax
If your business is organized as a sole proprietorship or as a wholly owned limited liability company (LLC), you're subject to both income tax and self-employment tax. There may be a way to cut your tax bill by conducting business as an S corporation.
Fundamentals of self-employment tax
The self-employment tax is imposed on 92.35% of self-employment income at a 12.4% rate for Social Security up to a certain maximum ($142,800 for 2021) and at a 2.9% rate for Medicare. No maximum tax limit applies to the Medicare tax. An additional 0.9% Medicare tax is imposed on income exceeding $250,000 for married couples ($125,000 for married persons filing separately) and $200,000 in all other cases.
What if you conduct your business as a partnership in which you're a general partner? In that case, in addition to income tax, you're subject to the self-employment tax on your distributive share of the partnership's income. On the other hand, if you conduct your business as an S corporation, you'll be subject to income tax, but not self-employment tax, on your share of the S corporation's income.
An S corporation isn't subject to tax at the corporate level. Instead, the corporation's items of income, gain, loss and deduction are passed through to the shareholders. However, the income passed through to the shareholder isn't treated as self-employment income. Thus, by using an S corporation, you may be able to avoid self-employment income tax.  
Keep your salary "reasonable"
Be aware that the IRS requires that the S corporation pay you reasonable compensation for your services to the business. The compensation is treated as wages subject to employment tax (split evenly between the corporation and the employee), which is equivalent to the self-employment tax. If the S corporation doesn't pay you reasonable compensation for your services, the IRS may treat a portion of the S corporation's distributions to you as wages and impose Social Security taxes on the amount it considers wages.
There's no simple formula regarding what's considered reasonable compensation. Presumably, reasonable compensation is the amount that unrelated employers would pay for comparable services under similar circumstances. There are many factors that should be taken into account in making this determination.
Converting from a C corporation 
There may be complications if you convert a C corporation to an S corporation. A "built-in gains tax" may apply when you dispose of appreciated assets held by the C corporation at the time of the conversion. However, there may be ways to minimize its impact.
Many factors to consider
Contact us if you'd like to discuss the factors involved in conducting your business as an S corporation, and how much the business should pay you as compensation.
© 2021
Still have questions after you file your tax return?
Even after your 2020 tax return has been successfully filed with the IRS, you may still have some questions about the return. Here are brief answers to three questions that we're frequently asked at this time of year.
Are you wondering when you will receive your refund?
The IRS has an online tool that can tell you the status of your refund. Go to irs.gov and click on "Get Your Refund Status." You'll need your Social Security number, filing status and the exact refund amount.
Which tax records can you throw away now?
At a minimum, keep tax records related to your return for as long as the IRS can audit your return or assess additional taxes. In general, the statute of limitations is three years after you file your return. So you can generally get rid of most records related to tax returns for 2017 and earlier years. (If you filed an extension for your 2017 return, hold on to your records until at least three years from when you filed the extended return.)
However, the statute of limitations extends to six years for taxpayers who understate their gross income by more than 25%.
You should hang on to certain tax-related records longer. For example, keep the actual tax returns indefinitely, so you can prove to the IRS that you filed legitimate returns. (There's no statute of limitations for an audit if you didn't file a return or you filed a fraudulent one.)
When it comes to retirement accounts, keep records associated with them until you've depleted the account and reported the last withdrawal on your tax return, plus three (or six) years. And retain records related to real estate or investments for as long as you own the asset, plus at least three years after you sell it and report the sale on your tax return. (You can keep these records for six years if you want to be extra safe.)
If you overlooked claiming a tax break, can you still collect a refund for it?
In general, you can file an amended tax return and claim a refund within three years after the date you filed your original return or within two years of the date you paid the tax, whichever is later.
However, there are a few opportunities when you have longer to file an amended return. For example, the statute of limitations for bad debts is longer than the usual three-year time limit for most items on your tax return. In general, you can amend your tax return to claim a bad debt for seven years from the due date of the tax return for the year that the debt became worthless.
Year-round tax help
Contact us if you have questions about retaining tax records, receiving your refund or filing an amended return. We're not just here at tax filing time. We're available all year long.
© 2021
Working in the gig economy results in tax obligations
Before the COVID-19 pandemic hit, the number of people engaged in the "gig" or sharing economy had been growing, according to several reports. And reductions in working hours during the pandemic have caused even more people to turn to gig work to make up lost income. There are tax consequences for the people who perform these jobs, which include providing car rides, delivering food, walking dogs and providing other services.
Bottom line: If you receive income from freelancing or from one of the online platforms offering goods and services, it's generally taxable. That's true even if the income comes from a side job and even if you don't receive an income statement reporting the amount of money you made.
Basics for gig workers
The IRS considers gig workers as those who are independent contractors and conduct their jobs through online platforms. Examples include Uber, Lyft, Airbnb and DoorDash.
Unlike traditional employees, independent contractors don't receive benefits associated with employment or employer-sponsored health insurance. They also aren't covered by the minimum wage or other protections of federal laws and they aren't part of states' unemployment insurance systems. In addition, they're on their own when it comes to retirement savings and taxes.
Pay taxes throughout the year
If you're part of the gig or sharing economy, here are some tax considerations.
You may need to make quarterly estimated tax payments because your income isn't subject to withholding. These payments are generally due on April 15, June 15, September 15 and January 15 of the following year. (If a due date falls on a Saturday or Sunday, the due date becomes the next business day.)
You should receive a Form 1099-NEC, Nonemployee Compensation, a Form 1099-K or other income statement from the online platform.
Some or all of your business expenses may be deductible on your tax return, subject to the normal tax limitations and rules. For example, if you provide rides with your own car, you may be able to deduct depreciation for wear and tear and deterioration of the vehicle. Be aware that if you rent a room in your main home or vacation home, the rules for deducting expenses can be complex.
Keeping records
It's important to keep good records tracking income and expenses in case you are audited by the IRS or state tax authorities. Contact us if you have questions about your tax obligations as a gig worker or the deductions you can claim. You don't want to get an unwanted surprise when you file your tax return.
© 2021
Why it's important to meet the tax return filing and payment deadlines
The May 17 deadline for filing your 2020 individual tax return is coming up soon. It's important to file and pay your tax return on time to avoid penalties imposed by the IRS. Here are the basic rules.
Failure to pay
Separate penalties apply for failing to pay and failing to file. The failure-to-pay penalty is 1/2% for each month (or partial month) the payment is late. For example, if payment is due May 17 and is made June 22, the penalty is 1% (1/2% times 2 months or partial months). The maximum penalty is 25%.
The failure-to-pay penalty is based on the amount shown as due on the return (less credits for amounts paid through withholding or estimated payments), even if the actual tax bill turns out to be higher. On the other hand, if the actual tax bill turns out to be lower, the penalty is based on the lower amount.
For example, if your payment is two months late and your return shows that you owe $5,000, the penalty is 1%, which equals $50. If you're audited and your tax bill increases by another $1,000, the failure-to-pay penalty isn't increased because it's based on the amount shown on the return as due.
Failure to file
The failure-to-file penalty runs at a more severe rate of 5% per month (or partial month) of lateness to a maximum of 25%. If you obtain an extension to file (until October 15), you're not filing late unless you miss the extended due date. However, a filing extension doesn't apply to your responsibility for payment.
If the 1/2% failure-to-pay penalty and the failure-to-file penalty both apply, the failure-to-file penalty drops to 4.5% per month (or part) so the total combined penalty is 5%. The maximum combined penalty for the first five months is 25%. After that, the failure-to-pay penalty can continue at 1/2% per month for 45 more months (an additional 22.5%). Thus, the combined penalties could reach 47.5% over time.
The failure-to-file penalty is also more severe because it's based on the amount required to be shown on the return, and not just the amount shown as due. (Credit is given for amounts paid via withholding or estimated payments. So if no amount is owed, there's no penalty for late filing.) For example, if a return is filed three months late showing $5,000 owed (after payment credits), the combined penalties would be 15%, which equals $750. If the actual tax liability is later determined to be an additional $1,000, the failure to file penalty (4.5% × 3 = 13.5%) would also apply for an additional $135 in penalties.
A minimum failure to file penalty will also apply if you file your return more than 60 days late. This minimum penalty is the lesser of $210 or the tax amount required to be shown on the return.
Reasonable cause
Both penalties may be excused by IRS if lateness is due to "reasonable cause." Typical qualifying excuses include death or serious illness in the immediate family and postal irregularities.
As you can see, filing and paying late can get expensive. Furthermore, in particularly abusive situations involving a fraudulent failure to file, the late filing penalty can reach 15% per month, with a 75% maximum. Contact us if you have questions.
© 2021
Home sales: How to determine your "basis"
The housing market in many parts of the country is strong this spring. If you're buying or selling a home, you should know how to determine your "basis."
How it works
You can claim an itemized deduction on your tax return for real estate taxes and home mortgage interest. Most other home ownership costs can't be deducted currently. However, these costs may increase your home's "basis" (your cost for tax purposes). And a higher basis can save taxes when you sell.
The law allows an exclusion from income for all or part of the gain realized on the sale of your home. The general exclusion limit is $250,000 ($500,000 for married taxpayers). You may feel the exclusion amount makes keeping track of the basis relatively unimportant. Many homes today sell for less than $500,000. However, that reasoning doesn't take into account what may happen in the future. If history is any indication, a home that's owned for 20 or 30 years appreciates greatly. Thus, you want your basis to be as high as possible in order to avoid or reduce the tax that may result when you eventually sell.
Good recordkeeping
To prove the amount of your basis, keep accurate records of your purchase price, closing costs, and other expenses that increase your basis. Save receipts and other records for improvements and additions you make to the home. When you eventually sell, your basis will establish the amount of your gain. Keep the supporting documentation for at least three years after you file your return for the sale year.
Start with the purchase price
The main element in your home's basis is the purchase price. This includes your down payment and any debt, such as a mortgage. It also includes certain settlement or closing costs. If you had your house built on land you own, your basis is the cost of the land plus certain costs to complete the house.
You add to the cost of your home expenses that you paid in connection with the purchase, including attorney's fees, abstract fees, owner's title insurance, recording fees and transfer taxes. The basis of your home is affected by expenses after a casualty to restore damaged property and depreciation if you used your home for business or rental purposes,
Over time, you may make additions and improvements to your home. Add the cost of these improvements to your basis. Improvements that add to your home's basis include:
A room addition,
Finishing the basement,
A fence,
Storm windows or doors,
A new heating or central air conditioning system,
Flooring,
A new roof, and
Driveway paving.
Home expenses that don't add much to the value or the property's life are considered repairs, not improvements. Therefore, you can't add them to the property's basis. Repairs include painting, fixing gutters, repairing leaks and replacing broken windows. However, an entire job is considered an improvement if items that would otherwise be considered repairs are done as part of extensive remodeling.
The cost of appliances purchased for your home generally don't add to your basis unless they are considered attached to the house. Thus, the cost of a built-in oven or range would increase basis. But an appliance that can be easily removed wouldn't.
Plan for best results
Other rules and requirements may apply. We can help you plan for the best tax results involving your home's basis.
© 2021
Tax advantages of hiring your child at your small business
As a business owner, you should be aware that you can save family income and payroll taxes by putting your child on the payroll.
Here are some considerations. 
Shifting business earnings
You can turn some of your high-taxed income into tax-free or low-taxed income by shifting some business earnings to a child as wages for services performed. In order for your business to deduct the wages as a business expense, the work done by the child must be legitimate and the child's salary must be reasonable.
For example, suppose you're a sole proprietor in the 37% tax bracket. You hire your 16-year-old son to help with office work full-time in the summer and part-time in the fall. He earns $10,000 during the year (and doesn't have other earnings). You can save $3,700 (37% of $10,000) in income taxes at no tax cost to your son, who can use his $12,550 standard deduction for 2021 to shelter his earnings.
Family taxes are cut even if your son's earnings exceed his standard deduction. That's because the unsheltered earnings will be taxed to him beginning at a 10% rate, instead of being taxed at your higher rate.
Income tax withholding
Your business likely will have to withhold federal income taxes on your child's wages. Usually, an employee can claim exempt status if he or she had no federal income tax liability for last year and expects to have none this year.
However, exemption from withholding can't be claimed if: 1) the employee's income exceeds $1,100 for 2021 (and includes more than $350 of unearned income), and 2) the employee can be claimed as a dependent on someone else's return.
Keep in mind that your child probably will get a refund for part or all of the withheld tax when filing a return for the year.
Social Security tax savings  
If your business isn't incorporated, you can also save some Social Security tax by shifting some of your earnings to your child. That's because services performed by a child under age 18 while employed by a parent isn't considered employment for FICA tax purposes.
A similar but more liberal exemption applies for FUTA (unemployment) tax, which exempts earnings paid to a child under age 21 employed by a parent. The FICA and FUTA exemptions also apply if a child is employed by a partnership consisting only of his or her parents.
Note: There's no FICA or FUTA exemption for employing a child if your business is incorporated or is a partnership that includes non-parent partners. However, there's no extra cost to your business if you're paying a child for work you'd pay someone else to do.
Retirement benefits
Your business also may be able to provide your child with retirement savings, depending on your plan and how it defines qualifying employees. For example, if you have a SEP plan, a contribution can be made for the child up to 25% of his or her earnings (not to exceed $58,000 for 2021).
Contact us if you have any questions about these rules in your situation. Keep in mind that some of the rules about employing children may change from year to year and may require your income-shifting strategies to change too.
© 2021
Who qualifies for "head of household" tax filing status?
When you file your tax return, you must check one of the following filing statuses: Single, married filing jointly, married filing separately, head of household or qualifying widow(er). Who qualifies to file a return as a head of household, which is more favorable than single?
To qualify, you must maintain a household, which for more than half the year, is the principal home of a "qualifying child" or other relative of yours whom you can claim as a dependent (unless you only qualify due to the multiple support rules).
A qualifying child?
A child is considered qualifying if he or she:
Lives in your home for more than half the year,
Is your child, stepchild, adopted child, foster child, sibling stepsibling (or a descendant of any of these),
Is under age 19 (or a student under 24), and
Doesn't provide over half of his or her own support for the year.
If a child's parents are divorced, the child will qualify if he meets these tests for the custodial parent — even if that parent released his or her right to a dependency exemption for the child to the noncustodial parent.
A person isn't a "qualifying child" if he or she is married and can't be claimed by you as a dependent because he or she filed jointly or isn't a U.S. citizen or resident. Special "tie-breaking" rules apply if the individual can be a qualifying child of (and is claimed as such by) more than one taxpayer.
Maintaining a household
You're considered to "maintain a household" if you live in the home for the tax year and pay over half the cost of running it. In measuring the cost, include house-related expenses incurred for the mutual benefit of household members, including property taxes, mortgage interest, rent, utilities, insurance on the property, repairs and upkeep, and food consumed in the home. Don't include items such as medical care, clothing, education, life insurance or transportation.
Special rule for parents
Under a special rule, you can qualify as head of household if you maintain a home for a parent of yours even if you don't live with the parent. To qualify under this rule, you must be able to claim the parent as your dependent.
Marital status
You must be unmarried to claim head of household status. If you're unmarried because you're widowed, you can use the married filing jointly rates as a "surviving spouse" for two years after the year of your spouse's death if your dependent child, stepchild, adopted child, or foster child lives with you and you "maintain" the household. The joint rates are more favorable than the head of household rates.
If you're married, you must file either as married filing jointly or separately, not as head of household. However, if you've lived apart from your spouse for the last six months of the year and your dependent child, stepchild, adopted child, or foster child lives with you and you "maintain" the household, you're treated as unmarried. If this is the case, you can qualify as head of household.
We can answer questions if you'd like to discuss a particular situation or would like additional information about whether someone qualifies as your dependent.
© 2021
View our Full blog.
About Yuma, AZ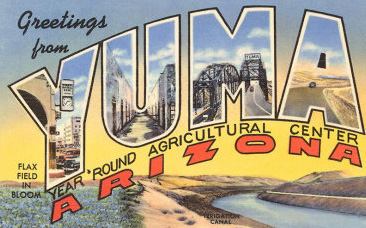 First incorporated as Arizona City in 1871, Yuma was renamed in 1873 and is now the largest city in Arizona outside the metro areas of Phoenix and Tucson.
Visit Our Friends in Yuma