Tax Tips and Alerts
---
Your home office expenses may be tax deductible
Technology has made it easier to work from home so lots of people now commute each morning to an office down the hall. However, just because you have a home office space doesn't mean you can deduct expenses associated with it.
Regularly and exclusively
In order to be deductible for 2019 and 2020, you must be self-employed and the space must be used regularly (not just occasionally) and exclusively for business purposes. If, for example, your home office is also a guest bedroom or your children do their homework there, you can't deduct the expenses associated with the space.
Two options
If you qualify, the home office deduction can be a valuable tax break. There are two options for the deduction:
Write off a portion of your mortgage interest, property taxes, insurance, utilities and certain other expenses, as well as the depreciation allocable to the office space. This requires calculating, allocating and substantiating actual expenses.
Take the "safe harbor" deduction. Only one simple calculation is necessary: $5 times the number of square feet of the office space. The safe harbor deduction is capped at $1,500 per year, based on a maximum of 300 square feet.
Changes through 2025
Under prior tax law, if you were an employee (as opposed to self-employed), you could deduct unreimbursed home office expenses as employee business expenses, subject to a floor of 2% of adjusted gross income (AGI) for all your miscellaneous expenses. To qualify under prior law, a home office had to be used for the "convenience" of your employer.
Unfortunately, the TCJA suspends the deduction for miscellaneous expenses through 2025. Without further action from Congress, employees won't be able to benefit from this tax break for a while. However, deductions are still often available to self-employed taxpayers.
If, however, you're self-employed, you can deduct eligible home office expenses against your self-employment income. Therefore, the deduction will still be available to you through 2025.
More requirements
Be aware that we've covered only a few of the requirements here. We can help you determine if you're eligible for a home office deduction and, if so, establish the appropriate method for getting the biggest possible deduction.
© 2019
Cents-per-mile rate for business miles decreases slightly for 2020
This year, the optional standard mileage rate used to calculate the deductible costs of operating an automobile for business decreased by one-half cent, to 57.5 cents per mile. As a result, you might claim a lower deduction for vehicle-related expense for 2020 than you can for 2019.
Calculating your deduction
Businesses can generally deduct the actual expenses attributable to business use of vehicles. This includes gas, oil, tires, insurance, repairs, licenses and vehicle registration fees. In addition, you can claim a depreciation allowance for the vehicle. However, in many cases depreciation write-offs on vehicles are subject to certain limits that don't apply to other types of business assets.
The cents-per-mile rate comes into play if you don't want to keep track of actual vehicle-related expenses. With this approach, you don't have to account for all your actual expenses, although you still must record certain information, such as the mileage for each business trip, the date and the destination.
Using the mileage rate is also popular with businesses that reimburse employees for business use of their personal vehicles. Such reimbursements can help attract and retain employees who drive their personal vehicles extensively for business purposes. Why? Under the Tax Cuts and Jobs Act, employees can no longer deduct unreimbursed employee business expenses, such as business mileage, on their own income tax returns.
If you do use the cents-per-mile rate, be aware that you must comply with various rules. If you don't, the reimbursements could be considered taxable wages to the employees.
The rate for 2020
Beginning on January 1, 2020, the standard mileage rate for the business use of a car (van, pickup or panel truck) is 57.5 cents per mile. It was 58 cents for 2019 and 54.5 cents for 2018.
The business cents-per-mile rate is adjusted annually. It's based on an annual study commissioned by the IRS about the fixed and variable costs of operating a vehicle, such as gas, maintenance, repair and depreciation. Occasionally, if there's a substantial change in average gas prices, the IRS will change the mileage rate midyear.
Factors to consider
There are some situations when you can't use the cents-per-mile rate. In some cases, it partly depends on how you've claimed deductions for the same vehicle in the past. In other cases, it depends on if the vehicle is new to your business this year or whether you want to take advantage of certain first-year depreciation tax breaks on it.
As you can see, there are many factors to consider in deciding whether to use the mileage rate to deduct vehicle expenses. We can help if you have questions about tracking and claiming such expenses in 2020 — or claiming them on your 2019 income tax return.
© 2019
New rules will soon require employers to annually disclose retirement income to employees
As you've probably heard, a new law was recently passed with a wide range of retirement plan changes for employers and individuals. One of the provisions of the SECURE Act involves a new requirement for employers that sponsor tax-favored defined contribution retirement plans that are subject to ERISA.
Specifically, the law will require that the benefit statements sent to plan participants include a lifetime income disclosure at least once during any 12-month period. The disclosure will need to illustrate the monthly payments that an employee would receive if the total account balance were used to provide lifetime income streams, including a single life annuity and a qualified joint and survivor annuity for the participant and the participant's surviving spouse.
Background information
Under ERISA, a defined contribution plan administrator is required to provide benefit statements to participants. Depending on the situation, these statements must be provided quarterly, annually or upon written request. In 2013, the U.S. Department of Labor (DOL) issued an advance notice of proposed rulemaking providing rules that would have required benefit statements provided to defined contribution plan participants to include an estimated lifetime income stream of payments based on the participant's account balance.
Some employers began providing this information in these statements — even though it wasn't required.
But in the near future, employers will have to begin providing information to their employees about lifetime income streams.
Effective date
Fortunately, the effective date of the requirement has been delayed until after the DOL issues guidance. It won't go into effect until 12 months after the DOL issues a final rule. The law also directs the DOL to develop a model disclosure.
Plan fiduciaries, plan sponsors, or others won't have liability under ERISA solely because they provided the lifetime income stream equivalents, so long as the equivalents are derived in accordance with the assumptions and guidance and that they include the explanations contained in the model disclosure.
Stay tuned
Critics of the new rules argue the required disclosures will lead to confusion among participants and they question how employers will arrive at the income projections. For now, employers have to wait for the DOL to act. We'll update you when that happens. Contact us if you have questions about this requirement or other provisions in the SECURE Act.
© 2019
Numerous tax limits affecting businesses have increased for 2020
An array of tax-related limits that affect businesses are annually indexed for inflation, and many have increased for 2020. Here are some that may be important to you and your business.
Social Security tax
The amount of employees' earnings that are subject to Social Security tax is capped for 2020 at $137,700 (up from $132,900 for 2019).
Deductions
Section 179 expensing:

Limit: $1.04 million (up from $1.02 million for 2019)

Phaseout: $2.59 million (up from $2.55 million)
Income-based phase-out for certain limits on the Sec. 199A qualified business income deduction begins at:

Married filing jointly: $326,600 (up from $321,400)

Married filing separately: $163,300 (up from $160,725)
Other filers: $163,300 (up from $160,700)
Retirement plans
Employee contributions to 401(k) plans: $19,500 (up from $19,000)
Catch-up contributions to 401(k) plans: $6,500 (up from $6,000)
Employee contributions to SIMPLEs: $13,500 (up from $13,000)
Catch-up contributions to SIMPLEs: $3,000 (no change)
Combined employer/employee contributions to defined contribution plans (not including catch-ups): $57,000 (up from $56,000)
Maximum compensation used to determine contributions: $285,000 (up from $280,000)
Annual benefit for defined benefit plans: $230,000 (up from $225,000)
Compensation defining a highly compensated employee: $130,000 (up from $125,000)
Compensation defining a "key" employee: $185,000 (up from $180,000)
Other employee benefits
Qualified transportation fringe-benefits employee income exclusion: $270 per month (up from $265)
Health Savings Account contributions:

Individual coverage: $3,550 (up from $3,500)
Family coverage: $7,100 (up from $7,000)
Catch-up contribution: $1,000 (no change)

Flexible Spending Account contributions:

Health care: $2,750 (up from $2,700)
Dependent care: $5,000 (no change)
These are only some of the tax limits that may affect your business and additional rules may apply. If you have questions, please contact us.
© 2019
4 new law changes that may affect your retirement plan
If you save for retirement with an IRA or other plan, you'll be interested to know that Congress recently passed a law that makes significant modifications to these accounts. The SECURE Act, which was signed into law on December 20, 2019, made these four changes.
Change #1: The maximum age for making traditional IRA contributions is repealed. Before 2020, traditional IRA contributions weren't allowed once you reached age 70½. Starting in 2020, an individual of any age can make contributions to a traditional IRA, as long he or she has compensation, which generally means earned income from wages or self-employment.
Change #2: The required minimum distribution (RMD) age was raised from 70½ to 72. Before 2020, retirement plan participants and IRA owners were generally required to begin taking RMDs from their plans by April 1 of the year following the year they reached age 70½. The age 70½ requirement was first applied in the early 1960s and, until recently, hadn't been adjusted to account for increased life expectancies.
For distributions required to be made after December 31, 2019, for individuals who attain age 70½ after that date, the age at which individuals must begin taking distributions from their retirement plans or IRAs is increased from 70½ to 72.
Change #3: "Stretch IRAs" were partially eliminated. If a plan participant or IRA owner died before 2020, their beneficiaries (spouses and non-spouses) were generally allowed to stretch out the tax-deferral advantages of the plan or IRA by taking distributions over the beneficiary's life or life expectancy. This is sometimes called a "stretch IRA."
However, for deaths of plan participants or IRA owners beginning in 2020 (later for some participants in collectively bargained plans and governmental plans), distributions to most non-spouse beneficiaries are generally required to be distributed within 10 years following a plan participant's or IRA owner's death. That means the "stretch" strategy is no longer allowed for those beneficiaries.
There are some exceptions to the 10-year rule. For example, it's still allowed for: the surviving spouse of a plan participant or IRA owner; a child of a plan participant or IRA owner who hasn't reached the age of majority; a chronically ill individual; and any other individual who isn't more than 10 years younger than a plan participant or IRA owner. Those beneficiaries who qualify under this exception may generally still take their distributions over their life expectancies.
Change #4: Penalty-free withdrawals are now allowed for birth or adoption expenses. A distribution from a retirement plan must generally be included in income. And, unless an exception applies, a distribution before the age of 59½ is subject to a 10% early withdrawal penalty on the amount includible in income.
Starting in 2020, plan distributions (up to $5,000) that are used to pay for expenses related to the birth or adoption of a child are penalty-free. The $5,000 amount applies on an individual basis. Therefore, each spouse in a married couple may receive a penalty-free distribution up to $5,000 for a qualified birth or adoption.
Questions?
These are only some of the changes included in the new law. If you have questions about your situation, don't hesitate to contact us.
© 2020
Answers to your questions about 2020 individual tax limits
Right now, you may be more concerned about your 2019 tax bill than you are about your 2020 tax situation. That's understandable because your 2019 individual tax return is due to be filed in less than three months.
However, it's a good idea to familiarize yourself with tax-related amounts that may have changed for 2020. For example, the amount of money you can put into a 401(k) plan has increased and you may want to start making contributions as early in the year as possible because retirement plan contributions will lower your taxable income.
Note: Not all tax figures are adjusted for inflation and even if they are, they may be unchanged or change only slightly each year due to low inflation. In addition, some tax amounts can only change with new tax legislation.
So below are some Q&As about tax-related figures for this year.
How much can I contribute to an IRA for 2020?
If you're eligible, you can contribute $6,000 a year into a traditional or Roth IRA, up to 100% of your earned income. If you're age 50 or older, you can make another $1,000 "catch up" contribution. (These amounts are the same as they were for 2019.)
I have a 401(k) plan through my job. How much can I contribute to it?
For 2020, you can contribute up to $19,500 (up from $19,000) to a 401(k) or 403(b) plan. You can make an additional $6,500 catch-up contribution if you're age 50 or older.
I sometimes hire a babysitter and a cleaning person. Do I have to withhold and pay FICA tax on the amounts I pay them?
In 2020, the threshold when a domestic employer must withhold and pay FICA for babysitters, house cleaners, etc. is $2,200 (up from $2,100 in 2019).
How much do I have to earn in 2020 before I can stop paying Social Security on my salary?
The Social Security tax wage base is $137,700 for this year (up from $132,900 last year). That means that you don't owe Social Security tax on amounts earned above that. (You must pay Medicare tax on all amounts that you earn.)
I didn't qualify to itemize deductions on my last tax return. Will I qualify for 2020?
The Tax Cuts and Jobs Act eliminated the tax benefit of itemizing deductions for many people by increasing the standard deduction and reducing or eliminating various deductions. For 2020, the standard deduction amount is $24,800 for married couples filing jointly (up from $24,400). For single filers, the amount is $12,400 (up from $12,200) and for heads of households, it's $18,650 (up from $18,350). So if the amount of your itemized deductions (such as charitable gifts and mortgage interest) are less than the applicable standard deduction amount, you won't itemize for 2020.
How much can I give to one person without triggering a gift tax return in 2020?
The annual gift exclusion for 2020 is $15,000 and is unchanged from last year. This amount is only adjusted in $1,000 increments, so it typically only increases every few years.
Your tax picture
These are only some of the tax figures that may apply to you. For more information about your tax picture, or if you have questions, don't hesitate to contact us.
© 2020
Help protect your personal information by filing your 2019 tax return early
The IRS opened the 2019 individual income tax return filing season on January 27. Even if you typically don't file until much closer to the April 15 deadline (or you file for an extension), consider filing as soon as you can this year. The reason: You can potentially protect yourself from tax identity theft — and you may obtain other benefits, too.
Tax identity theft explained
In a tax identity theft scam, a thief uses another individual's personal information to file a fraudulent tax return early in the filing season and claim a bogus refund.
The legitimate taxpayer discovers the fraud when he or she files a return and is informed by the IRS that the return has been rejected because one with the same Social Security number has already been filed for the tax year. While the taxpayer should ultimately be able to prove that his or her return is the valid one, tax identity theft can cause major headaches to straighten out and significantly delay a refund.
Filing early may be your best defense: If you file first, it will be the tax return filed by a would-be thief that will be rejected, rather than yours.
Note: You can get your individual tax return prepared by us before January 27 if you have all the required documents. It's just that processing of the return will begin after IRS systems open on that date.
Your W-2s and 1099s
To file your tax return, you must have received all of your W-2s and 1099s. January 31 is the deadline for employers to issue 2019 Form W-2 to employees and, generally, for businesses to issue Form 1099 to recipients of any 2019 interest, dividend or reportable miscellaneous income payments (including those made to independent contractors).
If you haven't received a W-2 or 1099 by February 1, first contact the entity that should have issued it. If that doesn't work, you can contact the IRS for help.
Other advantages of filing early
Besides protecting yourself from tax identity theft, another benefit of early filing is that, if you're getting a refund, you'll get it faster. The IRS expects most refunds to be issued within 21 days. The time is typically shorter if you file electronically and receive a refund by direct deposit into a bank account.
Direct deposit also avoids the possibility that a refund check could be lost or stolen or returned to the IRS as undeliverable. And by using direct deposit, you can split your refund into up to three financial accounts, including a bank account or IRA. Part of the refund can also be used to buy up to $5,000 in U.S. Series I Savings Bonds.
What if you owe tax? Filing early may still be beneficial. You won't need to pay your tax bill until April 15, but you'll know sooner how much you owe and can plan accordingly.
Be an early-bird filer
If you have questions about tax identity theft or would like help filing your 2019 return early, please contact us. We can help you ensure you file an accurate return that takes advantage of all of the breaks available to you.
© 2020
Small businesses: Stay clear of a severe payroll tax penalty
One of the most laborious tasks for small businesses is managing payroll. But it's critical that you not only withhold the right amount of taxes from employees' paychecks but also that you pay them over to the federal government on time.
If you willfully fail to do so, you could personally be hit with the Trust Fund Recovery Penalty, also known as the 100% penalty. The penalty applies to the Social Security and income taxes required to be withheld by a business from its employees' wages. Since the taxes are considered property of the government, the employer holds them in "trust" on the government's behalf until they're paid over.
The reason the penalty is sometimes called the "100% penalty" is because the person liable for the taxes (called the "responsible person") can be personally penalized 100% of the taxes due. Accordingly, the amounts the IRS seeks when the penalty is applied are usually substantial, and the IRS is aggressive in enforcing it.
Responsible persons
The penalty can be imposed on any person "responsible" for the collection and payment of the taxes. This has been broadly defined to include a corporation's officers, directors, and shareholders under a duty to collect and pay the tax, as well as a partnership's partners or any employee of the business under such a duty. Even voluntary board members of tax-exempt organizations, who are generally exempt from responsibility, can be subject to this penalty under certain circumstances. Responsibility has even been extended in some cases to professional advisors.
According to the IRS, being a responsible person is a matter of status, duty and authority. Anyone with the power to see that the taxes are paid may be responsible. There is often more than one responsible person in a business, but each is at risk for the entire penalty. Although taxpayers held liable may sue other responsible persons for their contributions, this is an action they must take entirely on their own after they pay the penalty. It isn't part of the IRS collection process.
The net can be broadly cast. You may not be directly involved with the withholding process in your business. But let's say you learn of a failure to pay over withheld taxes and you have the power to have them paid. Instead, you make payments to creditors and others. You have now become a responsible person.
How the IRS defines "willfulness"
For actions to be willful, they don't have to include an overt intent to evade taxes. Simply bowing to business pressures and paying bills or obtaining supplies instead of paying over withheld taxes due to the government is willful behavior for these purposes. And just because you delegate responsibilities to someone else doesn't necessarily mean you're off the hook.
In addition, the corporate veil won't shield corporate owners from the 100% penalty. The liability protections that owners of corporations — and limited liability companies — typically have don't apply to payroll tax debts.
If the IRS assesses the penalty, it can file a lien or take levy or seizure action against the personal assets of a responsible person.
Avoiding the penalty
You should never allow any failure to withhold taxes from employees, and no "borrowing" from withheld amounts should ever be allowed in your business — regardless of the circumstances. All funds withheld must be paid over on time.
If you aren't already using a payroll service, consider hiring one. This can relieve you of the burden of withholding and paying the proper amounts, as well as handling the recordkeeping. Contact us for more information.
© 2019
Setting up a Health Savings Account for your small business
Given the escalating cost of employee health care benefits, your business may be interested in providing some of these benefits through an employer-sponsored Health Savings Account (HSA). For eligible individuals, HSAs offer a tax-advantaged way to set aside funds (or have their employers do so) to meet future medical needs. Here are the key tax benefits:
Contributions that participants make to an HSA are deductible, within limits.
Contributions that employers make aren't taxed to participants.
Earnings on the funds within an HSA aren't taxed, so the money can accumulate year after year tax free.
HSA distributions to cover qualified medical expenses aren't taxed.
Employers don't have to pay payroll taxes on HSA contributions made by employees through payroll deductions.
Who is eligible?
To be eligible for an HSA, an individual must be covered by a "high deductible health plan." For 2019, a "high deductible health plan" is one with an annual deductible of at least $1,350 for self-only coverage, or at least $2,700 for family coverage. For self-only coverage, the 2019 limit on deductible contributions is $3,500. For family coverage, the 2019 limit on deductible contributions is $7,000. Additionally, annual out-of-pocket expenses required to be paid (other than for premiums) for covered benefits cannot exceed $6,750 for self-only coverage or $13,500 for family coverage.
An individual (and the individual's covered spouse, as well) who has reached age 55 before the close of the tax year (and is an eligible HSA contributor) may make additional "catch-up" contributions for 2019 of up to $1,000.
Employer contributions
If an employer contributes to the HSA of an eligible individual, the employer's contribution is treated as employer-provided coverage for medical expenses under an accident or health plan and is excludable from an employee's gross income up to the deduction limitation. There's no "use-it-or-lose-it" provision, so funds can be built up for years. An employer that decides to make contributions on its employees' behalf must generally make comparable contributions to the HSAs of all comparable participating employees for that calendar year. If the employer doesn't make comparable contributions, the employer is subject to a 35% tax on the aggregate amount contributed by the employer to HSAs for that period.
Distributions
HSA distributions can be made to pay for qualified medical expenses, which generally mean those expenses that would qualify for the medical expense itemized deduction. They include expenses such as doctors' visits, prescriptions, chiropractic care and premiums for long-term care insurance.
If funds are withdrawn from the HSA for other reasons, the withdrawal is taxable. Additionally, an extra 20% tax will apply to the withdrawal, unless it's made after reaching age 65, or in the event of death or disability.
As you can see, HSAs offer a flexible option for providing health care coverage, but the rules are somewhat complex. Contact us if you'd like to discuss offering this benefit to your employees.
© 2019
View our Full blog.
About Yuma, AZ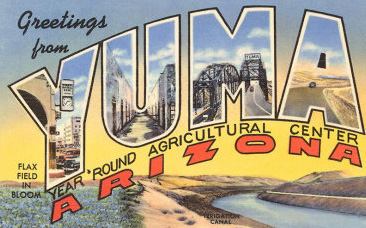 First incorporated as Arizona City in 1871, Yuma was renamed in 1873 and is now the largest city in Arizona outside the metro areas of Phoenix and Tucson.
Visit Our Friends in Yuma