Tax Tips and Alerts
---
2019 Q3 tax calendar: Key deadlines for businesses and other employers
Here are some of the key tax-related deadlines affecting businesses and other employers during the third quarter of 2019. Keep in mind that this list isn't all-inclusive, so there may be additional deadlines that apply to you. Contact us to ensure you're meeting all applicable deadlines and to learn more about the filing requirements.
July 31
Report income tax withholding and FICA taxes for the second quarter of 2019 (Form 941) and pay any tax due. (See the exception below, under "August 12.")
File a 2018 calendar-year retirement plan report (Form 5500 or Form 5500-EZ) or request an extension.
August 12
Report income tax withholding and FICA taxes for the second quarter of 2019 (Form 941), if you deposited on time and in full all of the associated taxes due.
September 16
If a calendar-year C corporation, pay the third installment of 2019 estimated income taxes.
If a calendar-year S corporation or partnership that filed an automatic six-month extension:

File a 2018 income tax return (Form 1120S, Form 1065 or Form 1065-B) and pay any tax, interest and penalties due.
Make contributions for 2018 to certain employer-sponsored retirement plans.
© 2019
When are LLC members subject to self-employment tax?
Limited liability company (LLC) members commonly claim that their distributive shares of LLC income — after deducting compensation for services in the form of guaranteed payments — aren't subject to self-employment (SE) tax. But the IRS has been cracking down on LLC members it claims have underreported SE income, with some success in court.
SE tax background
Self-employment income is subject to a 12.4% Social Security tax (up to the wage base) and a 2.9% Medicare tax. Generally, if you're a member of a partnership — including an LLC taxed as a partnership — that conducts a trade or business, you're considered self-employed.
General partners pay SE tax on all their business income from the partnership, whether it's distributed or not. Limited partners, however, are subject to SE tax only on any guaranteed payments for services they provide to the partnership. The rationale is that limited partners, who have no management authority, are more akin to passive investors.
(Note, however, that "service partners" in service partnerships, such as law firms, medical practices, and architecture and engineering firms, generally may not claim limited partner status regardless of their level of participation.)
LLC uncertainty
Over the years, many LLC members have taken the position that they're equivalent to limited partners and, therefore, exempt from SE tax (except on guaranteed payments for services). But there's a big difference between limited partners and LLC members. Both enjoy limited personal liability, but, unlike limited partners, LLC members can actively participate in management without jeopardizing their liability protection.
Arguably, LLC members who are active in management or perform substantial services related to the LLC's business are subject to SE tax, while those who more closely resemble passive investors should be treated like limited partners. The IRS issued proposed regulations to that effect in 1997, but hasn't finalized them — although it follows them as a matter of internal policy.
Some LLC members have argued that the IRS's failure to finalize the regulations supports the claim that their distributive shares aren't subject to SE tax. But the IRS routinely rejects this argument and has successfully litigated its position. The courts generally have imposed SE tax on LLC members unless, like traditional limited partners, they lack management authority and don't provide significant services to the business.
Review your situation
The law in this area remains uncertain, particularly with regard to capital-intensive businesses. But given the IRS's aggressiveness in collecting SE taxes from LLCs, LLC members should assess whether the IRS might claim that they've underpaid SE taxes.
Those who wish to avoid or reduce these taxes in the future may have some options, including converting to an S corporation or limited partnership, or restructuring their ownership interests. When evaluating these strategies, there are issues to consider beyond taxes. Contact us to discuss your specific situation.
© 2019
Will leasing equipment or buying it be more tax efficient for your business?
Recent changes to federal tax law and accounting rules could affect whether you decide to lease or buy equipment or other fixed assets. Although there's no universal "right" choice, many businesses that formerly leased assets are now deciding to buy them.
Pros and cons of leasing
From a cash flow perspective, leasing can be more attractive than buying. And leasing does provide some tax benefits: Lease payments generally are tax deductible as "ordinary and necessary" business expenses. (Annual deduction limits may apply.)
Leasing used to be advantageous from a financial reporting standpoint. But new accounting rules that bring leases to the lessee's balance sheet go into effect in 2020 for calendar-year private companies. So, lease obligations will show up as liabilities, similar to purchased assets that are financed with traditional bank loans.
Leasing also has some potential drawbacks. Over the long run, leasing an asset may cost you more than buying it, and leasing doesn't provide any buildup of equity. What's more, you're generally locked in for the entire lease term. So, you're obligated to keep making lease payments even if you stop using the equipment. If the lease allows you to opt out before the term expires, you may have to pay an early-termination fee.
Pros and cons of buying
Historically, the primary advantage of buying over leasing has been that you're free to use the assets as you see fit. But an advantage that has now come to the forefront is that Section 179 expensing and first-year bonus depreciation can provide big tax savings in the first year an asset is placed in service.
These two tax breaks were dramatically enhanced by the Tax Cuts and Jobs Act (TCJA) — enough so that you may be convinced to buy assets that your business might have leased in the past. Many businesses will be able to write off the full cost of most equipment in the year it's purchased. Any remainder is eligible for regular depreciation deductions over IRS-prescribed schedules.
The primary downside of buying fixed assets is that you're generally required to pay the full cost upfront or in installments, although the Sec. 179 and bonus depreciation tax benefits are still available for property that's financed. If you finance a purchase through a bank, a down payment of at least 20% of the cost is usually required. This could tie up funds and affect your credit rating. If you decide to finance fixed asset purchases, be aware that the TCJA limits interest expense deductions (for businesses with more than $25 million in average annual gross receipts) to 30% of adjusted taxable income.
Decision time
When deciding whether to lease or buy a fixed asset, there are a multitude of factors to consider, including tax implications. We can help you determine the approach that best suits your circumstances.
© 2019
Understanding how taxes factor into an M&A transaction
Merger and acquisition activity has been brisk in recent years. If your business is considering merging with or acquiring another business, it's important to understand how the transaction will be taxed under current law.
Stocks vs. assets
From a tax standpoint, a transaction can basically be structured in two ways:
1. Stock (or ownership interest). A buyer can directly purchase a seller's ownership interest if the target business is operated as a C or S corporation, a partnership, or a limited liability company (LLC) that's treated as a partnership for tax purposes.
The now-permanent 21% corporate federal income tax rate under the Tax Cuts and Jobs Act (TCJA) makes buying the stock of a C corporation somewhat more attractive. Reasons: The corporation will pay less tax and generate more after-tax income. Plus, any built-in gains from appreciated corporate assets will be taxed at a lower rate when they're eventually sold.
The TCJA's reduced individual federal tax rates may also make ownership interests in S corporations, partnerships and LLCs more attractive. Reason: The passed-through income from these entities also will be taxed at lower rates on a buyer's personal tax return. However, the TCJA's individual rate cuts are scheduled to expire at the end of 2025, and, depending on future changes in Washington, they could be eliminated earlier or extended.
2. Assets. A buyer can also purchase the assets of a business. This may happen if a buyer only wants specific assets or product lines. And it's the only option if the target business is a sole proprietorship or a single-member LLC that's treated as a sole proprietorship for tax purposes.
Note: In some circumstances, a corporate stock purchase can be treated as an asset purchase by making a "Section 338 election." Ask your tax advisor for details.
Buyer vs. seller preferences
For several reasons, buyers usually prefer to purchase assets rather than ownership interests. Generally, a buyer's main objective is to generate enough cash flow from an acquired business to pay any acquisition debt and provide an acceptable return on the investment. Therefore, buyers are concerned about limiting exposure to undisclosed and unknown liabilities and minimizing taxes after the deal closes.
A buyer can step up (increase) the tax basis of purchased assets to reflect the purchase price. Stepped-up basis lowers taxable gains when certain assets, such as receivables and inventory, are sold or converted into cash. It also increases depreciation and amortization deductions for qualifying assets.
Meanwhile, sellers generally prefer stock sales for tax and nontax reasons. One of their main objectives is to minimize the tax bill from a sale. That can usually be achieved by selling their ownership interests in a business (corporate stock or partnership or LLC interests) as opposed to selling business assets.
With a sale of stock or other ownership interest, liabilities generally transfer to the buyer and any gain on sale is generally treated as lower-taxed long-term capital gain (assuming the ownership interest has been held for more than one year).
Keep in mind that other issues, such as employee benefits, can also cause unexpected tax issues when merging with, or acquiring, a business.
Professional advice is critical
Buying or selling a business may be the most important transaction you make during your lifetime, so it's important to seek professional tax advice as you negotiate. After a deal is done, it may be too late to get the best tax results. Contact us for the best way to proceed in your situation.
© 2019
Divorcing business owners need to pay attention to tax implications
If you're getting a divorce, you know it's a highly stressful time. But if you're a business owner, tax issues can complicate matters even more. Your business ownership interest is one of your biggest personal assets and your marital property will include all or part of it.
Transferring property tax-free
You can generally divide most assets, including cash and business ownership interests, between you and your soon-to-be ex-spouse without any federal income or gift tax consequences. When an asset falls under this tax-free transfer rule, the spouse who receives the asset takes over its existing tax basis (for tax gain or loss purposes) and its existing holding period (for short-term or long-term holding period purposes).
For example, let's say that, under the terms of your divorce agreement, you give your house to your spouse in exchange for keeping 100% of the stock in your business. That asset swap would be tax-free. And the existing basis and holding periods for the home and the stock would carry over to the person who receives them.
Tax-free transfers can occur before the divorce or at the time it becomes final. Tax-free treatment also applies to postdivorce transfers so long as they're made "incident to divorce." This means transfers that occur within:
A year after the date the marriage ends, or
Six years after the date the marriage ends if the transfers are made pursuant to your divorce agreement.
Future tax implications
Eventually, there will be tax implications for assets received tax-free in a divorce settlement. The ex-spouse who winds up owning an appreciated asset — when the fair market value exceeds the tax basis — generally must recognize taxable gain when it's sold (unless an exception applies).
What if your ex-spouse receives 49% of your highly appreciated small business stock? Thanks to the tax-free transfer rule, there's no tax impact when the shares are transferred. Your ex will continue to apply the same tax rules as if you had continued to own the shares, including carryover basis and carryover holding period. When your ex-spouse ultimately sells the shares, he or she will owe any capital gains taxes. You will owe nothing.
Note that the person who winds up owning appreciated assets must pay the built-in tax liability that comes with them. From a net-of-tax perspective, appreciated assets are worth less than an equal amount of cash or other assets that haven't appreciated. That's why you should always take taxes into account when negotiating your divorce agreement.
In addition, the IRS now extends the beneficial tax-free transfer rule to ordinary-income assets, not just to capital-gains assets. For example, if you transfer business receivables or inventory to your ex-spouse in divorce, these types of ordinary-income assets can also be transferred tax-free. When the asset is later sold, converted to cash or exercised (in the case of nonqualified stock options), the person who owns the asset at that time must recognize the income and pay the tax liability.
Avoid adverse tax consequences
Like many major life events, divorce can have major tax implications. For example, you may receive an unexpected tax bill if you don't carefully handle the splitting up of qualified retirement plan accounts (such as a 401(k) plan) and IRAs. And if you own a business, the stakes are higher. Your tax advisor can help you minimize the adverse tax consequences of settling your divorce under today's laws.
© 2019
Deducting business meal expenses under today's tax rules
In the course of operating your business, you probably spend time and money "wining and dining" current or potential customers, vendors and employees. What can you deduct on your tax return for these expenses? The rules changed under the Tax Cuts and Jobs Act (TCJA), but you can still claim some valuable write-offs.
No more entertainment deductions
One of the biggest changes is that you can no longer deduct most business-related entertainment expenses. Beginning in 2018, the TCJA disallows deductions for entertainment expenses, including those for sports events, theater productions, golf outings and fishing trips.
Meal deductions still allowed
You can still deduct 50% of the cost of food and beverages for meals conducted with business associates. However, you need to follow three basic rules in order to prove that your expenses are business related:
The expenses must be "ordinary and necessary" in carrying on your business. This means your food and beverage costs are customary and appropriate. They shouldn't be lavish or extravagant.
The expenses must be directly related or associated with your business. This means that you expect to receive a concrete business benefit from them. The principal purpose for the meal must be business. You can't go out with a group of friends for the evening, discuss business with one of them for a few minutes, and then write off the check.
You must be able to substantiate the expenses. There are requirements for proving that meal and beverage expenses qualify for a deduction. You must be able to establish the amount spent, the date and place where the meals took place, the business purpose and the business relationship of the people involved.
Set up detailed recordkeeping procedures to keep track of business meal costs. That way, you can prove them and the business connection in the event of an IRS audit.
Other considerations
What if you spend money on food and beverages at an entertainment event? The IRS clarified in guidance (Notice 2018-76) that taxpayers can still deduct 50% of food and drink expenses incurred at entertainment events, but only if business was conducted during the event or shortly before or after. The food-and-drink expenses should also be "stated separately from the cost of the entertainment on one or more bills, invoices or receipts," according to the guidance.
Another related tax law change involves meals provided to employees on the business premises. Before the TCJA, these meals provided to an employee for the convenience of the employer were 100% deductible by the employer. Beginning in 2018, meals provided for the convenience of an employer in an on-premises cafeteria or elsewhere on the business property are only 50% deductible. After 2025, these meals won't be deductible at all.
Plan ahead
As you can see, the treatment of meal and entertainment expenses became more complicated after the TCJA. Your tax advisor can keep you up to speed on the issues and suggest strategies to get the biggest tax-saving bang for your business meal bucks.
© 2019
How entrepreneurs must treat expenses on their tax returns
Have you recently started a new business? Or are you contemplating starting one? Launching a new venture is a hectic, exciting time. And as you know, before you even open the doors, you generally have to spend a lot of money. You may have to train workers and pay for rent, utilities, marketing and more.
Entrepreneurs are often unaware that many expenses incurred by start-ups can't be deducted right away. You should be aware that the way you handle some of your initial expenses can make a large difference in your tax bill.
Key points on how expenses are handled
When starting or planning a new enterprise, keep these factors in mind:
Start-up costs include those incurred or paid while creating an active trade or business — or investigating the creation or acquisition of one.
Under the federal tax code, taxpayers can elect to deduct up to $5,000 of business start-up and $5,000 of organizational costs in the year the business begins. We don't need to tell you that $5,000 doesn't go far these days! And the $5,000 deduction is reduced dollar-for-dollar by the amount by which your total start-up or organizational costs exceed $50,000. Any remaining costs must be amortized over 180 months on a straight-line basis.
No deductions or amortization write-offs are allowed until the year when "active conduct" of your new business commences. That usually means the year when the enterprise has all the pieces in place to begin earning revenue. To determine if a taxpayer meets this test, the IRS and courts generally ask questions such as: Did the taxpayer undertake the activity intending to earn a profit? Was the taxpayer regularly and actively involved? Has the activity actually begun?
Examples of expenses
Start-up expenses generally include all expenses that are incurred to:
Investigate the creation or acquisition of a business,
Create a business, or
Engage in a for-profit activity in anticipation of that activity becoming an active business.
To be eligible for the election, an expense also must be one that would be deductible if it were incurred after a business began. One example would be the money you spend analyzing potential markets for a new product or service.
To qualify as an "organization expense," the outlay must be related to the creation of a corporation or partnership. Some examples of organization expenses are legal and accounting fees for services related to organizing the new business and filing fees paid to the state of incorporation.
An important decision
Time may be of the essence if you have start-up expenses that you'd like to deduct this year. You need to decide whether to take the elections described above. Recordkeeping is important. Contact us about your business start-up plans. We can help with the tax and other aspects of your new venture.
© 2019
Are your employees flying the red flags of fraud?
Forensic accountants are best qualified to unearth the "hows and whys" of occupational fraud. But it's up to employers to know when it's time to call for professional help in the first place. The signs of fraud can be easy to miss, but they're usually there.
Something doesn't belong
Dishonest employees may use anything from fictitious vendors to false invoices to cover up theft. To ferret out potential fraud, look for such signs as:
Duplicate payments,
Out-of-sequence entries,
Entries by employees who don't usually make them,
Unusual inventory adjustments,
Accounts that don't properly balance, and
Transactions for amounts that appear too large or too small, or transactions that occur too often or too rarely.
An increase in the number of complaints your company receives is another warning sign. An investigation may lead to a relatively innocent explanation, such as a glitch in your shipping system — or it may lead to a fraudulent billing scheme. Pay equally close attention to declines in product quality. They could just stem from a faulty batch of paint or indicate that a thief is working in purchasing.
Living it up
Changes in an employee's lifestyle can be evidence of fraud. Although such changes usually are difficult to spot initially, a pattern is likely to emerge over time.
For example, one piece of expensive jewelry could be a gift, and a good investment return may pay for an exotic vacation. But if your warehouse manager brags about his new state-of-the-art home theater, buys an expensive car and decides to install a backyard pool, you should question how that's possible on the salary you're paying.
Multiple personalities
When employees steal, especially if they're first-time offenders, they may no longer be on their best behavior. In fact, you may not even recognize them. People who have always been cooperative may become argumentative. Or, alternatively, someone who typically is difficult to work with may suddenly become everyone's friend.
If an employee starts drinking to excess or takes up smoking, ask what's wrong. If they can't sleep, or if they worry obsessively about the possible consequences of actions and resent other employees' participation in "their" projects, be concerned. They may be wrestling with a family problem — or stealing you blind.
Don't jump to conclusions
The signs of fraud are easy to overlook, in part because they aren't necessarily signs of fraud. There may be explanations for suspicious behavior that have nothing to do with fraud, but you won't know unless you investigate further. If you begin to suspect fraud, contact us.
© 2019
New Tax Laws – New Problems
IRS Announces Change to 2018 Schedule D
Some returns may have had calculation errors due to the new tax laws, specifically with Capital Gains Tax. In May, the Revenue Service announced a change to calculations on Schedule D. We make every effort to verify accuracy on tax returns we prepare, however we can never anticipate changes made by the IRS after the tax deadline.
We have performed a cursory review of our client returns and do not believe this would have been a substantive error on any given return. If we prepared your return and you would like to know if it  was impacted, please reach out to your preparer.
Here is the announcement by the IRS: Error in Tax Calculation in Schedule D Tax Worksheet
Employee vs. independent contractor: How should you handle worker classification?

Many employers prefer to classify workers as independent contractors to lower costs, even if it means having less control over a worker's day-to-day activities. But the government is on the lookout for businesses that classify workers as independent contractors simply to reduce taxes or avoid their employee benefit obligations.
Why it matters
When your business classifies a worker as an employee, you generally must withhold federal income tax and the employee's share of Social Security and Medicare taxes from his or her wages. Your business must then pay the employer's share of these taxes, pay federal unemployment tax, file federal payroll tax returns and follow other burdensome IRS and U.S. Department of Labor rules.
You may also have to pay state and local unemployment and workers' compensation taxes and comply with more rules. Dealing with all this can cost a bundle each year.
On the other hand, with independent contractor status, you don't have to worry about employment tax issues. You also don't have to provide fringe benefits like health insurance, retirement plans and paid vacations. If you pay $600 or more to an independent contractor during the year, you must file a Form 1099-MISC with the IRS and send a copy to the worker to report what you paid. That's basically the extent of your bureaucratic responsibilities.
But if you incorrectly treat a worker as an independent contractor — and the IRS decides the worker is actually an employee — your business could be assessed unpaid payroll taxes plus interest and penalties. You also could be liable for employee benefits that should have been provided but weren't, including penalties under federal laws.
Filing an IRS form
To find out if a worker is an employee or an independent contractor, you can file optional IRS Form SS-8, "Determination of Worker Status for Purposes of Federal Employment Taxes and Income Tax Withholding." Then, the IRS will let you know how to classify a worker. However, be aware that the IRS has a history of classifying workers as employees rather than independent contractors.
Businesses should consult with us before filing Form SS-8 because it may alert the IRS that your business has worker classification issues — and inadvertently trigger an employment tax audit.
It can be better to simply treat independent contractors so the relationships comply with the tax rules. This generally includes not controlling how the workers perform their duties, ensuring that you're not the workers' only customer, providing annual Forms 1099 and, basically, not treating the workers like employees.
Workers can also ask for a determination
Workers who want an official determination of their status can also file Form SS-8. Disgruntled independent contractors may do so because they feel entitled to employee benefits and want to eliminate self-employment tax liabilities.
If a worker files Form SS-8, the IRS will send a letter to the business. It identifies the worker and includes a blank Form SS-8. The business is asked to complete and return the form to the IRS, which will render a classification decision.
Defending your position
If your business properly handles independent contractors, don't panic if a worker files a Form SS-8. Contact us before replying to the IRS. With a proper response, you may be able to continue to classify the worker as a contractor. We also can assist you in setting up independent contractor relationships that stand up to IRS scrutiny.
© 2019
View our Full blog.
About Yuma, AZ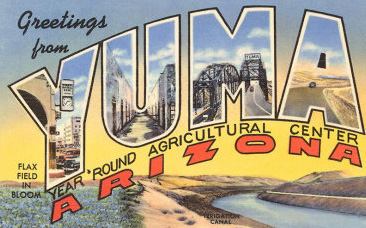 First incorporated as Arizona City in 1871, Yuma was renamed in 1873 and is now the largest city in Arizona outside the metro areas of Phoenix and Tucson.
Visit Our Friends in Yuma