Tax Tips and Alerts
---
PPP Loan Certification and Forgiveness
PPP loans are meant for small businesses, which are generally defined for the purposes of the program as having 500 or fewer employees. The purpose of the loans is to allow businesses to continue to pay their employees and keep their operations up and running in the midst of economic hardship brought on by the COVID-19 pandemic.
PPP loans are eligible for loan forgiveness if certain conditions are met. The proceeds of the loan must be spent on qualifying expenses in the eight-week period after the funds are received by the borrower. Additionally, 75% must be used for payroll purposes. The remaining 25% can be used for other qualifying expenses such as utility payments, rent, or mortgage interest. Borrowers should verify with their lenders regarding which expenses will qualify.
In addition to the spending requirements, businesses that receive PPP funding are expected to maintain employment and compensation levels. Loan forgiveness may be reduced if employee or compensation levels decline. Businesses may have an opportunity to rehire employees by no later than June 30, 2020 to avoid decreases forgiveness eligibility based on employee reduction. The Treasury FAQ on PPP Loans addresses whether forgiveness will be reduced if an employer laid off an employee and offered to rehire the same employee, but the employee declined the offer. According to the answer to Question 40 in the FAQ: 
SBA and Treasury intend to issue an interim final rule excluding laid-off employees whom the borrower offered to rehire (for the same salary/wages and same number of hours) from the CARES Act's loan forgiveness reduction calculation. The interim final rule will specify that, to qualify for this exception, the borrower must have made a good faith, written offer of rehire, and the employee's rejection of that offer must be documented by the borrower. Employees and employers should be aware that employees who reject offers of re-employment may forfeit eligibility for continued unemployment compensation.
To qualify for forgiveness, applicants need to prove they need the funds and certify they don't have access to additional sources of capital. Additionally, they must certify that the current economic uncertainty (which has been created by the COVID-19 pandemic) makes the loan request necessary in order for the applicant's operations to continue.
Because businesses must certify they have no access to other sources of capital and the current economic situation has made the loan necessary, the SBA warned on April 23rd that businesses with substantial access to capital would not qualify for the PPP loans. Subsequently, some larger companies returned their PPP funds. Additionally, some small companies are also concerned that this warning and disqualification may apply to them. However, guidance from the Treasury's FAQs on PPP Loans states: "Any borrower that, together with its affiliates received PPP loans with an original principal amount of less than $2 million will be deemed to have made the required certification concerning the necessity of the loan request in good faith."
If you borrowed less than $2 Million, your certification will be deemed to have been made in good faith according to the guidance from the Treasury.
If you borrowed $2 Million or more, it will not necessarily disqualify you. You may still have adequate basis for making the good-faith certification based on your individual circumstances. However, if the SBA determines a business that borrowed $2 Million or more did not have adequate basis, they will seek repayment of the funds and the borrower will not be eligible for forgiveness of the loan.
For further reading:
Do you have tax questions related to COVID-19? Here are some answers
The coronavirus (COVID-19) pandemic has affected many Americans' finances. Here are some answers to questions you may have right now.
My employer closed the office and I'm working from home. Can I deduct any of the related expenses?
Unfortunately, no. If you're an employee who telecommutes, there are strict rules that govern whether you can deduct home office expenses. For 2018–2025 employee home office expenses aren't deductible. (Starting in 2026, an employee may deduct home office expenses, within limits, if the office is for the convenience of his or her employer and certain requirements are met.)
Be aware that these are the rules for employees. Business owners who work from home may qualify for home office deductions.
My son was laid off from his job and is receiving unemployment benefits. Are they taxable?
Yes. Unemployment compensation is taxable for federal tax purposes. This includes your son's state unemployment benefits plus the temporary $600 per week from the federal government. (Depending on the state he lives in, his benefits may be taxed for state tax purposes as well.)
Your son can have tax withheld from unemployment benefits or make estimated tax payments to the IRS.
The value of my stock portfolio is currently down. If I sell a losing stock now, can I deduct the loss on my 2020 tax return?
It depends. Let's say you sell a losing stock this year but earlier this year, you sold stock shares at a gain. You have both a capital loss and a capital gain. Your capital gains and losses for the year must be netted against one another in a specific order, based on whether they're short-term (held one year or less) or long-term (held for more than one year).
If, after the netting, you have short-term or long-term losses (or both), you can use them to offset up to $3,000 ordinary income ($1,500 for married taxpayers filing separately). Any loss in excess of this limit is carried forward to later years, until all of it is either offset against capital gains or deducted against ordinary income in those years, subject to the $3,000 limit.
I know the tax filing deadline has been extended until July 15 this year. Does that mean I have more time to contribute to my IRA?
Yes. You have until July 15 to contribute to an IRA for 2019. If you're eligible, you can contribute up to $6,000 to an IRA, plus an extra $1,000 "catch-up" amount if you were age 50 or older on December 31, 2019.
What about making estimated payments for 2020?
The 2020 estimated tax payment deadlines for the first quarter (due April 15) and the second quarter (due June 15) have been extended until July 15, 2020.
Need help?
These are only some of the tax-related questions you may have related to COVID-19. Contact us if you have other questions or need more information about the topics discussed above.
© 2020
Answers to questions you may have about Economic Impact Payments
Millions of eligible Americans have already received their Economic Impact Payments (EIPs) via direct deposit or paper checks, according to the IRS. Others are still waiting. The payments are part of the Coronavirus Aid, Relief, and Economic Security (CARES) Act. Here are some answers to questions you may have about EIPs.
Who's eligible to get an EIP?
Eligible taxpayers who filed their 2018 or 2019 returns and chose direct deposit of their refunds automatically receive an Economic Impact Payment. You must be a U.S. citizen or U.S. resident alien and you can't be claimed as a dependent on someone else's tax return. In general, you must also have a valid Social Security number and have adjusted gross income (AGI) under a certain threshold.
The IRS also says that automatic payments will go to people receiving Social Security retirement or disability benefits and Railroad Retirement benefits.
How much are the payments?
EIPs can be up to $1,200 for individuals, or $2,400 for married couples, plus $500 for each qualifying child.
How much income must I have to receive a payment?
You don't need to have any income to receive a payment. But for higher income people, the payments phase out. The EIP is reduced by 5% of the amount that your AGI exceeds $75,000 ($112,500 for heads of household or $150,000 for married joint filers), until it's $0.
The payment for eligible individuals with no qualifying children is reduced to $0 once AGI reaches:
$198,000 for married joint filers,
$136,500 for heads of household, and
$99,000 for all others
Each of these threshold amounts increases by $10,000 for each additional qualifying child. For example, because families with one qualifying child receive an additional $500 Payment, their $1,700 Payment ($2,900 for married joint filers) is reduced to $0 once adjusted gross income reaches:
$208,000 for married joint filers,
$146,500 for heads of household,
$109,000 for all others
How will I know if money has been deposited into my bank account?
The IRS stated that it will send letters to EIP recipients about the payment within 15 days after they're made. A letter will be sent to a recipient's last known address and will provide information on how the payment was made and how to report any failure to receive it.
Is there a way to check on the status of a payment?
The IRS has introduced a new "Get My Payment" web-based tool that will: show taxpayers either their EIP amount and the scheduled delivery date by direct deposit or paper check, or that a payment hasn't been scheduled. It also allows taxpayers who didn't use direct deposit on their last-filed return to provide bank account information. In order to use the tool, you must enter information such as your Social Security number and birthdate. You can access it here: https://bit.ly/2ykLSwa
I tried the tool and I got the message "payment status not available." Why?
Many people report that they're getting this message. The IRS states there are many reasons why you may see this. For example, you're not eligible for a payment or you're required to file a tax return and haven't filed yet. In some cases, people are eligible but are still getting this message. Hopefully, the IRS will have it running seamlessly soon.
© 2020
IRS: Get My Payment Tool Up and Running
The IRS says its new Get My Payment tool is now up and running. It allows taxpayers to check on the status of their Economic Impact Payments (EIPs), which are being sent to help ease the coronavirus (COVID-19) crisis. If you filed a 2018 or 2019 tax return, you can use the application to find out the projected date for when your payment will be deposited into your bank account. Also, taxpayers who didn't use direct deposit on their last tax return will be able to input information to receive their payments via direct deposit into their bank accounts, expediting receipt. According to the IRS, more than 80 million EIPs have hit bank accounts so far. Try the tool here: https://bit.ly/34LljfJ 
Scam Warning!
The Treasury Inspector General for Tax Administration (TIGTA) has issued an urgent warning to taxpayers to "be on high alert" for potential scams related to the government payments that will be made to taxpayers as a result of the coronavirus (COVID-19). TIGTA stresses that taxpayers shouldn't respond if they receive letters, calls, emails or other communications from individuals claiming to be from IRS and offering COVID-19 payments in exchange for personal information, an advance fee or other charge. Taxpayers should also remain aware of other related scams and solicitations "that fraudulently claim to be from the IRS," TIGTA said. Read the TIGTA warning here: https://bit.ly/3c62xSQ 
Cash payments and tax relief for individuals in new law
A new law signed by President Trump on March 27 provides a variety of tax and financial relief measures to help Americans during the coronavirus (COVID-19) pandemic. This article explains some of the tax relief for individuals in the Coronavirus Aid, Relief, and Economic Security (CARES) Act.
Individual cash payments
Under the new law, an eligible individual will receive a cash payment equal to the sum of: $1,200 ($2,400 for eligible married couples filing jointly) plus $500 for each qualifying child. Eligibility is based on adjusted gross income (AGI).
Individuals who have no income, as well as those whose income comes entirely from Social Security benefits, are also eligible for the payment.
The AGI thresholds will be based on 2019 tax returns, or 2018 returns if you haven't yet filed your 2019 returns. For those who don't qualify on their most recently filed tax returns, there may be another option to receive some money. An individual who isn't an eligible individual for 2019 may be eligible for 2020. The IRS won't send cash payments to him or her. Instead, the individual will be able to claim the credit when filing a 2020 return.
The income thresholds
The amount of the payment is reduced by 5% of AGI in excess of:
$150,000 for a joint return,
$112,500 for a head of household, and
$75,000 for all other taxpayers.
But there is a ceiling that leaves some taxpayers ineligible for a payment. Under the rules, the payment is completely phased-out for a single filer with AGI exceeding $99,000 and for joint filers with no children with AGI exceeding $198,000. For a head of household with one child, the payment is completely phased out when AGI exceeds $146,500.
Most eligible individuals won't have to take any action to receive a cash payment from the IRS. The payment may be made into a bank account if a taxpayer filed electronically and provided bank account information. Otherwise, the IRS will mail the payment to the last known address.
Other tax provisions
There are several other tax-related provisions in the CARES Act. For example, a distribution from a qualified retirement plan won't be subject to the 10% additional tax if you're under age 59 ½ — as long as the distribution is related to COVID-19. And the new law allows charitable deductions, beginning in 2020, for up $300 even if a taxpayer doesn't itemize deductions.
Stay tuned
These are only a few of the tax breaks in the CARES Act. We'll cover additional topics in coming weeks.
© 2020
2020 – 03/30
On March 27, President Trump signed another coronavirus (COVID-19) relief law titled the Coronavirus Aid, Relief, and Economic Security Act (CARES Act). Among other things, the CARES Act provides recovery rebates of up to $1,200 for singles and $2,400 for married couples filing jointly (plus $500 per qualifying child) subject to income-based phaseouts. It also waives the 10% penalty tax on early retirement account withdrawals for COVID-19-related distributions and temporarily waives the required minimum distribution rules for certain retirement accounts.
2020 – 03/30
The CARES Act, which was signed into law on March 27, authorizes a $300 "above-the line" charitable tax deduction for individuals who don't itemize. This will give a slight boost to taxpayers who donate to charity and the charities they donate to. The new law adds the deduction for tax years starting in 2020. For the last couple of years, under the Tax Cuts and Jobs Act, only individuals who itemized could get a deduction for charitable gifts, and far fewer individuals have been itemizing because of the increased standard deduction. The new deduction only applies to cash contributions. The contribution can't be used to establish a donor-advised fund or maintain an existing one.
IRS Frequently Asked Questions
The IRS has published a list of answers to frequently asked questions about Notice 2020-18, which extended the filing deadline. These questions and answers will be updated periodically and are designed to be a flexible tool to communicate information to taxpayers and tax professionals in this changing environment. The list can be found here: https://bit.ly/33MxSHm 
Other Deadlines
So far, only federal deadlines that were originally April 15th have been moved. We are still waiting to see how the COVID-19 situation unfolds and whether subsequent deadlines, like May 15th for non-profits, will also be changed. We'll continue to share updates as we get more information.
View our Full blog.
About Yuma, AZ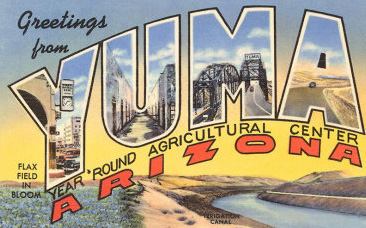 First incorporated as Arizona City in 1871, Yuma was renamed in 1873 and is now the largest city in Arizona outside the metro areas of Phoenix and Tucson.
Visit Our Friends in Yuma