Tax Tips and Alerts
---
Educate yourself about the revised tax benefits for higher education
Attending college is one of the biggest investments that parents and students ever make. If you or your child (or grandchild) attends (or plans to attend) an institution of higher learning, you may be eligible for tax breaks to help foot the bill.
The Consolidated Appropriations Act, which was enacted recently, made some changes to the tax breaks. Here's a rundown of what has changed.
Deductions vs. credits
Before the new law, there were tax breaks available for qualified education expenses including the Tuition and Fees Deduction, the Lifetime Learning Credit and the American Opportunity Tax Credit.
Tax credits are generally better than tax deductions. The difference? A tax deduction reduces your taxable income while a tax credit reduces the amount of taxes you owe on a dollar-for-dollar basis.
First, let's look at the deduction
For 2020, the Tuition and Fees Deduction could be up to $4,000 at lower income levels or up to $2,000 at middle income levels. If your 2020 modified adjusted gross income (MAGI) allows you to be eligible, you can claim the deduction whether you itemize or not. Here are the income thresholds:
For 2020, a taxpayer with a MAGI of up to $65,000 ($130,000 for married filing jointly) could deduct qualified expenses up to $4,000.
For 2020, a taxpayer with a MAGI between $65,001 and $80,000 ($130,001 and $160,000 for married filing jointly) could deduct up to $2,000.
For 2020, the allowable 2020 deduction was phased out and was zero if your MAGI was more than $80,000 ($160,000 for married filing jointly).
As you'll see below, the Tuition and Fees Deduction is not available after the 2020 tax year.
Two credits aligned
Before the new law, an unfavorable income phase-out rule applied to the Lifetime Learning Credit, which can be worth up to $2,000 per tax return annually. For 2021 and beyond, the new law aligns the phase-out rule for the Lifetime Learning Credit with the more favorable phase-out rule for the American Opportunity Tax Credit, which can be worth up to $2,500 per student each year. The CAA also repeals the Tuition and Fees Deduction for 2021 and later years. Basically, the law trades the old-law write-off for the more favorable new-law Lifetime Learning Credit phase-out rule.
Under the CAA, both the Lifetime Learning Credit and the American Opportunity Tax Credit are phased out for 2021 and beyond between a MAGI of $80,001 and $90,000 for unmarried individuals ($160,001 and $180,000 for married couples filing jointly). Before the new law, the Lifetime Learning Credit was phased out for 2020 between a MAGI of $59,001 and $69,000 for unmarried individuals ($118,001 and $138,000 married couples filing jointly).
Best for you
Talk with us about which of the two remaining education tax credits is the most beneficial in your situation. Each of them has its own requirements. There are also other education tax opportunities you may be able to take advantage of, including a Section 529 tuition plan and a Coverdell Education Savings Account.
© 2021
Can your business benefit from the enhanced Employee Retention Tax Credit?
COVID-19 has shut down many businesses, causing widespread furloughs and layoffs. Fortunately, employers that keep workers on their payrolls are eligible for a refundable Employee Retention Tax Credit (ERTC), which was extended and enhanced in the latest law.
Background on the credit
The CARES Act, enacted in March of 2020, created the ERTC. The credit:
Equaled 50% of qualified employee wages paid by an eligible employer in an applicable 2020 calendar quarter,
Was subject to an overall wage cap of $10,000 per eligible employee, and
Was available to eligible large and small employers.
The Consolidated Appropriations Act, enacted December 27, 2020, extends and greatly enhances the ERTC. Under the CARES Act rules, the credit only covered wages paid between March 13, 2020, and December 31, 2020. The new law now extends the covered wage period to include the first two calendar quarters of 2021, ending on June 30, 2021.
In addition, for the first two quarters of 2021 ending on June 30, the new law increases the overall covered wage ceiling to 70% of qualified wages paid during the applicable quarter (versus 50% under the CARES Act). And it increases the per-employee covered wage ceiling to $10,000 of qualified wages paid during the applicable quarter (versus a $10,000 annual ceiling under the original rules).
Interaction with the PPP
In a change retroactive to March 12, 2020, the new law also stipulates that the employee retention credit can be claimed for qualified wages paid with proceeds from Paycheck Protection Program (PPP) loans that aren't forgiven.
What's more, the new law liberalizes an eligibility rule. Specifically, it expands eligibility for the credit by reducing the required year-over-year gross receipts decline from 50% to 20% and provides a safe harbor allowing employers to use prior quarter gross receipts to determine eligibility.
© 2021
The COVID-19 relief law: What's in it for you?
The new COVID-19 relief law that was signed on December 27, 2020, contains a multitude of provisions that may affect you. Here are some of the highlights of the Consolidated Appropriations Act, which also contains two other laws: the COVID-related Tax Relief Act (COVIDTRA) and the Taxpayer Certainty and Disaster Tax Relief Act (TCDTR).
Direct payments
The law provides for direct payments (which it calls recovery rebates) of $600 per eligible individual ($1,200 for a married couple filing a joint tax return), plus $600 per qualifying child. The U.S. Treasury Department has already started making these payments via direct bank deposits or checks in the mail and will continue to do so in the coming weeks.
The credit payment amount is phased out at a rate of $5 per $100 of additional income starting at $150,000 of modified adjusted gross income for marrieds filing jointly and surviving spouses, $112,500 for heads of household, and $75,000 for single taxpayers.
Medical expense tax deduction
The law makes permanent the 7.5%-of-adjusted-gross-income threshold on medical expense deductions, which was scheduled to increase to 10% of adjusted gross income in 2021. The lower threshold will make it easier to qualify for the medical expense deduction.
Charitable deduction for non-itemizers
For 2020, individuals who don't itemize their deductions can take up to a $300 deduction per tax return for cash contributions to qualified charitable organizations. The new law extends this $300 deduction through 2021 for individuals and increases it to $600 for married couples filing jointly. Taxpayers who overstate their contributions when claiming this deduction are subject to a 50% penalty (previously it was 20%).
Allowance of charitable contributions
In response to the pandemic, the limit on cash charitable contributions by an individual in 2020 was increased to 100% of the individual's adjusted gross income (AGI). (The usual limit is 60% of adjusted gross income.) The new law extends this rule through 2021.
Energy tax credit
A credit of up to $500 is available for purchases of qualifying energy improvements made to a taxpayer's main home. However, the $500 maximum allowance must be reduced by any credits claimed in earlier years. The law extends this credit, which was due to expire at the end of 2020, through 2021.
Other energy-efficient provisions
There are a few other energy-related provisions in the new law. For example, the tax credit for a qualified fuel cell motor vehicle and the two-wheeled plug-in electric vehicle were scheduled to expire in 2020 but have been extended through the end of 2021.
There's also a valuable tax credit for qualifying solar energy equipment expenditures for your home. For equipment placed in service in 2020, the credit rate is 26%. The rate was scheduled to drop to 22% for equipment placed in service in 2021 before being eliminated for 2022 and beyond.
Under the new law, the 26% credit rate is extended to cover equipment placed in service in 2021 and 2022 and the law also extends the 22% rate to cover equipment placed in service in 2023. For 2024 and beyond, the credit is scheduled to vanish.
Maximize tax breaks
These are only a few tax breaks contained in the massive new law. We'll make sure that you claim all the tax breaks you're entitled to when we prepare your tax return.
© 2021
New law doubles business meal deductions and makes favorable PPP loan changes
The COVID-19 relief bill, signed into law on December 27, 2020, provides a further response from the federal government to the pandemic. It also contains numerous tax breaks for businesses. Here are some highlights of the Consolidated Appropriations Act of 2021 (CAA), which also includes other laws within it.
Business meal deduction increased
The new law includes a provision that removes the 50% limit on deducting business meals provided by restaurants and makes those meals fully deductible.
As background, ordinary and necessary food and beverage expenses that are incurred while operating your business are generally deductible. However, for 2020 and earlier years, the deduction is limited to 50% of the allowable expenses.
The new legislation adds an exception to the 50% limit for expenses of food or beverages provided by a restaurant. This rule applies to expenses paid or incurred in calendar years 2021 and 2022.
The use of the word "by" (rather than "in") a restaurant clarifies that the new tax break isn't limited to meals eaten on a restaurant's premises. Takeout and delivery meals from a restaurant are also 100% deductible.
Note: Other than lifting the 50% limit for restaurant meals, the legislation doesn't change the rules for business meal deductions. All the other existing requirements continue to apply when you dine with current or prospective customers, clients, suppliers, employees, partners and professional advisors with whom you deal with (or could engage with) in your business.
Therefore, to be deductible:
The food and beverages can't be lavish or extravagant under the circumstances, and
You or one of your employees must be present when the food or beverages are served.
If food or beverages are provided at an entertainment activity (such as a sporting event or theater performance), either they must be purchased separately from the entertainment or their cost must be stated on a separate bill, invoice or receipt. This is required because the entertainment, unlike the food and beverages, is nondeductible.
PPP loans
The new law authorizes more money towards the Paycheck Protection Program (PPP) and extends it to March 31, 2021. There are a couple of tax implications for employers that received PPP loans:
Clarifications of tax consequences of PPP loan forgiveness. The law clarifies that the non-taxable treatment of PPP loan forgiveness that was provided by the 2020 CARES Act also applies to certain other forgiven obligations. Also, the law makes clear that taxpayers, whose PPP loans or other obligations are forgiven, are allowed deductions for otherwise deductible expenses paid with the proceeds. In addition, the tax basis and other attributes of the borrower's assets won't be reduced as a result of the forgiveness.
Waiver of information reporting for PPP loan forgiveness. Under the CAA, the IRS is allowed to waive information reporting requirements for any amount excluded from income under the exclusion-from-income rule for forgiveness of PPP loans or other specified obligations. (The IRS had already waived information returns and payee statements for loans that were guaranteed by the Small Business Administration).
Much more
These are just a couple of the provisions in the new law that are favorable to businesses. The CAA also provides extensions and modifications to earlier payroll tax relief, allows changes to employee benefit plans, includes disaster relief and much more. Contact us if you have questions about your situation.
© 2021
2020 – 12/29
The IRS plans to issue most 2019 individual tax refunds by end of 2020. The IRS has updated its "IRS Operations During COVID-19: Mission critical" website to note that it has made significant progress in issuing refunds related to 2019 individual income tax returns. As of late November, the IRS had 7.1 million unprocessed individual tax returns and 2.3 million unprocessed business tax returns. For refunds that can't be issued in 2020 because the tax return is being corrected, reviewed or awaiting correspondence from a taxpayer, the refund will be issued as a paper check in 2021 per the IRS's normal processes. For more information: https://bit.ly/2K6BSwM 
The right entity choice: Should you convert from a C to an S corporation?
The best choice of entity can affect your business in several ways, including the amount of your tax bill. In some cases, businesses decide to switch from one entity type to another. Although S corporations can provide substantial tax benefits over C corporations in some circumstances, there are potentially costly tax issues that you should assess before making the decision to convert from a C corporation to an S corporation.
Here are four issues to consider:
1. LIFO inventories. C corporations that use last-in, first-out (LIFO) inventories must pay tax on the benefits they derived by using LIFO if they convert to S corporations. The tax can be spread over four years. This cost must be weighed against the potential tax gains from converting to S status.
2. Built-in gains tax. Although S corporations generally aren't subject to tax, those that were formerly C corporations are taxed on built-in gains (such as appreciated property) that the C corporation has when the S election becomes effective, if those gains are recognized within five years after the conversion. This is generally unfavorable, although there are situations where the S election still can produce a better tax result despite the built-in gains tax.
3. Passive income. S corporations that were formerly C corporations are subject to a special tax. It kicks in if their passive investment income (including dividends, interest, rents, royalties, and stock sale gains) exceeds 25% of their gross receipts, and the S corporation has accumulated earnings and profits carried over from its C corporation years. If that tax is owed for three consecutive years, the corporation's election to be an S corporation terminates. You can avoid the tax by distributing the accumulated earnings and profits, which would be taxable to shareholders. Or you might want to avoid the tax by limiting the amount of passive income.
4. Unused losses. If your C corporation has unused net operating losses, they can't be used to offset its income as an S corporation and can't be passed through to shareholders. If the losses can't be carried back to an earlier C corporation year, it will be necessary to weigh the cost of giving up the losses against the tax savings expected to be generated by the switch to S status.
Other considerations
When a business switches from C to S status, these are only some of the factors to consider. For example, shareholder-employees of S corporations can't get all of the tax-free fringe benefits that are available with a C corporation. And there may be issues for shareholders who have outstanding loans from their qualified plans. These factors have to be taken into account in order to understand the implications of converting from C to S status.
If you're interested in an entity conversion, contact us. We can explain what your options are, how they'll affect your tax bill and some possible strategies you can use to minimize taxes. 
© 2020
Your taxpayer filing status: You may be eligible to use more than one
When it comes to taxes, December 31 is more than just New Year's Eve. That date will affect the filing status box that will be checked on your 2020 tax return. When filing a return, you do so with one of five tax filing statuses. In part, they depend on whether you're married or unmarried on December 31.
More than one filing status may apply, and you can use the one that saves the most tax. It's also possible that your status could change during the year.
Here are the filing statuses and who can claim them:
Single. This is generally used if you're unmarried, divorced or legally separated under a divorce or separate maintenance decree governed by state law.
Married filing jointly. If you're married, you can file a joint tax return with your spouse. If your spouse passes away, you can generally file a joint return for that year.
Married filing separately. As an alternative to filing jointly, married couples can choose to file separate tax returns. In some cases, this may result in less tax owed.
Head of household. Certain unmarried taxpayers may qualify to use this status and potentially pay less tax. Special requirements are described below.
Qualifying widow(er) with a dependent child. This may be used if your spouse died during one of the previous two years and you have a dependent child. Other conditions also apply.
How to qualify as "head of household"
In general, head of household status is more favorable than filing as a single taxpayer. To qualify, you must "maintain a household" that, for more than half the year, is the principal home of a "qualifying child" or other relative that you can claim as your dependent.
A "qualifying child" is defined as one who:
Lives in your home for more than half the year,
Is your child, stepchild, foster child, sibling, stepsibling or a descendant of any of these,
Is under 19 years old or under age 24 if enrolled as a student, and
Doesn't provide over half of his or her own support for the year.
If a child's parents are divorced, different rules may apply. Also, a child isn't eligible to be a "qualifying child" if he or she is married and files a joint tax return or isn't a U.S. citizen or resident.
There are other head of household requirements. You're considered to maintain a household if you live in it for the tax year and pay more than half the cost. This includes property taxes, mortgage interest, rent, utilities, property insurance, repairs, upkeep, and food consumed in the home. Don't include medical care, clothing, education, life insurance or transportation.
Under a special rule, you can qualify as head of household if you maintain a home for a parent even if you don't live with him or her. To qualify, you must claim the parent as your dependent.
Determining marital status
You must generally be unmarried to claim head of household status. If you're married, you must generally file as either married filing jointly or married filing separately — not as head of household. However, if you've lived apart from your spouse for the last six months of the year, a qualifying child lives with you and you "maintain" the household, you're treated as unmarried. In this case, you may qualify as head of household.
Contact us if you have questions about your filing status. Or ask us when we prepare your return.
© 2020
The new COVID-19 assistance package, signed by President Trump on 12/27/2020, clarifies some issues related to existing PPP Loans. Contrary to previous IRS guidance, expenses paid with forgiven PPP Loan funds WILL be tax-deductible! In the Act, Congress clarified its intent that "no deduction shall be denied or reduced, no tax attribute shall be reduced, and no basis increase shall be denied, by reason of the exclusion from gross income" of the forgiven PPP proceeds.
Can you qualify for a medical expense tax deduction?
You may be able to deduct some of your medical expenses, including prescription drugs, on your federal tax return. However, the rules make it hard for many people to qualify. But with proper planning, you may be able to time discretionary medical expenses to your advantage for tax purposes.
Itemizers must meet a threshold
For 2020, the medical expense deduction can only be claimed to the extent your unreimbursed costs exceed 7.5% of your adjusted gross income (AGI). This threshold amount is scheduled to increase to 10% of AGI for 2021. You also must itemize deductions on your return in order to claim a deduction.
If your total itemized deductions for 2020 will exceed your standard deduction, moving or "bunching" nonurgent medical procedures and other controllable expenses into 2020 may allow you to exceed the 7.5% floor and benefit from the medical expense deduction. Controllable expenses include refilling prescription drugs, buying eyeglasses and contact lenses, going to the dentist and getting elective surgery.
In addition to hospital and doctor expenses, here are some items to take into account when determining your allowable costs:
Health insurance premiums. This item can total thousands of dollars a year. Even if your employer provides health coverage, you can deduct the portion of the premiums that you pay. Long-term care insurance premiums are also included as medical expenses, subject to limits based on age.
Transportation. The cost of getting to and from medical treatments counts as a medical expense. This includes taxi fares, public transportation, or using your own car. Car costs can be calculated at 17¢ a mile for miles driven in 2020, plus tolls and parking. Alternatively, you can deduct certain actual costs, such as for gas and oil.
Eyeglasses, hearing aids, dental work, prescription drugs and more. Deductible expenses include the cost of glasses, hearing aids, dental work, psychiatric counseling and other ongoing expenses in connection with medical needs. Purely cosmetic expenses don't qualify. Prescription drugs (including insulin) qualify, but over-the-counter aspirin and vitamins don't. Neither do amounts paid for treatments that are illegal under federal law (such as medical marijuana), even if state law permits them. The services of therapists and nurses can qualify as long as they relate to a medical condition and aren't for general health. Amounts paid for certain long-term care services required by a chronically ill individual also qualify.
Smoking-cessation and weight-loss programs. Amounts paid for participating in smoking-cessation programs and for prescribed drugs designed to alleviate nicotine withdrawal are deductible. However, nonprescription nicotine gum and patches aren't. A weight-loss program is deductible if undertaken as treatment for a disease diagnosed by a physician. Deductible expenses include fees paid to join a program and attend periodic meetings. However, the cost of food isn't deductible.
Costs for dependents
You can deduct the medical costs that you pay for dependents, such as your children. Additionally, you may be able to deduct medical costs you pay for other individuals, such as an elderly parent. Contact us if you have questions about medical expense deductions.
© 2020
Steer clear of the wash sale rule if you're selling stock by year end
Are you thinking about selling stock shares at a loss to offset gains that you've realized during 2020? If so, it's important not to run afoul of the "wash sale" rule.
IRS may disallow the loss
Under this rule, if you sell stock or securities for a loss and buy substantially identical stock or securities back within the 30-day period before or after the sale date, the loss can't be claimed for tax purposes. The rule is designed to prevent taxpayers from using the tax benefit of a loss without parting with ownership in any significant way. Note that the rule applies to a 30-day period before or after the sale date to prevent "buying the stock back" before it's even sold. (If you participate in any dividend reinvestment plans, it's possible the wash sale rule may be inadvertently triggered when dividends are reinvested under the plan, if you've separately sold some of the same stock at a loss within the 30-day period.)
The rule even applies if you repurchase the security in a tax-advantaged retirement account, such as a traditional or Roth IRA.
Although the loss can't be claimed on a wash sale, the disallowed amount is added to the cost of the new stock. So, the disallowed amount can be claimed when the new stock is finally disposed of in the future (other than in a wash sale).
An example to illustrate
Let's say you bought 500 shares of ABC Inc. for $10,000 and sold them on November 5 for $3,000. On November 30, you buy 500 shares of ABC again for $3,200. Since the shares were "bought back" within 30 days of the sale, the wash sale rule applies. Therefore, you can't claim a $7,000 loss. Your basis in the new 500 shares is $10,200: the actual cost plus the $7,000 disallowed loss.
If only a portion of the stock sold is bought back, only that portion of the loss is disallowed. So, in the above example, if you'd only bought back 300 of the 500 shares (60%), you'd be able to claim 40% of the loss on the sale ($2,800). The remaining $4,200 loss that's disallowed under the wash sale rule would be added to your cost of the 300 shares.
If you've cashed in some big gains in 2020, you may be looking for unrealized losses in your portfolio so you can sell those investments before year end. By doing so, you can offset your gains with your losses and reduce your 2020 tax liability. But be careful of the wash sale rule. 
© 2020
View our Full blog.
About Yuma, AZ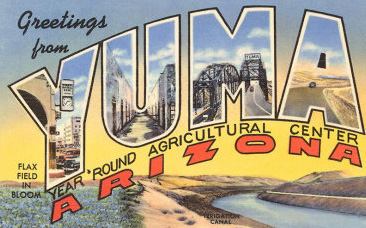 First incorporated as Arizona City in 1871, Yuma was renamed in 1873 and is now the largest city in Arizona outside the metro areas of Phoenix and Tucson.
Visit Our Friends in Yuma