Tax Tips and Alerts
---
The tax implications of a company car
The use of a company vehicle is a valuable fringe benefit for owners and employees of small businesses. This benefit results in tax deductions for the employer as well as tax breaks for the owners and employees using the cars. (And of course, they get the nontax benefits of driving the cars!) Even better, recent tax law changes and IRS rules make the perk more valuable than before.
Here's an example
Let's say you're the owner-employee of a corporation that's going to provide you with a company car. You need the car to visit customers, meet with vendors and check on suppliers. You expect to drive the car 8,500 miles a year for business. You also expect to use the car for about 7,000 miles of personal driving, including commuting, running errands and weekend trips with your family. Therefore, your usage of the vehicle will be approximately 55% for business and 45% for personal purposes. You want a nice car to reflect positively on your business, so the corporation buys a new luxury $50,000 sedan.
Your cost for personal use of the vehicle will be equal to the tax you pay on the fringe benefit value of your 45% personal mileage. By contrast, if you bought the car yourself to be able to drive the personal miles, you'd be out-of-pocket for the entire purchase cost of the car.
Your personal use will be treated as fringe benefit income. For tax purposes, your corporation will treat the car much the same way it would any other business asset, subject to depreciation deduction restrictions if the auto is purchased. Out-of-pocket expenses related to the car (including insurance, gas, oil and maintenance) are deductible, including the portion that relates to your personal use. If the corporation finances the car, the interest it pays on the loan would be deductible as a business expense (unless the business is subject to business-interest limitation under the tax code).
In contrast, if you bought the auto yourself, you wouldn't be entitled to any deductions. Your outlays for the business-related portion of your driving would be unreimbursed employee business expenses that are nondeductible from 2018 to 2025 due to the suspension of miscellaneous itemized deductions under the Tax Cuts and Jobs Act. And if you financed the car yourself, the interest payments would be nondeductible.
And finally, the purchase of the car by your corporation will have no effect on your credit rating.
Administrative tasks
Providing an auto for an owner's or key employee's business and personal use comes with complications and paperwork. Personal use will have to be tracked and valued under the fringe benefit tax rules and treated as income. This article only explains the basics.
Despite the necessary valuation and paperwork, a company-provided car is still a valuable fringe benefit for business owners and key employees. It can provide them with the use of a vehicle at a low tax cost while generating tax deductions for their businesses. We can help you stay in compliance with the rules and explain more about this prized perk.
© 2019
Take a closer look at home office deductions
Working from home has its perks. Not only can you skip the commute, but you also might be eligible to deduct home office expenses on your tax return. Deductions for these expenses can save you a bundle, if you meet the tax law qualifications.
Under the Tax Cuts and Jobs Act, employees can no longer claim the home office deduction. If, however, you run a business from your home or are otherwise self-employed and use part of your home for business purposes, the home office deduction may still be available to you.
If you're a homeowner and use part of your home for business purposes, you may be entitled to deduct a portion of actual expenses such as mortgage, property taxes, utilities, repairs and insurance, as well as depreciation. Or you might be able to claim the simplified home office deduction of $5 per square foot, up to 300 square feet ($1,500).
Requirements to qualify
To qualify for home office deductions, part of your home must be used "regularly and exclusively" as your principal place of business. This is defined as follows:
1. Regular use. You use a specific area of your home for business on a regular basis. Incidental or occasional business use isn't considered regular use.
2. Exclusive use. You use a specific area of your home only for business. It's not required that the space be physically partitioned off. But you don't meet the requirements if the area is used for both business and personal purposes, such as a home office that you also use as a guest bedroom.
Your home office will qualify as your principal place of business if you 1) use the space exclusively and regularly for administrative or management activities of your business, and 2) don't have another fixed location where you conduct substantial administrative or management activities.
Examples of activities that meet this requirement include:
Billing customers, clients or patients,
Keeping books and records,
Ordering supplies,
Setting up appointments, and
Forwarding orders or writing reports.
Other ways to qualify
If your home isn't your principal place of business, you may still be able to deduct home office expenses if you physically meet with patients, clients or customers on the premises. The use of your home must be substantial and integral to the business conducted.
Alternatively, you may be able to claim the home office deduction if you have a storage area in your home — or in a separate free-standing structure (such as a studio, workshop, garage or barn) — that's used exclusively and regularly for your business.
An audit target
Be aware that claiming expenses on your tax return for a home office has long been a red flag for an IRS audit, since many people don't qualify. But don't be afraid to take a home office deduction if you're entitled to it. You just need to pay close attention to the rules to ensure that you're eligible — and make sure that your recordkeeping is complete.
The home office deduction can provide a valuable tax-saving opportunity for business owners and other self-employed taxpayers who work from home. Keep in mind that, when you sell your house, there can be tax implications if you've claimed a home office. Contact us if you have questions or aren't sure how to proceed in your situation.
© 2019
Should you elect S corporation status?
Operating a business as an S corporation may provide many advantages, including limited liability for owners and no double taxation (at least at the federal level). Self-employed people may also be able to lower their exposure to Social Security and Medicare taxes if they structure their businesses as S corps for federal tax purposes. But not all businesses are eligible — and with changes under the Tax Cuts and Jobs Act, S corps may not be as appealing as they once were.
Compare and contrast
The main reason why businesses elect S corp status is to obtain the limited liability of a corporation and the ability to pass corporate income, losses, deductions and credits through to shareholders. In other words, S corps generally avoid double taxation of corporate income — once at the corporate level and again when it's distributed to shareholders. Instead, tax items pass through to the shareholders' personal returns, and they pay tax at their individual income tax rates.
But double taxation may be less of a concern today due to the 21% flat income tax rate that now applies to C corporations. Meanwhile, the top individual income tax rate is 37%. S corp owners may be able to take advantage of the qualified business income (QBI) deduction, which can be equal to as much as 20% of QBI.
In order to assess S corp status, you have to run the numbers with your tax advisor, and factor in state taxes to determine which structure will be the most beneficial for you and your business.
S corp qualifications
If you decide to go the S corp route, make sure you qualify and will stay qualified. To be eligible to elect to be an S corp or to convert, your business must:
Be a domestic corporation,
Have only one class of stock,
Have no more than 100 shareholders, and
Have only "allowable" shareholders, including individuals, certain trusts and estates. Shareholders can't include partnerships, corporations and nonresident alien shareholders.
In addition, certain businesses are ineligible, such as financial institutions and insurance companies.
Base compensation on what's reasonable
Another important consideration when electing S status is shareholder compensation. One strategy for paying less in Social Security and Medicare employment taxes is to pay modest salaries to yourself and any other S corp shareholder-employees. Then, pay out the remaining corporate cash flow (after you've retained enough in the company's accounts to sustain normal business operations) as federal-employment-tax-free cash distributions.
However, the IRS is on the lookout for S corps that pay shareholder-employees unreasonably low salaries to avoid paying employment taxes and then make distributions that aren't subject to those taxes.
Paying yourself a modest salary will work if you can prove that your salary is reasonable based on market levels for similar jobs. Otherwise, you run the risk of the IRS auditing your business and imposing back employment taxes, interest and penalties. We can help you decide on a salary and gather proof that it's reasonable.
Consider all angles
Contact us if you think being an S corporation might help reduce your tax bill while still providing liability protection. We can help with the mechanics of making an election or making a conversion, under applicable state law, and then handling the post-conversion tax issues.
© 2019
The "nanny tax" must be paid for more than just nannies
You may have heard of the "nanny tax." But even if you don't employ a nanny, it may apply to you. Hiring a housekeeper, gardener or other household employee (who isn't an independent contractor) may make you liable for federal income and other taxes. You may also have state tax obligations.
If you employ a household worker, you aren't required to withhold federal income taxes from pay. But you may choose to withhold if the worker requests it. In that case, ask the worker to fill out a Form W-4. However, you may be required to withhold Social Security and Medicare (FICA) taxes and to pay federal unemployment (FUTA) tax.
FICA and FUTA tax
In 2019, you must withhold and pay FICA taxes if your household worker earns cash wages of $2,100 or more (excluding the value of food and lodging). If you reach the threshold, all the wages (not just the excess) are subject to FICA.
However, if a nanny is under age 18 and child care isn't his or her principal occupation, you don't have to withhold FICA taxes. So, if you have a part-time babysitter who is a student, there's no FICA tax liability.
Both an employer and a household worker may have FICA tax obligations. As an employer, you're responsible for withholding your worker's FICA share. In addition, you must pay a matching amount. FICA tax is divided between Social Security and Medicare. The Social Security tax rate is 6.2% for the employer and 6.2% for the worker (12.4% total). Medicare tax is 1.45% each for both the employer and the worker (2.9% total).
If you want, you can pay your worker's share of Social Security and Medicare taxes. If you do, your payments aren't counted as additional cash wages for Social Security and Medicare purposes. However, your payments are treated as additional income to the worker for federal tax purposes, so you must include them as wages on the W-2 form that you must provide.
You also must pay FUTA tax if you pay $1,000 or more in cash wages (excluding food and lodging) to your worker in any calendar quarter. FUTA tax applies to the first $7,000 of wages paid and is only paid by the employer.
Reporting and paying
You pay household worker obligations by increasing your quarterly estimated tax payments or increasing withholding from wages, rather than making an annual lump-sum payment.
As a household worker employer, you don't have to file employment tax returns, even if you're required to withhold or pay tax (unless you own your own business). Instead, employment taxes are reported on your tax return on Schedule H.
When you report the taxes on your return, you include your employer identification number (not the same as your Social Security number). You must file Form SS-4 to get one.
However, if you own a business as a sole proprietor, you include the taxes for a household worker on the FUTA and FICA forms (940 and 941) that you file for your business. And you use your sole proprietorship EIN to report the taxes.
Keep careful records
Keep related tax records for at least four years from the later of the due date of the return or the date the tax was paid. Records should include the worker's name, address, Social Security number, employment dates, dates and amount of wages paid and taxes withheld, and copies of forms filed.
Contact us for assistance or questions about how to comply with these employment tax requirements.
© 2019
The tax implications of being a winner
If you're lucky enough to be a winner at gambling or the lottery, congratulations! After you celebrate, be ready to deal with the tax consequences of your good fortune.
Winning at gambling
Whether you win at the casino, a bingo hall, or elsewhere, you must report 100% of your winnings as taxable income. They're reported on the "Other income" line on Schedule 1 of your 1040 tax return. To measure your winnings on a particular wager, use the net gain. For example, if a $30 bet at the race track turns into a $110 win, you've won $80, not $110.
You must separately keep track of losses. They're deductible, but only as itemized deductions. Therefore, if you don't itemize and take the standard deduction, you can't deduct gambling losses. In addition, gambling losses are only deductible up to the amount of gambling winnings. So you can use losses to "wipe out" gambling income but you can't show a gambling tax loss.
Maintain good records of your losses during the year. Keep a diary in which you indicate the date, place, amount and type of loss, as well as the names of anyone who was with you. Save all documentation, such as checks or credit slips.
Winning the lottery
The chances of winning the lottery are slim. But if you don't follow the tax rules after winning, the chances of hearing from the IRS are much higher.
Lottery winnings are taxable. This is the case for cash prizes and for the fair market value of any noncash prizes, such as a car or vacation. Depending on your other income and the amount of your winnings, your federal tax rate may be as high as 37%. You may also be subject to state income tax.
You report lottery winnings as income in the year, or years, you actually receive them. In the case of noncash prizes, this would be the year the prize is received. With cash, if you take the winnings in annual installments, you only report each year's installment as income for that year.
If you win more than $5,000 in the lottery or certain types of gambling, 24% must be withheld for federal tax purposes. You'll receive a Form W-2G from the payer showing the amount paid to you and the federal tax withheld. (The payer also sends this information to the IRS.) If state tax withholding is withheld, that amount may also be shown on Form W-2G.
Since your federal tax rate can be up to 37%, which is well above the 24% withheld, the withholding may not be enough to cover your federal tax bill. Therefore, you may have to make estimated tax payments — and you may be assessed a penalty if you fail to do so. In addition, you may be required to make state and local estimated tax payments.
We can help
If you're fortunate enough to hit a sizable jackpot, there are other issues to consider, including estate planning. This article only covers the basic tax rules. Different rules apply to people who qualify as professional gamblers. Contact us with questions. We can help you minimize taxes and stay in compliance with all requirements.
© 2019
"Innocent spouses" may get relief from tax liability
When a married couple files a joint tax return, each spouse is "jointly and severally" liable for the full amount of tax on the couple's combined income. Therefore, the IRS can come after either spouse to collect the entire tax — not just the part that's attributed to one spouse or the other. This includes any tax deficiency that the IRS assesses after an audit, as well as any penalties and interest. (However, the civil fraud penalty can be imposed only on spouses who've actually committed fraud.)
Innocent spouses
In some cases, spouses are eligible for "innocent spouse relief." This generally involves individuals who were unaware of a tax understatement that was attributable to the other spouse.
To qualify, you must show not only that you didn't know about the understatement, but that there was nothing that should have made you suspicious. In addition, the circumstances must make it inequitable to hold you liable for the tax. This relief is available even if you're still married and living with your spouse.
In addition, spouses may be able to limit liability for any tax deficiency on a joint return if they're widowed, divorced, legally separated or have lived apart for at least one year.
Election to limit liability
If you make this election, the tax items that gave rise to the deficiency will be allocated between you and your spouse as if you'd filed separate returns. For example, you'd generally be liable for the tax on any unreported wage income only to the extent that you earned the wages.
The election won't provide relief from your spouse's tax items if the IRS proves that you knew about the items when you signed the return — unless you can show that you signed the return under duress. Also, the limitation on your liability is increased by the value of any assets that your spouse transferred to you in order to avoid the tax.
An "injured" spouse
In addition to innocent spouse relief, there's also relief for "injured" spouses. What's the difference? An injured spouse claim asks the IRS to allocate part of a joint refund to one spouse. In these cases, an injured spouse has all or part of a refund from a joint return applied against past-due federal tax, state tax, child or spousal support, or a federal nontax debt (such as a student loan) owed by the other spouse. If you're an injured spouse, you may be entitled to recoup your share of the refund.
Whether, and to what extent, you can take advantage of the above relief depends on the facts of your situation. If you're interested in trying to obtain relief, there's paperwork that must be filed and deadlines that must be met. We can assist you with the details.
Also, keep "joint and several liability" in mind when filing future tax returns. Even if a joint return results in less tax, you may choose to file a separate return if you want to be certain of being responsible only for your own tax. Contact us with any questions or concerns.
© 2019
Taking distributions from your traditional IRA
If you're like many people, you've worked hard to accumulate a large nest egg in your traditional IRA (including a SEP-IRA). It's even more critical to carefully plan for withdrawals from these retirement-savings vehicles.
Knowing the fine points of the IRA distribution rules can make a significant difference in how much you and your family will get to keep after taxes. Here are three IRA areas to understand:
Taking early distributions. If you need to take money out of your traditional IRA before age 59½, any distribution to you will be generally taxable (unless nondeductible contributions were made, in which case part of each payout will be tax-free). In addition, distributions before age 59½ may be subject to a 10% penalty tax.

However, there are several ways that the penalty tax (but not the regular income tax) can be avoided. These exceptions include paying for unreimbursed medical expenses, paying for qualified educational expenses and buying a first home (up to $10,000).

Naming your beneficiary (or beneficiaries). This decision affects the minimum amounts you must withdraw from the IRA when you reach age 70½; who will get what remains in the account at your death; and how that IRA balance can be paid out. What's more, a periodic review of the individuals you've named as IRA beneficiaries is critical to assure that your overall estate planning objectives will be achieved. Review them when circumstances change in your personal life, finances and family.
Taking required distributions. Once you reach age 70½, distributions from your traditional IRAs must begin. It doesn't matter if you haven't retired. If you don't withdraw the minimum amount each year, you may have to pay a 50% penalty tax on what should have been taken — but wasn't. In planning for required minimum distributions, your income needs must be weighed against the desirable goal of keeping the tax shelter of the IRA going for as long as possible for both yourself and your beneficiaries.
Keep more of your money
Prudently planning how to take money out of your traditional IRA can mean more money for you and your heirs. Keep in mind that Roth IRAs operate under a different set of rules than traditional IRAs. Contact us to review your traditional and Roth IRAs, and to analyze other aspects of your retirement planning.
© 2019
Health care fraud still stings Americans

Even if you haven't heard much about it lately, know this: Health care fraud is alive and well in the United States. Here's a roundup of recent stats, law enforcement initiatives, common fraud schemes and how you can help prevent these crimes.
Just the facts
During fiscal year (FY) 2018, the Health Care Fraud and Abuse Control Program (a government initiative that coordinates federal, state, and local law enforcement) won or negotiated over $2.3 billion in health care fraud judgments and settlements. During the same period, the Department of Justice (DOF) opened 1,139 new criminal health care fraud investigations. In addition, the DOJ filed charges in 572 criminal cases.
What does this mean for you? The National Health Care Anti-Fraud Association estimates that health care fraud costs the nation at least $68 billion annually.
Many players, many games
Health care fraud can be perpetrated in a variety of ways by many different players. For example, insurance companies may bilk government programs such as Medicare and Medicaid by submitting false documentation, mishandling claims, charging excessive rates or failing to pass along discounts.
Fraud by insured employees is another problem. Employee-initiated schemes include submitting fraudulent claims — often in collaboration with shady medical providers.
Dishonest providers, including doctors, nurses, chiropractors and pharmacists, are responsible for a large volume of health care fraud. They may bill for unnecessary or harmful medical procedures, bill for procedures never performed, "upcode" inexpensive procedures to expensive ones, or bill for brand names and dispense generics. Corrupt practitioners may recruit healthy individuals and bill their insurance companies for costly medical services that are never provided.
What you can do
Fraud thrives in high volume environments. So, the more health care transactions your business or organization processes, the greater the potential for fraud to slip through undetected, and the more vigilant you must be.
You can help combat these schemes by strictly complying with audit obligations. For instance, randomly sample products and services invoiced and compare them with what was actually delivered to the patients. Looking for discrepancies can net you stolen goods and even large-scale thefts. It also sends a message to potential perpetrators that you're watching.
Role of internal controls
In addition to contractual audits, internal controls play an important role in preventing and uncovering health care fraud.
© 2019  
Pump-and-dump schemes: Don't believe the hype
When the value of a stock skyrockets, its investors may think they've hit the jackpot. But if the stock in question is part of a "pump-and-dump" scheme, investors may, in fact, lose their shirts. Here's how to avoid getting taken by this type of investment fraud.
A penny for your stocks
In the typical pump-and-dump scam, a fraud perpetrator buys shares in an inexpensive, relatively illiquid stock (often referred to as a "penny" stock) whose price will react dramatically when trading volume increases. Then the crook makes false or misleading statements to encourage people to sink their savings into the stock and drive up its price. When it hits a certain dollar amount, the fraudster sells, locking in short-term gains and causing the stock to crash. Investors are left with what often are worthless shares.
This summer, the FBI uncovered an international pump-and-dump scheme that netted its perpetrators $15 million in profits over a five-year period. The criminals bought millions of shares in small, thinly traded companies, then staffed call centers to hype the stocks to senior citizens. The scheme might have continued indefinitely if not for the fact that one of the crooks' "co-conspirators" wasn't the greedy stockbroker he claimed to be, but an undercover agent.
Hot tips, cold shoulder
As the above case suggests, investment scammers often target seniors with retirement savings to invest. Novice investors who aren't familiar with how the stock market works are also popular marks. However, even experienced investors can get snared when offered a "hot tip."
You can help avoid becoming a victim by following some common-sense guidelines. For example, never buy a stock based on an email or telephone solicitation, no matter how compelling the sales pitch. Simply hang up the phone or delete the message.
If you're intrigued by the sound of an investment, do your research to determine whether the company is 1) legitimate, and 2) a good investment opportunity. Also pay attention to the stock's trading volume. The more thinly traded a stock, the greater the potential for fraudulent manipulation.
Too good to be true
The bottom line: When an investment sounds too good to be true, it probably is. If you'd like to invest (say, for retirement or other financial goals), but don't know how to pick stocks or build a portfolio, work with a reputable financial advisor. There are no guarantees in investing, but your advisor can help you steer clear of scams and invest only in securities that meet your criteria.
© 2019
Why your phone may be a fraud risk
As more people use mobile phones, more fraud perpetrators target these devices. According to Javelin Strategy & Research, between 2017 and 2018 the number of fraudulent mobile-phone accounts opened grew by 78%. Schemes in which thieves open a phone account in your name and use it to access your bank account, sign up for credit cards and gain access to personal information are only some of the recent fraud trends. Fraudsters have plenty of ways to defraud consumers through their phones.
Why they're vulnerable
One of the reasons mobile phones are so vulnerable is that phone security hasn't kept pace with traditional computer security. Mobile devices rarely contain comprehensive security measures, and mobile operating systems aren't updated as frequently as those on personal computers.
Yet users routinely store a wide range of sensitive information — including contact information, emails, text messages, passwords and identification numbers — on their phones. Geolocation software can track where phones are at any time, and various apps can record personally identifiable information. Hackers can target a phone and use it to trick its owner, or the owner's contacts, into revealing confidential information. Or phones can spread viruses to computers — a big problem for companies with "bring your own device" policies.
How thieves get in
Sometimes attackers obtain physical access to a device. More frequently, a hacker achieves virtual access by, for example, sending a phishing email that coaxes the recipient into clicking a link that installs malware.
Apps can be dangerous, too. A user might install an app that turns out to be malicious or a legitimate app with weaknesses an attacker can exploit. A user could unleash such an attack simply by running the app.
What you can do
Encryption is probably the most highly recommended defense against mobile phone fraud. When data is encrypted, it's "scrambled" and unreadable to anyone who can't provide a unique "key" to open it. Two-step authentication is also advisable. This approach adds a layer of authentication by calling the phone or sending a password via text message before allowing the user to log in.
Phone owners should always activate PINs or passwords, and other options such as touch ID and fingerprint sensors if available. Conversely, users should disable Bluetooth and Wi-Fi when not in use, and set Bluetooth-enabled devices to be nondiscoverable.
Also request a freeze on the credit information that's used to open a mobile-phone account with the National Consumer Telecom & Utilities Exchange. This is a credit reporting agency fed by data supplied by phone companies, pay-TV companies, and utility service providers.
Evolving threats
In only a decade, mobile phones have completely changed our daily lives. Unfortunately, fraud has kept pace with technology. To protect your personal information, you need to be aware of the constantly evolving threats.
© 2019
View our Full blog.
About Yuma, AZ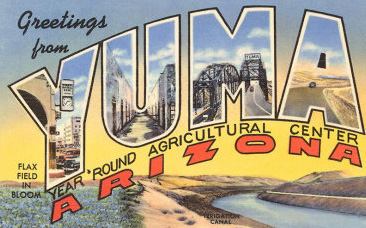 First incorporated as Arizona City in 1871, Yuma was renamed in 1873 and is now the largest city in Arizona outside the metro areas of Phoenix and Tucson.
Visit Our Friends in Yuma