Tax Tips and Alerts
---
Getting a divorce? Be aware of tax implications if you own a business
If you're a business owner and you're getting a divorce, tax issues can complicate matters. Your business ownership interest is one of your biggest personal assets and in many cases, your marital property will include all or part of it.
Tax-free property transfers
You can generally divide most assets, including cash and business ownership interests, between you and your soon-to-be ex-spouse without any federal income or gift tax consequences. When an asset falls under this tax-free transfer rule, the spouse who receives the asset takes over its existing tax basis (for tax gain or loss purposes) and its existing holding period (for short-term or long-term holding period purposes).
Let's say that under the terms of your divorce agreement, you give your house to your spouse in exchange for keeping 100% of the stock in your business. That asset swap would be tax-free. And the existing basis and holding periods for the home and the stock would carry over to the person who receives them.
Tax-free transfers can occur before a divorce or at the time it becomes final. Tax-free treatment also applies to post-divorce transfers as long as they're made "incident to divorce." This means transfers that occur within:
A year after the date the marriage ends, or
Six years after the date the marriage ends if the transfers are made pursuant to your divorce agreement. 
More tax issues
Later on, there will be tax implications for assets received tax-free in a divorce settlement. The ex-spouse who winds up owning an appreciated asset — when the fair market value exceeds the tax basis — generally must recognize taxable gain when it's sold (unless an exception applies).
What if your ex-spouse receives 49% of your highly appreciated small business stock? Thanks to the tax-free transfer rule, there's no tax impact when the shares are transferred. Your ex will continue to apply the same tax rules as if you had continued to own the shares, including carryover basis and carryover holding period. When your ex-spouse ultimately sells the shares, he or she will owe any capital gains taxes. You will owe nothing.
Note that the person who winds up owning appreciated assets must pay the built-in tax liability that comes with them. From a net-of-tax perspective, appreciated assets are worth less than an equal amount of cash or other assets that haven't appreciated. That's why you should always take taxes into account when negotiating your divorce agreement.
In addition, the beneficial tax-free transfer rule is now extended to ordinary-income assets, not just to capital-gains assets. For example, if you transfer business receivables or inventory to your ex-spouse in a divorce, these types of ordinary-income assets can also be transferred tax-free. When the asset is later sold, converted to cash or exercised (in the case of nonqualified stock options), the person who owns the asset at that time must recognize the income and pay the tax liability.
Plan ahead to avoid surprises
Like many major life events, divorce can have major tax implications. For example, you may receive an unexpected tax bill if you don't carefully handle the splitting up of qualified retirement plan accounts (such as a 401(k) plan) and IRAs. And if you own a business, the stakes are higher. We can help you minimize the adverse tax consequences of settling your divorce. 
© 2021
Does your employer provide life insurance? Here are the tax consequences
Employer-provided life insurance is a coveted fringe benefit. However, if group term life insurance is part of your benefit package, and the coverage is higher than $50,000, there may be undesirable income tax implications.
Tax on income you don't receive
The first $50,000 of group term life insurance coverage that your employer provides is excluded from taxable income and doesn't add anything to your income tax bill. But the employer-paid cost of group term coverage in excess of $50,000 is taxable income to you. It's included in the taxable wages reported on your Form W-2 — even though you never actually receive it. In other words, it's "phantom income."
What's worse, the cost of group term insurance must be determined under a table prepared by the IRS even if the employer's actual cost is less than the cost figured under the table. With these determinations, the amount of taxable phantom income attributed to an older employee is often higher than the premium the employee would pay for comparable coverage under an individual term policy. This tax trap gets worse as an employee gets older and as the amount of his or her compensation increases.
Your W-2 has answers
What should you do if you think the tax cost of employer-provided group term life insurance is higher than you'd like? First, you should establish if this is actually the case. If a specific dollar amount appears in Box 12 of your Form W-2 (with code "C"), that dollar amount represents your employer's cost of providing you with group term life insurance coverage in excess of $50,000, less any amount you paid for the coverage. You're responsible for federal, state and local taxes on the amount that appears in Box 12 and for the associated Social Security and Medicare taxes as well.
But keep in mind that the amount in Box 12 is already included as part of your total "Wages, tips and other compensation" in Box 1 of the W-2, and it's the Box 1 amount that's reported on your tax return
Possible options
If you decide that the tax cost is too high for the benefit you're getting in return, find out whether your employer has a "carve-out" plan (a plan that carves out selected employees from group term coverage) or, if not, whether it would be willing to create one. There are different types of carve-out plans that employers can offer to their employees.
For example, the employer can continue to provide $50,000 of group term insurance (since there's no tax cost for the first $50,000 of coverage). Then, the employer can either provide the employee with an individual policy for the balance of the coverage, or give the employee the amount the employer would have spent for the excess coverage as a cash bonus that the employee can use to pay the premiums on an individual policy.
Contact us if you have questions about group term coverage or whether it's adding to your tax bill.
© 2021
Tax breaks to consider during National Small Business Week
The week of September 13-17 has been declared National Small Business Week by the Small Business Administration. To commemorate the week, here are three tax breaks to consider.
1. Claim bonus depreciation or a Section 179 deduction for asset additions
Under current law, 100% first-year bonus depreciation is available for qualified new and used property that's acquired and placed in service in calendar year 2021. That means your business might be able to write off the entire cost of some or all asset additions on this year's return. Consider making acquisitions between now and December 31.
Note: It doesn't always make sense to claim a 100% bonus depreciation deduction in the first year that qualifying property is placed in service. For example, if you think that tax rates will increase in the future — either due to tax law changes or a change in your income — it might be better to forgo bonus depreciation and instead depreciate your 2021 asset acquisitions over time.
There's also a Section 179 deduction for eligible asset purchases. The maximum Section 179 deduction is $1.05 million for qualifying property placed in service in 2021. Recent tax laws have enhanced Section 179 and bonus depreciation but most businesses benefit more by claiming bonus depreciation. We can explain the details of these tax breaks and which is right for your business. You don't have to decide until you file your tax return.
2. Claim bonus depreciation for a heavy vehicle
The 100% first-year bonus depreciation provision can have a sizable, beneficial impact on first-year depreciation deductions for new and used heavy SUVs, pickups and vans used over 50% for business. For federal tax purposes, heavy vehicles are treated as transportation equipment so they qualify for 100% bonus depreciation.
This option is available only when the manufacturer's gross vehicle weight rating (GVWR) is above 6,000 pounds. You can verify a vehicle's GVWR by looking at the manufacturer's label, usually found on the inside edge of the driver's side door.
Buying an eligible vehicle and placing it in service before the end of the year can deliver a big write-off on this year's return. Before signing a sales contract, we can help evaluate what's right for your business.
3. Maximize the QBI deduction for pass-through businesses
A valuable deduction is the one based on qualified business income (QBI) from pass-through entities. For tax years through 2025, the deduction can be up to 20% of a pass-through entity owner's QBI. This deduction is subject to restrictions that can apply at higher income levels and based on the owner's taxable income.
For QBI deduction purposes, pass-through entities are defined as sole proprietorships, single-member LLCs that are treated as sole proprietorships for tax purposes, partnerships, LLCs that are treated as partnerships for tax purposes and S corporations. For these taxpayers, the deduction can also be claimed for up to 20% of income from qualified real estate investment trust dividends and 20% of qualified income from publicly traded partnerships.
Because of various limitations on the QBI deduction, tax planning moves can unexpectedly increase or decrease it. For example, strategies that reduce this year's taxable income can have the negative side-effect of reducing your QBI deduction. 
Plan ahead
These are only a few of the tax breaks your small business may be able to claim. Contact us to help evaluate your planning options and optimize your tax results.
© 2021
5 possible tax aspects of a parent moving into a nursing home
If you have a parent entering a nursing home, you may not be thinking about taxes. But there are a number of possible tax implications. Here are five.
1. Long-term medical care
The costs of qualified long-term care, including nursing home care, are deductible as medical expenses to the extent they, along with other medical expenses, exceed 7.5% of adjusted gross income (AGI).
Qualified long-term care services are necessary diagnostic, preventive, therapeutic, curing, treating, mitigating and rehabilitative services, and maintenance or personal-care services required by a chronically ill individual that is provided under care administered by a licensed healthcare practitioner.
To qualify as chronically ill, a physician or other licensed healthcare practitioner must certify an individual as unable to perform at least two activities of daily living (eating, toileting, transferring, bathing, dressing, and continence) for at least 90 days due to a loss of functional capacity or severe cognitive impairment.
2. Long-term care insurance
Premiums paid for a qualified long-term care insurance contract are deductible as medical expenses (subject to limitations explained below) to the extent they, along with other medical expenses, exceed the percentage-of-AGI threshold. A qualified long-term care insurance contract covers only qualified long-term care services, doesn't pay costs covered by Medicare, is guaranteed renewable and doesn't have a cash surrender value.
Qualified long-term care premiums are includible as medical expenses up to certain amounts. For individuals over 60 but not over 70 years old, the 2021 limit on deductible long-term care insurance premiums is $4,520, and for those over 70, the 2021 limit is $5,640.
3. Nursing home payments
Amounts paid to a nursing home are deductible as a medical expense if a person is staying at the facility principally for medical, rather than custodial care. If a person isn't in the nursing home principally to receive medical care, only the portion of the fee that's allocable to actual medical care qualifies as a deductible expense. But if the individual is chronically ill, all qualified long-term care services, including maintenance or personal care services, are deductible.
If your parent qualifies as your dependent, you can include any medical expenses you incur for your parent along with your own when determining your medical deduction.
4. Head-of-household filing status
If you aren't married and you meet certain dependency tests for your parent, you may qualify for head-of-household filing status, which has a higher standard deduction and lower tax rates than single filing status. You may be eligible to file as head of household even if the parent for whom you claim an exemption doesn't live with you.
5. The sale of your parent's home.
If your parent sells his or her home, up to $250,000 of the gain from the sale may be tax-free. In order to qualify for the $250,000 exclusion, the seller must generally have owned the home for at least two years out of the five years before the sale, and used the home as a principal residence for at least two years out of the five years before the sale. However, there's an exception to the two-out-of-five-year use test if the seller becomes physically or mentally unable to care for him or herself during the five-year period.
These are only some of the tax issues you may deal with when your parent moves into a nursing home. Contact us if you need more information or assistance.
© 2021
Large cash transactions with your business must be reported to the IRS
If your business receives large amounts of cash or cash equivalents, you may be required to report these transactions to the IRS.
What are the requirements?
Each person who, in the course of operating a trade or business, receives more than $10,000 in cash in one transaction (or two or more related transactions), must file Form 8300. What is considered a "related transaction?" Any transactions conducted in a 24-hour period. Transactions can also be considered related even if they occur over a period of more than 24 hours if the recipient knows, or has reason to know, that each transaction is one of a series of connected transactions.
To complete a Form 8300, you'll need personal information about the person making the cash payment, including a Social Security or taxpayer identification number. 
Why does the government require reporting?
Although many cash transactions are legitimate, the IRS explains that "information reported on (Form 8300) can help stop those who evade taxes, profit from the drug trade, engage in terrorist financing and conduct other criminal activities. The government can often trace money from these illegal activities through the payments reported on Form 8300 and other cash reporting forms."
You should keep a copy of each Form 8300 for five years from the date you file it, according to the IRS.
What's considered "cash" and "cash equivalents?"
For Form 8300 reporting purposes, cash includes U.S. currency and coins, as well as foreign money. It also includes cash equivalents such as cashier's checks (sometimes called bank checks), bank drafts, traveler's checks and money orders.
Money orders and cashier's checks under $10,000, when used in combination with other forms of cash for a single transaction that exceeds $10,000, are defined as cash for Form 8300 reporting purposes.
Note: Under a separate reporting requirement, banks and other financial institutions report cash purchases of cashier's checks, treasurer's checks and/or bank checks, bank drafts, traveler's checks and money orders with a face value of more than $10,000 by filing currency transaction reports.
Can the forms be filed electronically?
Businesses required to file reports of large cash transactions on Form 8300 should know that in addition to filing on paper, e-filing is an option. The form is due 15 days after a transaction and there's no charge for the e-file option. Businesses that file electronically get an automatic acknowledgment of receipt when they file.
The IRS also reminds businesses that they can "batch file" their reports, which is especially helpful to those required to file many forms.
How can we set up an electronic account? 
To file Form 8300 electronically, a business must set up an account with FinCEN's Bank Secrecy Act E-Filing System. For more information, visit: https://bit.ly/3fMMLAu  Interested businesses can also call the BSA E-Filing Help Desk at 866-346-9478 (Monday through Friday from 8 am to 6 pm EST). Contact us with any questions or for assistance.
© 2021
You may have loads of student debt, but it may be hard to deduct the interest
More than 43 million student borrowers are in debt with an average of $39,351 each, according to the research group EducationData.org. If you have student loan debt, you may wonder if you can deduct the interest you pay. The answer is yes, subject to certain limits. However, the deduction is phased out if your adjusted gross income exceeds certain levels — and they aren't as high as the income levels for many other deductions.
Basics of the deduction
The maximum amount of student loan interest you can deduct each year is $2,500. The interest must be for a "qualified education loan," which means a debt incurred to pay tuition, room and board, and related expenses to attend a post-high school educational institution, including certain vocational schools. Post-graduate programs may also qualify. For example, an internship or residency program leading to a degree or certificate awarded by an institution of higher education, hospital, or health care facility offering post-graduate training can qualify.
It doesn't matter when the loan was taken out or whether interest payments made in earlier years on the loan were deductible or not.
For 2021, the deduction is phased out for single taxpayers with AGI between $70,000 and $85,000 ($140,000 and $170,000 for married couples filing jointly). The deduction is unavailable for single taxpayers with AGI of more than $85,000 ($170,000 or married couples filing jointly).
Married taxpayers must file jointly to claim this deduction.
The deduction is taken "above the line." In other words, it's subtracted from gross income to determine AGI. Thus, it's available even to taxpayers who don't itemize deductions.
Not eligible
No deduction is allowed to a taxpayer who can be claimed as a dependent on another tax return. For example, let's say a parent is paying for the college education of a child whom the parent is claiming as a dependent. In this case, the interest deduction is only available for interest the parent pays on a qualifying loan, not for any of the interest the child may pay on a loan the student may have taken out. The child will be able to deduct interest that is paid in later years when he or she is no longer a dependent.
Other requirements
The interest must be on funds borrowed to cover qualified education costs of the taxpayer or his spouse or dependent. The student must be a degree candidate carrying at least half the normal full-time workload. Also, the education expenses must be paid or incurred within a reasonable time before or after the loan is taken out.
Taxpayers must keep records to verify qualifying expenditures. Documenting a tuition expense isn't likely to pose a problem. However, care should be taken to document other qualifying education-related expenses including books, equipment, fees, and transportation.
Documenting room and board expenses should be straightforward for students living and dining on campus. Student who live off campus should maintain records of room and board expenses, especially when there are complicating factors such as roommates.
Contact us if you'd like help in determining whether you qualify for this deduction or if you have questions about it.
© 2021
ABLE accounts may help disabled or blind family members
There may be a tax-advantaged way for people to save for the needs of family members with disabilities — without having them lose eligibility for government benefits to which they're entitled. It can be done though an Achieving a Better Life Experience (ABLE) account, which is a tax-free account that can be used for disability-related expenses.
Who is eligible?
ABLE accounts can be created by eligible individuals to support themselves, by family members to support their dependents, or by guardians for the benefit of the individuals for whom they're responsible. Anyone can contribute to an ABLE account. While contributions aren't tax-deductible, the funds in the account are invested and grow free of tax.
Eligible individuals must be blind or disabled — and must have become so before turning age 26. They also must be entitled to benefits under the Supplemental Security Income (SSI) or Social Security Disability Insurance (SSDI) programs. Alternatively, an individual can become eligible if a disability certificate is filed with the IRS for him or her.
Distributions from an ABLE account are tax-free if used to pay for expenses that maintain or improve the beneficiary's health, independence or quality of life. These expenses include education, housing, transportation, employment support, health and wellness costs, assistive technology, personal support services, and other IRS-approved expenses.
If distributions are used for nonqualified expenses, the portion of the distribution that represents earnings on the account is subject to income tax — plus a 10% penalty.
More details
Here are some other key factors:
An eligible individual can have only one ABLE account. Contributions up to the annual gift-tax exclusion amount, currently $15,000, may be made to an ABLE account each year for the benefit of an eligible person. If the beneficiary works, the beneficiary can also contribute part, or all, of their income to their account. (This additional contribution is limited to the poverty-line amount for a one-person household.)
There's also a limit on the total account balance. This limit, which varies from state to state, is equal to the limit imposed by that state on qualified tuition (Section 529) plans.
ABLE accounts have no impact on an individual's Medicaid eligibility. However, ABLE account balances in excess of $100,000 are counted toward the SSI program's $2,000 individual resource limit. Therefore, an individual's SSI benefits are suspended, but not terminated, when his or her ABLE account balance exceeds $102,000 (assuming the individual has no other assets). In addition, distributions from an ABLE account to pay housing expenses count toward the SSI income limit.
For contributions made before 2026, the designated beneficiary can claim the saver's credit for contributions made to his or her ABLE account.
States establish programs
There are many choices. ABLE accounts are established under state programs. An account may be opened under any state's program (if the state allows out-of-state participants). The funds in an account can be invested in a variety of options and the account's investment directions can be changed up to twice a year. Contact us if you'd like more details about setting up or maintaining an ABLE account.
© 2021
There's currently a "stepped-up basis" if you inherit property — but will it last?
If you're planning your estate, or you've recently inherited assets, you may be unsure of the "cost" (or "basis") for tax purposes.
The current rules
Under the current fair market value basis rules (also known as the "step-up and step-down" rules), an heir receives a basis in inherited property equal to its date-of-death value. So, for example, if your grandmother bought stock in 1935 for $500 and it's worth $1 million at her death, the basis is stepped up to $1 million in the hands of your grandmother's heirs — and all of that gain escapes federal income tax.
The fair market value basis rules apply to inherited property that's includible in the deceased's gross estate, and those rules also apply to property inherited from foreign persons who aren't subject to U.S. estate tax. It doesn't matter if a federal estate tax return is filed. The rules apply to the inherited portion of property owned by the inheriting taxpayer jointly with the deceased, but not the portion of jointly held property that the inheriting taxpayer owned before his or her inheritance. The fair market value basis rules also don't apply to reinvestments of estate assets by fiduciaries.
Gifting before death
It's crucial to understand the current fair market value basis rules so that you don't pay more tax than you're legally required to.
For example, in the above example, if your grandmother decides to make a gift of the stock during her lifetime (rather than passing it on when she dies), the "step-up" in basis (from $500 to $1 million) would be lost. Property that has gone up in value acquired by gift is subject to the "carryover" basis rules. That means the person receiving the gift takes the same basis the donor had in it ($500 in this example), plus a portion of any gift tax the donor pays on the gift.
A "step-down" occurs if someone dies owning property that has declined in value. In that case, the basis is lowered to the date-of-death value. Proper planning calls for seeking to avoid this loss of basis. Giving the property away before death won't preserve the basis. That's because when property that has gone down in value is the subject of a gift, the person receiving the gift must take the date of gift value as his basis (for purposes of determining his or her loss on a later sale). Therefore, a good strategy for property that has declined in value is for the owner to sell it before death so he or she can enjoy the tax benefits of the loss.
Change on the horizon?
Be aware that President Biden has proposed ending the ability to step-up the basis for gains in excess of $1 million. There would be exemptions for family-owned businesses and farms. Of course, any proposal must be approved by Congress in order to be enacted.
These are the basic rules. Other rules and limits may apply. For example, in some cases, a deceased person's executor may be able to make an alternate valuation election. Contact us for tax assistance when estate planning or after receiving an inheritance. We'll keep you up to date on any tax law changes.
© 2021
Scholarships are usually tax free but they may result in taxable income
If your child is fortunate enough to be awarded a scholarship, you may wonder about the tax implications. Fortunately, scholarships (and fellowships) are generally tax free for students at elementary, middle and high schools, as well as those attending college, graduate school or accredited vocational schools. It doesn't matter if the scholarship makes a direct payment to the individual or reduces tuition.
Requirements for tax-free treatment
However, scholarships are not always tax free. Certain conditions must be satisfied. A scholarship is tax free only to the extent it's used to pay for:
Tuition and fees required to attend the school and
Fees, books, supplies and equipment required of all students in a particular course.
For example, expenses that don't qualify include the cost of room and board, travel, research and clerical help.
To the extent a scholarship award isn't used for qualifying items, it's taxable. The recipient is responsible for establishing how much of an award is used to pay for tuition and eligible expenses. Maintain records (such as copies of bills, receipts and cancelled checks) that reflect the use of the scholarship money.
Payment for services doesn't qualify
Subject to limited exceptions, a scholarship isn't tax free if the payments are linked to services that your child performs as a condition for receiving the award, even if the services are required of all degree candidates. Therefore, a stipend your child receives for required teaching, research or other services is taxable, even if the child uses the money for tuition or related expenses.
What if you, or a family member, are an employee of an education institution that provides reduced or free tuition? A reduction in tuition provided to you, your spouse or your dependents by the school at which you work isn't included in your income and isn't subject to tax.
What is reported on a tax return?
If a scholarship is tax free and your child has no other income, the award doesn't have to be reported on a tax return. However, any portion of an award that's taxable as payment for services is treated as wages. Estimated tax payments may have to be made if the payor doesn't withhold enough tax. Your child should receive a Form W-2 showing the amount of these "wages" and the amount of tax withheld, and any portion of the award that's taxable must be reported, even if no Form W-2 is received.
These are just the basic rules. Other rules and limitations may apply. For example, if your child's scholarship is taxable, it may limit other higher education tax benefits to which you or your child are entitled. As we approach the new academic year, best wishes for your child's success in school. Contact us if you'd like to discuss these or other tax matters further.
© 2021
Is an LLC the right choice for your small business?
Perhaps you operate your small business as a sole proprietorship and want to form a limited liability company (LLC) to protect your assets. Or maybe you are launching a new business and want to know your options for setting it up. Here are the basics of operating as an LLC and why it might be appropriate for your business.
An LLC is somewhat of a hybrid entity because it can be structured to resemble a corporation for owner liability purposes and a partnership for federal tax purposes. This duality may provide the owners with the best of both worlds. 
Personal asset protection
Like the shareholders of a corporation, the owners of an LLC (called "members" rather than shareholders or partners) generally aren't liable for the debts of the business except to the extent of their investment. Thus, the owners can operate the business with the security of knowing that their personal assets are protected from the entity's creditors. This protection is far greater than that afforded by partnerships. In a partnership, the general partners are personally liable for the debts of the business. Even limited partners, if they actively participate in managing the business, can have personal liability.
Tax implications
The owners of an LLC can elect under the "check-the-box" rules to have the entity treated as a partnership for federal tax purposes. This can provide a number of important benefits to the owners. For example, partnership earnings aren't subject to an entity-level tax. Instead, they "flow through" to the owners, in proportion to the owners' respective interests in profits, and are reported on the owners' individual returns and are taxed only once.
To the extent the income passed through to you is qualified business income, you'll be eligible to take the Code Section 199A pass-through deduction, subject to various limitations. In addition, since you're actively managing the business, you can deduct on your individual tax return your ratable shares of any losses the business generates. This, in effect, allows you to shelter other income that you and your spouse may have.
An LLC that's taxable as a partnership can provide special allocations of tax benefits to specific partners. This can be an important reason for using an LLC over an S corporation (a form of business that provides tax treatment that's similar to a partnership). Another reason for using an LLC over an S corporation is that LLCs aren't subject to the restrictions the federal tax code imposes on S corporations regarding the number of owners and the types of ownership interests that may be issued. 
Review your situation
In summary, an LLC can give you corporate-like protection from creditors while providing the benefits of taxation as a partnership. For these reasons, you should consider operating your business as an LLC. Contact us to discuss in more detail how an LLC might benefit you and the other owners.
© 2021
View our Full blog.
About Yuma, AZ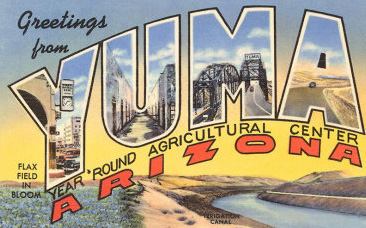 First incorporated as Arizona City in 1871, Yuma was renamed in 1873 and is now the largest city in Arizona outside the metro areas of Phoenix and Tucson.
Visit Our Friends in Yuma